Review
Otus Analytics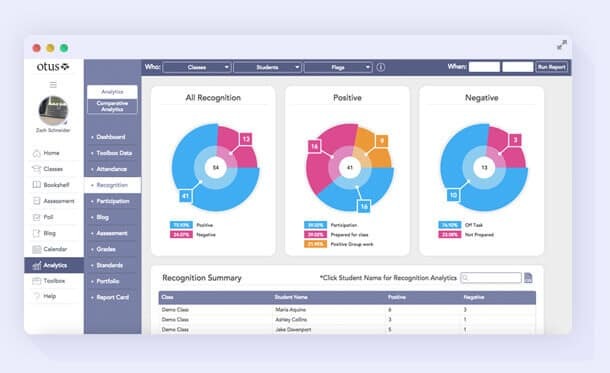 Overview
Instead of trying to analyze data that has been given to you in a spreadsheet, simply upload that file into OtusPlus and watch your data come to life.
Business Intelligence Software
Quickly identify trends & progress on strategic initiatives.
Centralized data warehouse.
Efficiently analyze data & make decisions.
Teacher inservice evaluations.
Otus LMS free with no in-app purchase.
Otus Learning Analytics platform:
$2/student for one login
$3 for leadership package.
OtusPlus:
$5/student.
Small (<50 employees), Medium (50 to 1000 Enterprise (>1001 employees)
Otus was created to give students, teachers, school leaders, and families both the tools and the insight necessary to create a culture of success while maximizing learning. Pete (now a District Administrator) and Chris continue to work in schools where they are able to listen for the feedback necessary to improve how Otus works. The team has grown, but remains committed to continuously improving the easy-to-use interface through extensive and continuous classroom testing. Otus adapts to meet the unique needs of K-12 educators and families through the use of the latest technology and security development tools available. Authenticity is one of the core values of Otus. Otus was created and built for teachers, by teachers. This unique characteristic is the foundation for the future development and implementation of the platform. The voice of educators is invaluable to the constant evolution of the Otus platform. Otus will continually strive to keep the users informed about new features, updates to existing ones, and the exciting future of Otus. The challenges that students and teachers face in the classroom are what motivates our team to create new solutions within Otus.
Team of Otus works to organize the chaos; shine light on the great experiences that are already happening and provide an opportunity to implement meaningful improvements. Otus believes in challenging the status quo when necessary. The team is not afraid to risk failure in order to reach new frontiers in education technology. Otus works to serve all students and teachers, especially the traditionally underserved or those at risk of falling through the cracks. By combining an award-winning, full-featured LMS with a powerful and dynamic analytics platform, Otus creates a singular space for everyone to gather around the learning process. Otus utilizes four user profiles to deliver a unique experience based on individual roles.