Review
TACTIC Workflow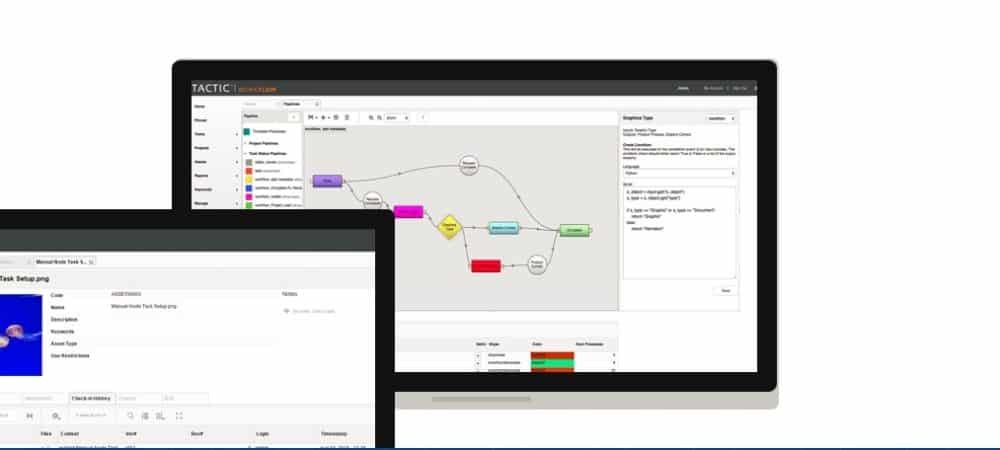 Overview
TACTIC Workflow Workflows can be easily created through interactive tools. Seamlessly mix user decision making with automated processes, conditionals and approvals.
Workflow Automation Software
• Workflow Engine
• Asset Ingestion
• Approval Process
• Asset Library
• Work Order & Deliverable Tracking
• Versioning & Check-in History
• Cloud – Contact form on site
• On Premise – Contact form on site
• Hybrid – Contact form on site
Small (<50 employees), Medium (50 to 1000 Enterprise (>1001 employees)
What is best?
• Task Management
• Reports & Dashboards
• Pin It
• Carts
What are the benefits?
• Easy to Use Search
• Advanced Filters
• User Groups
• Simple to Use Conversions and Modifications
TACTIC Workflow is a dynamic, open-source, web-based platform for building enterprise solutions which integrates Digital Asset Management (DAM), Content Management (CMS) and Workflow management to create a diverse array of content solutions. TACTIC Workflow offers features such as work orders and deliverables, business process mapping, integrated workflow engine, asset tracking, data ingestion, business intelligence tool, developer customizable pipelines, accessible support and works on all environments.
TACTIC Workflow handles and automates the messy details of workflows such as task assignments, data flow, content creation, status change and notifications all within a central location to facilitate large-scale collaboration on any project by appropriately connecting all levels of an organization involved on any one task through the use of Southpaw's pipeline technology tools which has the capability to emulate and execute any workflow imaginable.
TACTIC Workflow has powerful and easy to use ingestion capabilities to manage all kinds of assets, from text and images, to audio, to video and effectively organize millions of files from over a decade of accumulated data and allow it to be used in as part of a workflow solution. TACTIC Workflow can handle massive influxes of users, data and project sizes ranging from enterprise to a major visual effects studio, to small-scale operations facilitating projects with hundreds of collaborators working across the world while tracking assets sizing in the terabytes.
TACTIC Workflow has a pipeline technology which is highly customizable to be able to support any kind of workflow and a default built-in functions where developers can write custom Python scripts to further tailor pipelines to do exactly what they want, and to do exactly what they need.
You may like to read: Top Free, Premium & Open Source Workflow Automation Software and How to Select the Best Workflow Automation Software for Your Business