Frontline Solvers Excel Users Enterprise Level Text Mining, Advanced Analytics, Publishing to Web Spreadsheets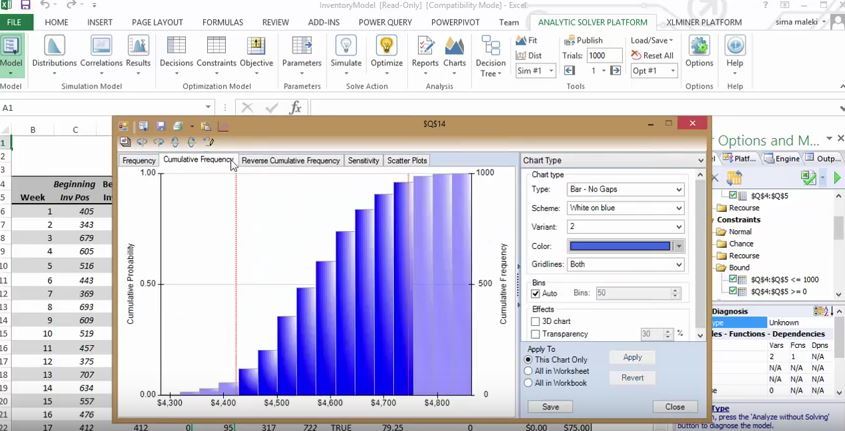 Frontline Solvers Excel Users Enterprise Level Text Mining, Advanced Analytics, Publishing to Web Spreadsheets : Frontline Systems Version 2015 of its Solvers for Excel, including its flagship integrated product, Analytic Solver Platform, and its professional entry-level integrated product, Analytic Solver Pro. The new release features powerful text mining, ensemble methods, and feature selection in XLMiner Platform, an Excel-based tool for data mining and predictive analytics. The release also includes new versions of Risk Solver Platform, the leading tool for simulation / risk analysis, conventional and stochastic optimization in Excel; Premium Solver Platform, Frontline's best-selling tool for conventional optimization; subset "professional entry-level" products Premium Solver Pro, Risk Solver Pro, and XLMiner Pro; and 8 optional large-scale Solver Engines for optimization.
"Our message for Analytic Solver Platform continues to be 'no-compromise analytics in Excel'," said Daniel Fylstra, Frontline's President and CEO. "Users enjoy the ease of use of Excel, and leverage their spreadsheet model-building experience, but they don't compromise at all on functionality or performance." Analytic Solver Platform incorporates many of the most powerful algorithms for optimization, simulation and data mining available, and exploits new technology in CPUs, GPUs and cloud servers to a greater degree than many "enterprise analytics" software packages costing far more.
Frontline's Solvers for Excel are upward compatible from the Solver included in Excel, which Frontline developed for Microsoft, and improved in Excel 2010 for Windows and Excel 2011 for Macintosh. Users can solve problems hundreds to thousands of times larger than the basic Excel Solver, at speeds anywhere from several times to hundreds of times faster, and they can solve completely new types of problems. With powerful "plug-in" large-scale Solver Engines, including the Gurobi Solver 6.0, XPRESS Solver 26.1, and KNITRO Solver 9.1, users can solve linear mixed-integer problems with millions of decision variables, nonlinear problems with hundreds of thousands of decision variables, and many of the largest risk-based stochastic optimization problems that have ever been solved, on any platform.
Two highlights of the V2015 release are a powerful new text mining facility, and ensemble methods for prediction and classification -- available in XLMiner Platform and Analytic Solver Platform. Text mining is deeply integrated with data mining, unlike other software: This means users can "mine" text in comment fields in web forms, support or maintenance tickets, and the like -- and use the results, along with structured data, in any of XLMiner's prediction and classification algorithms, from regression methods to neural networks. Ensemble methods enhance the power of classification trees, regression trees, and neural networks for classification and prediction -- automatically combining the "votes" of scores of trees or networks using boosting, bagging or "random forests" methods.
Feature selection methods, new in both XLMiner Pro and Platform, are a powerful aid in what's often the most challenging task of data mining: Deciding which data to "feed" into the classification and prediction algorithms. Of all the scores or hundreds of variables or columns of data users typically have, feature selection helps them identify the right variables that have predictive power for their problem.Other enhancements in both XLMiner Pro and Platform include automatic variable "screening" for rank deficiencies in multiple linear regression and logistic regression, "partition-on-the-fly" for all classification/ and prediction functions, ROC/RROC curves in classification and prediction reports, and confidence intervals and prediction intervals in reports.
In Monte Carlo simulation, V2015 adds 20 new Psi functions computing Six Sigma metrics, that users can easily drag and drop into cells from the Results gallery, or check quickly in a new side panel of the Uncertain Function chart display. Chart enhancements for both uncertain variables and uncertain functions include a new, clean look, more revealing multiple overlaid charts, new easily-applied color schemes, automatic re-sizing, editable confidence intervals, and summary statistics on the chart itself. The Sensitivity (Tornado) chart now includes a third option, a "Conditional Mean" presentation which is often more useful for decision-makers. Distribution fitting offers a new AIC/BIC criterion, and extensive Help text is available for Psi functions and each of their arguments.
Analytic Solver Pro/Platform was the first software to bring the power of data mining and visual data explora¬tion, to the analysis of Monte Carlo simulation trial data. For example, one of the most popular and easiest to use data mining methods – k-means clustering – is available directly in the dialog which displays charts of simulation results. The automatically-discovered clusters of trials are displayed visually in these charts.Analytic Solver Platform users can access and work with large amounts of data, from a variety of sources, far more easily than with other analytic software packages -- thanks to Microsoft's recent investment in data access and "self-service business intelligence," which has made Excel much more than a spreadsheet.
With Power Pivot -- an Excel add-in based on SQL Server Analysis Services' xVelocity database engine -- Excel functions as a modern, in-memory, multidimensional database, capable of holding 100 million rows of data. The Power Query add-in, based on SQL Server Integration Services, provides an exceptionally powerful and easy to use ETL (Extract, Transform and Load) capability for this in-memory database. It can draw data from a huge range of sources, from enterprise on-premise databases to cloud-based public data stores on Windows Azure Data Marketplace.
Excel users can easily summarize, "slice and dice" data from this in-memory database into Pivot Tables on the spreadsheet, and use this summarized data in an analytic model. Analytic Solver Platform can also draw representative samples of the data directly from Power Pivot, and use this data to "train" a data mining or predictive analytics model.Since mid-2013, users of Microsoft's Excel Online in Office 365 have been able to use Frontline's Solver App, available free in the Office Store, to solve the same kinds of optimization models handled by the Solver in desktop Excel, that Frontline developed for Microsoft. Models are solved using Windows Azure cloud-based servers maintained by Frontline Systems.
You may also like to read, Predictive Analytics Free Software, Top Predictive Analytics Software, Predictive Analytics Software API, Top Free Data Mining Software, Top Data Mining Software,and Data Ingestion Tools.
Top Predictive Lead Scoring Software, Top Artificial Intelligence Platforms, Top Predictive Pricing Platforms,and Top Artificial Neural Network Software, and Customer Churn, Renew, Upsell, Cross Sell Software Tools
More Information on Predictive Analysis Process
For more information of predictive analytics process, please review the overview of each components in the predictive analytics process: data collection (data mining), data analysis, statistical analysis, predictive modeling and predictive model deployment.