Birst 5X for Adaptive User Experience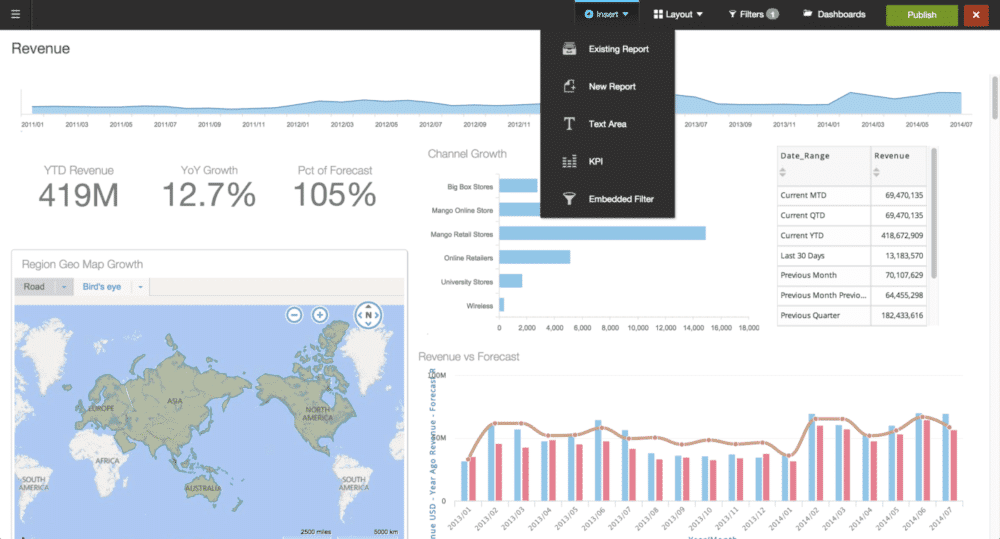 Birst 5X for Adaptive User Experience : Birst 5X, unveils an Adaptive User Experience that transforms how people work with data. Birst re-designed the analytic experience to fit today's demanding workplaces, planning for a "people in" vs. "pushing tools out" approach. Birst 5X delivers an experience where every consumer becomes a producer, analytics adapts to modern mobile workstyle, and each person can use their existing analytic tools. Birst 5X adapts to each person's unique style for working with data, without fitting people into rigid user roles that stifle curiosity and creativity. The Birst 5X Adaptive User Experience includes updates to Birst Dashboards and Visual Discovery Capabilities, an enhanced Birst Mobile experience (including offline analytics), and introduces an Open Client Interface that enables people to continue with their preferred front-end tool, such as Tableau, Microsoft Excel or R, and to analyze a trusted source of data in Birst's User Data Tier.
To ensure success in today's analytics landscape, organizations must bring together centralized and decentralized teams to collaborate. This major shift enables centralized BI/IT teams to collaborate with user-led decentralized teams and recognizes that people require different ways of working with data. For instance, a marketing executive who regularly monitors her business using dashboards may also need to switch to a visual discovery environment to ask follow-up questions. A data analyst that primarily uses data discovery to explore information may need to rely on operational dashboards. In addition, organizations often support a variety of analytical tools, further complicating each situation. Allowing people to use existing analytic tools on top of a complete and trusted source of data is essential to enabling a 2-tier analytics model that delivers agility with governance.
The Adaptive User Experience in Birst 5X turns every information consumer into an information producer. Birst 5X delivers an integrated experience that breaks down the walls between dashboards and visual discovery, enabling people to seamlessly transition between modes so they can both produce and consume insights. An enhanced mobile experience that includes support for disconnected analysis gives users access to business critical information anytime, anywhere, and gives people the ability to interact with live data with or without network connectivity. Birst 5X supports "responsive design," which adjusts the presentation of the content depending on the form factor. A "build once, deploy anywhere" model eliminates the need to develop multiple copies of a dashboard in order to view it on different devices.
A new Open Client Interface in Birst 5X extends a company's existing business ecosystem. The Open Client Interface enables people that have already adopted another front-end tool, such as Microsoft Excel, Tableau or R, to use their product of choice with Birst, giving them a trusted source of data to work with and delivers self-service without sacrificing governance.
"Birst is continuing to pioneer a 2-tier approach to BI and analytics. With Birst 5X we are rethinking the user experience by focusing on how people interact with data instead of putting them in a rigid user role," said Junaid Saiyed, VP Product Management and Engineering, Birst. "Birst 5X gives people an agile experience that adapts to their workstyle, whether they need operational dashboards or visual discovery, in the office or on the road, and all against a trusted source of truth. "