How to Select the Best Procurement Software for Your Business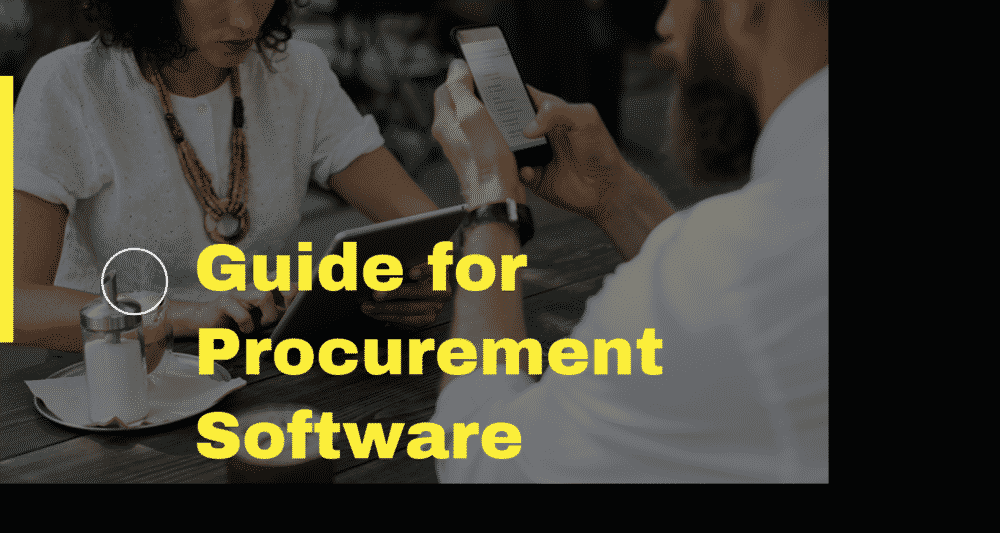 Procurement is a set of activities, measures, and tasks performed for the purpose of purchasing materials, machines, devices, accessories and tools in order to smoothly conduct the work order process. It is a link between production processes and the market.
In order to make the procurement profitable, optimal quantities and stocks must be taken into account. Also, cost-effectiveness is achieved by finding cheaper suppliers and materials and covering the cost of procurement.
The main goal of the procurement is the regular supply of production at the lowest price possible: desired material in the right quantity, under the right conditions, at the right time, from the right sources, and with the right service.
In order for all these processes to be successfully completed and without errors, a special solution has been introduced - Procurement Software. It includes a complete range of business activities that involve the processes of public and all other procurement, as well as all related tasks and requirements.
Procurement Software includes the entire procurement cycle in an enterprise that starts from the development and adoption of a procurement plan, processing requests for procurement, procurement execution, collection and evaluation of bids, selection of the most favorable bid, contracting, monitoring the realization of procurement and also procurement planning and reporting.
Often, the main core of a Procurement Software is an integrated system for managing and organizing documents and business processes. This solution enables simultaneous operation with documents and relational data in a comfortable and unique user environment. Documents are organized in procurement cases and through a simple user interface are easily accessible to employees when working with individual purchases.
A procurement solution is meant to simplify and promote buy and sale procedures by handling purchase orders, requisitions and invoicing. It automates purchasing activities, controls and maintains the inventory ensuring that plans and goals are moving on as expected.
What are Procurement Software?
Procurement Software helps to automate the purchasing function of organizations. The activities include raising and approving purchase orders, selecting and ordering the product or service, receiving and matching the invoice and order, and paying the bill is handled electronically. Procurement Software enables the procurement department to see everything that is ordered, ensure that nothing can be ordered without correct approvals, and lets them get the best value by combining several orders and even getting suppliers to bid for the business. Procurement software helps organization to ease of administration and potential long-term cost savings.
You may like to read: Top Free & Premium Procurement Software and Top Contract Lifecycle Management Software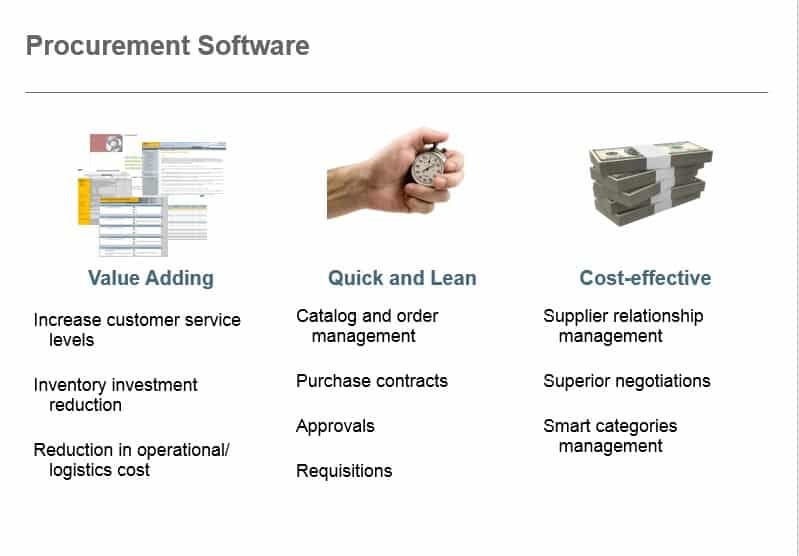 What are the Types of Procurement Software

There are several different types of Procurement Software, all divided into groups based on the installation type  : Cloud-based and On-premise Procurement Software.
A cloud-based solution often provides adaptability and performance when compared to On-premise solutions. A cloud platform can dynamically adapt to demands and requirements and also allocate supplementary processing power to the user. When it comes to the mobility, on-premises system requires additional investments in services and tools, while cloud solutions offer mobility capabilities without additional costs and fees.
Besides that, Procurement Software offers features such as Spend Analysis, Supplier Discovery, Supplier Information Management, e-Sourcing, e-Procurement, e-Invoicing, Complete Suits.
Depending on company`s needs, business requirements and future goals, there are several types of Procurement Software available based on licensing model:
Open Source Procurement : These are Open Source Software where the source code is available.
Free Proprietary Procurement : These are limited versions of a fully functional propriety Procurement Software.
Proprietary Procurement : Full paid version of Procurement Software which is available either in cloud or standalone client server architecture.
What are the Essential Features of Procurement Software

Procurement Software is an Internet based software application that enables an end user to purchase goods from approved electronic catalogs in accordance with company buying rules. Procurement Software captures necessary purchasing data in the process. The end users selection of a good for purchase from a supplier catalog is automatically routed through the necessary approval processes and protocols. The Procurement Software provides features such as: Catalog and Order Management, Asset Management and Inventory, Reports, Billing Management, Helpdesk, Vendor Management, Requests for Quote, Purchase Contracts, Approvals, Requisitions, Item receipt, Vendor Bills, Real-time Budget, Risk Management, and Financial Accounting Integration.
Catalog and order management: It provides one centralized catalog for all the products and reduces administrators' workload.
Asset management and inventory: It promptly approves requests, automates notifications and ensures compliance with organizational strategies, regulations and policies.
Reports: Accumulation of complex reports with a single click; custom report development.
Billing management: It prevents frauds/duplicates efficiently and uploads invoices in order to generate specific orders.
Helpdesk: It provides the automated self-service portal and anytime accessible web-based approach in order to resolve possible conflicts.
Vendor management: Manages vendor relations end enables users to control and keep track of vendor performance.
Requests for quote: Creating purchasing contracts and workflows; up-to-date information.
Purchase contracts: Ability to automatically activate contracts; clear insight into transactions and commercial compliance.
Approvals: Simple approvals or more advanced approvals with customizable workflows; email-driven notifications.
Requisitions: It provides complex workflow approvals and automatic routing.
Item receipt: It maintains operational efficiency and enables easy information distribution.
Vendor bills: It helps to complete the pay cycle and allows automatic verification.
Real-time budget: It can track current spend against the goals and predicts budget impact before approval.
Risk management: Successfully manages the risk and offers greater benefits to the organization.
Financial accounting integration: Integration with various accounting packages.
Enterprise visibility: Real-time and accurate insight into the movement of merchandise.
Supplier audits: An audit verifies met expectations and ensures quality.
Second sourcing: It provides an insurance against unexpected scenarios.
Supplier relationship management: It records audits, findings and corrective actions and connects suppliers, business and persons involved.
Credit card support: Integration with payment processors eliminates the need to establish credit between participants for a sole purchase.
Comprehensive deliveries: It provides overall shipping notes that include all order information.
Sensible supplier evaluations: It helps you avoid unreliable vendors and suggests excellent providers.
Instant messaging: Eases the exchange of confidential information and reduces the risk of disputes and miscommunication.
Superior negotiations: It identifies best deals and establishes ideal acquisition terms.
Predefined delivery address: It provides all necessary information to suppliers about where to send their products.
Smart categories management: It accumulates and categorizes items by typical traits and characteristics.
Multi-level management: Databases available to all department levels.
Informative items database: It helps you to organize products and services with complete and precise details.
What are the Benefits of Procurement Software
Procurement Software delivers a wide range of benefits to its users:
Greater efficiency: It leads to more profitable sourcing and helps in avoiding underachieving vendors.
Significant savings: Provides a better insight into spending and budgets and also allows the company to take advantage of discounts or warranties.
Centralization: Every segment of an organization will follow the same procedures and strategies.
Reducing errors: With reduced errors, there is a greater chance to ensure that new orders are correct.
Eliminating paperwork: Data is saved and stored electronically.
Transaction speed: Because the unnecessary processes are eliminated, transaction speed is increased and procurement cycle time is reduced.
Spending control: It provides mechanisms against unauthorized spending.
Alignment with finance budgeting processes: It ensures that the savings are tracked and reported.
Full and natural integration with document management system.
Introduction of the automation of the complete procurement process, starting from the procurement plan, through submission and processing of requests for procurement, implementation of public procurement and realization monitoring.
Clear, unique and expandable bid evaluation methodology.
Time savings by faster distribution of work tasks and defining execution deadlines for individual activities and overall processes.
What are the Latest trends in Procurement Software

Latest key trends in the Procurement Software industry are:
Indirect Procurement: It encourages and supports decision-making processes and provides teams with useful analytics that will also help companies to make smart, data-based decisions.
Self-service Tools: Enabling users to communicate their demands, increasing customer satisfaction and reducing management costs.
Mode supported by myriad transactional solutions: It is meant to control and manage extensive portions of company's indirect spend.
End-to-end procurement technology: Main goal is to strengthen and enhance client-supplier collaboration.
Is a Free Procurement Software Worthwhile?
Procurement Software has many features and can do a lot to help your business to succeed by making it efficient, but it can be expensive. There are plenty of free Procurement Software available. There are two category of Free Procurement Software : Free Open Source Procurement Software and Limited version of a Proprietary Procurement Software.
Free Open Source Procurement Software is a good choice, when you have a development team available in your company and when you want to try out the product or build new features and functionality on top of it. You need to spend time to set it up and running.
The limited version of a Proprietary Procurement Software is a good way to see if it will be useful to your business before making a big investment but these software comes with limitations.  A free limited version from a proprietary product company will make it easier to upgrade in the long run and also help you determine if that company's solution is what you want.
There are also drawbacks to Free Limited version of a Proprietary Procurement Software . These limited version do not have nearly as many features available in a fully functional paid version, and there are limits such as number of features and functionality, modules,  storage limits, number of reports, limited data integration options, and also on the number of users you can have. The free versions also have limited support options.
 How to choose the right Procurement Software

There are many Procurement Software platforms available, so in order to choose the right one for your company, here are some key considerations:
Support: This is one of the key parameters for choosing a new system. Support is a key issue for an adequate return on investment (ROI) and long-term business development. Also, one of the important things that should be included in the criterion when choosing a new system is the very widespread support eco system and the ability to change suppliers.
Customization: For long-term software utilization, it is very important that there is a possibility of further adjustment to the specific needs of a company.
Explore the offer: Thoroughly analyze software companies and what they offer – think about implementation scope, training mode, subsequent technical support.
Reports and planning: The software should be able to produce reports for certain time periods according to the selected parameters with a minimum of your time consumed in order to be able to monitor your business and accurately examine all aspects of the business.
Business Requirements : Evaluate the business requirements and consider a best fit solution.
Top Free Procurement Software
Top Procurement Software
Top Procurement Software
PAT Index™
You may like to read: Top Free & Premium Procurement Software and Top Contract Lifecycle Management Software