Review
Vroozi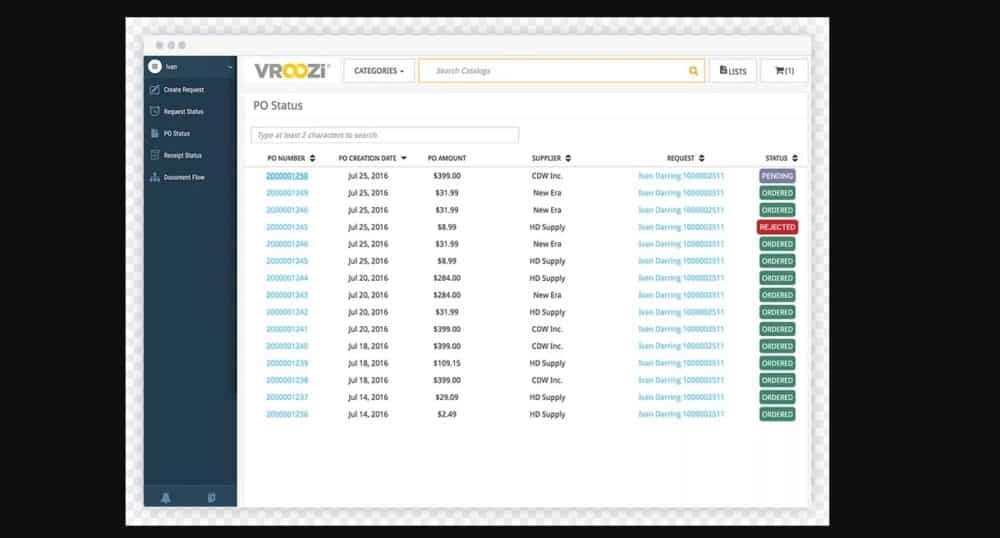 Overview
Vroozi is 100% cloud-based, mobile-friendly purchasing software. This means employees can search, request, approve, and order items and services on any device.
• Shop from any device
• Google-like search for procuring anything
• Spend analytics
• Drag and drop catalog approvals
• Supplier portal
• Product and service reviews
Small (<50 employees), Medium (50 to 1000 Enterprise (>1001 employees)
What is best?
• Google-like search for procuring anything
• Spend analytics
• Drag and drop catalog approvals
• Supplier portal
• Product and service reviews
What are the benefits?
• Minimum to no training required
• High user adoption rate
• High procurement policy compliance rate
• Increase employee productivity
• Stronger supplier relationships engagement
Vroozi is an eProcurement software that simplifies purchasing. It makes business purchasing accessible, easy, and insightful. Vroozi customer searching and shopping experience has many features some of which include comparison, filters, categories, lists, reviews.
Vroozi understands comprehensive needs of a procurement department and provides exactly what is required to operate to maximize spend and minimize costs. With Vroozi, businesses are able to understand wide variety of industry and features that are equipped to fit any specific businesses. It centralizes spends with approved vendors, by driving contract realization with the central spend analysis.
Vroozi handles procurement for all sizes of businesses at reasonable prices by offering simple monthly pricing tiers. Vroozi mobile enabled procurement solution and allows for businesses to manage the three pillars of procurement: purchase demand, supply base and total cost management. This results to huge savings and transparency. The mobile platform is fully functional allowing users to work from anywhere and greatly reduce time it takes to complete administrative tasks in turn maximizing spend and minimizes costs.
Vroozi is intuitive and easy to use with a customer friendly design. The interface naturally leads shoppers through procurement process for a completely seamless experience. Vroozi has created a platform that enables effective participation and encourages connection through the connected procurement experience.
Vroozi has smart and intelligent solutions to analyze data with intelligent spend analysis and intuitive visualization. Vroozi features can be adjusted to suit user preference with a robust data configuration and customizable items fields and marketplace layout. Vroozi can be adopted easily within no time and it is simple to upload the entire supplier catalogs in a minute.
Vroozi has strong uncompromising standards and stands the most rigorous security tests, the solutions are fully compliant with the latest OCI and taxonomy classification standards.
You may like to read: Top Free & Premium Procurement Software and How to Select the Best Procurement Software for Your Business