Top 22 Predictive Analytics Freeware Software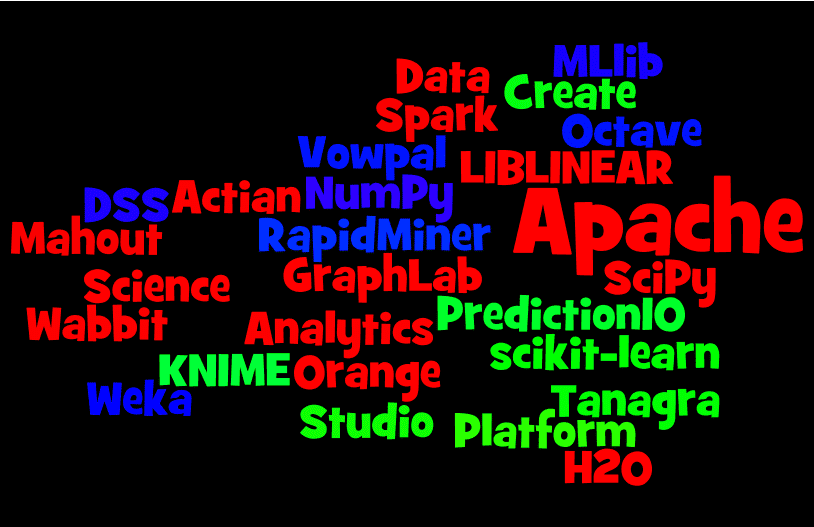 Top 22 Predictive Analytics Freeware Software : R, Orange, RapidMiner, Dataiku Data Science Studio (DSS), Anaconda, Weka, GraphLab Create, Octave,  H2O, Lavastorm Public Edition, DMWay Basic, Tanagra, PredictionIO, HP Distributed R, KNIME, scikit-learn, Actian Analytics Platform, Apache Spark MLlib, Apache Mahout, LIBLINEAR, Vowpal Wabbit, NumPy, and SciPy  are some of the key players in the freeware predictive analytics market in no particular order.Predictive analytics uses statistics, machine learning and data mining to search for correlations and patterns which offer clues about customer behavior, market trends and other area in the raw data sets. These solutions on predictive modeling are available in open source or as freeware community edition at no cost via free license. Some of these Predictive Analytics Freeware Software, are free versions or community editions of the commercial versions which offers less functionalities and capabilities.
You may also like to review the top predictive analytics proprietary software list:
Top Predictive Analytics proprietary Software
Top Free Predictive Analytics Software
R, Orange, RapidMiner, Dataiku Data Science Studio (DSS), Anaconda, Weka, GraphLab Create, Octave,  H2O, Lavastorm Public Edition, DMWay Basic, Tanagra, PredictionIO, HP Distributed R, KNIME, scikit-learn, Actian Analytics Platform, Apache Spark MLlib, Apache Mahout, LIBLINEAR, Vowpal Wabbit, NumPy, and SciPy
1.R
R is a free software for statistical computing and graphics which runs on a wide variety of UNIX, Windows and Mac OS platforms. R provides a wide variety of statistical functionalities such as linear, nonlinear modelling, classical statistical tests, time-series analysis, classification, clustering and graphical techniques. It is also highly extensible and provides capabilities for data manipulation, calculation and graphical display,data handling, calculations on arrays, tools for data analysis, programming language which includes conditionals, loops and many other capabilities. S language is mostly used in research in statistical methodology and R provides an open source route to this activity.Well designed publication quality plots can be produced in R, including the mathematical symbols and formula.
Dataiku DSS is the collaborative data science platform that enables teams to explore, prototype, build, and deliver their own data products more efficiently. Dataiku DSS provides an interactive visual interface where they can point, click, and build or use languages like SQL to data wrangle, model, easily re-run workflows, visualize results, and get up-to-date insights on demand. Dataiku DSS provides tools to draft data preparation and modelisation in seconds, that wish to leverage their favorite ML libraries (scikitlearn, R, MLlib, H2O, and so on), and that rely on automating their work in a completely customizable interface. Data Ops.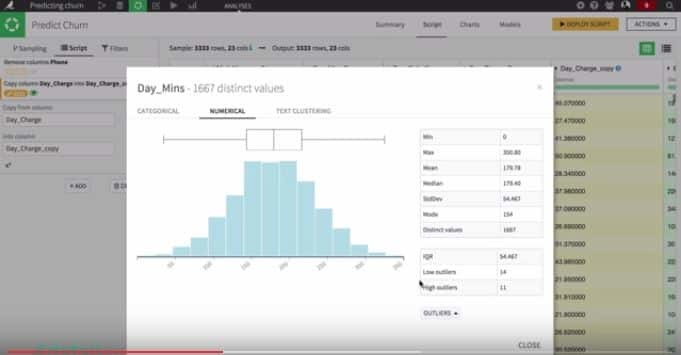 2.Orange
Orange is an open source data visualization and analysis tool. Data mining is done through visual programming or through Python scripting. Orange remembers the choices, suggests most frequently used combinations, and intelligently chooses which communication channels between widgets to use. Catterplots, bar charts, trees, to dendrograms, networks and heatmaps are available for visualizations. There are components for machine learning and add ons for bioinformatics and text mining available. The solution is packed with features for data analytics and there are over 100 widgets to use in Orange.
3.RapidMiner
RapidMiner is available as a stand alone application for data analysis and as a data mining engine for the integration into own product. RapidMiner provides data mining and machine learning procedures including, data loading and transformation, data pre processing, visualization, modeling, evaluation, and deployment. RapidMiner is written in the Java programming language. It uses learning schemes and attribute evaluators from the Weka machine learning environment and statistical modelling schemes from R Project.This can be used for text mining, multimedia mining, feature engineering, data stream mining, development of ensemble methods, and distributed data mining.
RapidMiner v6.0 remains open source. RapidMiner latest versions are now only available as a trial version or under a commercial license.
4.Dataiku Data Science Studio (DSS) Community Edition
Dataiku Data Science Studio (DSS) is a software platform that aggregates all the steps and big data tools necessary to get from raw data to production ready application. DSS profiles the data to help to find correlations and significant variables in data with only a few clicks and trains and tests best-fitting models. DSS can make the models and predicted values accessible to other business applications through a REST API.DSS can also publish the models and predicted values to a variety of other destinations such as ElasticSearch, FTP servers, internal Datawarehouses.
Data Science Studio (DSS) Community Edition
5.Anaconda
Anaconda is an open data science platform powered by Python. The open source version of Anaconda is a high performance distribution of Python and R and includes over 100 of the most popular Python, R and Scala packages for data science. There is also access to over 720 packages that can easily be installed with conda, the package, dependency and environment manager, that is included in Anaconda.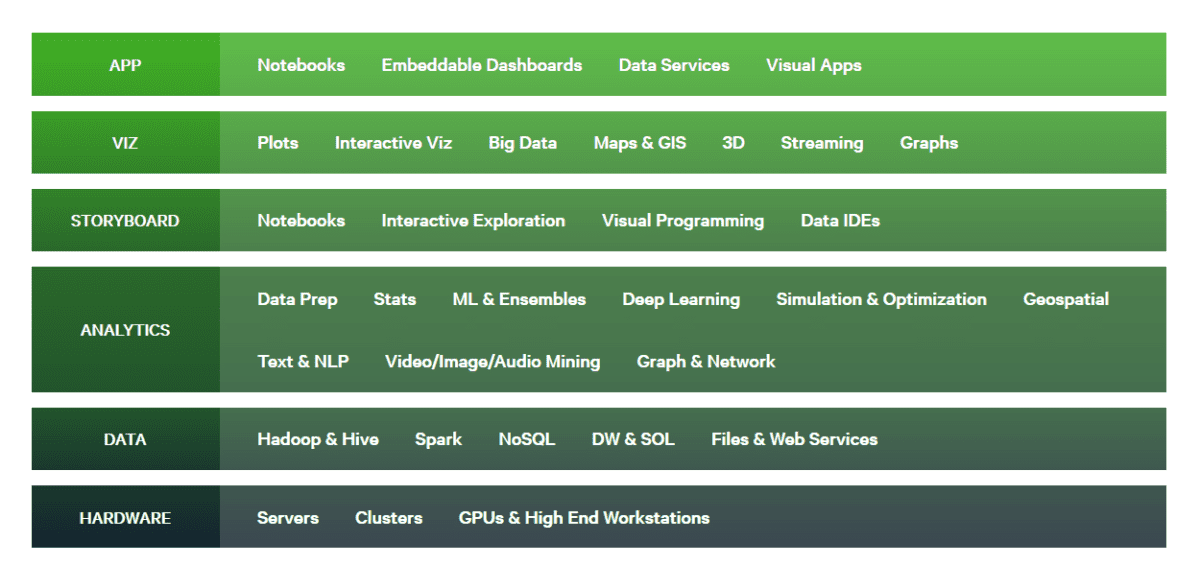 6.Weka
Weka is a collection of machine learning algorithms for data mining tasks. The algorithms can either be applied directly to a dataset or called from the Java code. Weka contains tools for data pre processing, classification, regression, clustering, association rules, and visualization. It is also well suited for developing new machine learning schemes.
7.GraphLab Create
GraphLab Create is a machine learning platform built for developers and data scientists with functional programming skills and some basic understanding of data science. It allows them to easily prototype and scale their ideas from inspiration to production. Example services include recommenders, fraud detectors or customer churn predictors. Developers and data scientists are able to quickly deploy and easily integrate with other applications. The Discover edition offers a free developer's license with community forum support.
8.Octave
Octave is a high level interpreted language for numerical computations. It provides capabilities for the numerical solution of linear, nonlinear problems and graphics for data visualization and manipulation. There are tools available for solving common numerical linear algebra problems, finding the roots of nonlinear equations, integrating ordinary functions, manipulating polynomials, and integrating ordinary differential and differential algebraic equations.
9.H2O
H2O is an open source predictive analytics platform. H2O users can easily explore and model big data from within Microsoft Excel and RStudio and connect it with data from HDFS, S3, SQL and NoSQL data sources. H2O speaks the language of data science with support for R, Python, Scala, Java and a robust REST API. Business applications are powered by H2O's NanoFastTM Scoring Engine. Algorithms include Distributed Trees and Regression, such as Gradient Boosting Machine (GBM), Random Forest (RF), Generalized Linear Modeling (GLM), k-Means and Principal Component Analysis (PCA).
10.Lavastorm Public Edition
Lavastorm Analytics Engine Public Edition is an easy to use, cost effective tool for ad hoc discovery and business process audit analytics. Public Edition is ideal for those who want to put analytic processing power on desktop and do not require the big data processing power, automated and continuous analytics, and collaboration capabilities of the Lavastorm Analytic Engine Server.
Lavastorm Analytics Engine Public Edition
11.DMWay Basic
DMWay makes predictive analytics accessible and affordable. The DMWay solution allows users to build better predictive models in hours or days rather than months, that can be adapted to suit any industry. The DMWay Analytics Engine is the most robust solution available that provides the highest level of modeling.The Analytic engine has been designed to model the steps taken by experienced data scientists in order to build accurate and effective analytics model. The DMWay scoring engine is the tool recommended for businesses seeking assistance in the deployment of the predictive analytics results provided by the Analytics Engine.
12.Tanagra
Tanagra is a free data mining software for academic and research purposes, which has capabilities for several data mining methods from exploratory data analysis, statistical learning, machine learning and databases area. Tanagra supports several standard data mining tasks such as: Visualization, Descriptive statistics, Instance selection, feature selection, Feature construction, regression, Factorial analysis, clustering, classification and Association rule learning. The functionalities include, stream diagram which represents the sequence of operations applied on data by a graph where the nodes symbolize the analysis performed on the data and the links between nodes and the flow of processed data.
13.PredictionIO
PredictionIO is an open source machine learning server for software developers to create predictive features, such as personalization, recommendation and content discovery. Through PredictionIO, features such as predict user behaviors, offering personalized video, news, deals, ads, job openings, events, documents, apps, restaurants and match making services can be added in applications.
14. HP Distributed R and HP Vertica Community Edition
HP Distributed R, is an open source, scalable and high performance platform for the R language which accelerates large-scale machine learning, statistical analysis, and graph processing. Haven Predictive Analytics provides data acceleration and native SQL support with HP Vertica. The native integration with the market leading columnar MPP database increases overall data access performance by up to 5X and provides a comprehensive set of proven, out-of-the-box parallel algorithms that produce accurate and consistent results with mature standard R algorithms. Haven Predictive Analytics is free and fully compatible with the open source R language and tools and backed by enterprise support from HP and priced per node.
HP Distributed R and HP Vertica Community Edition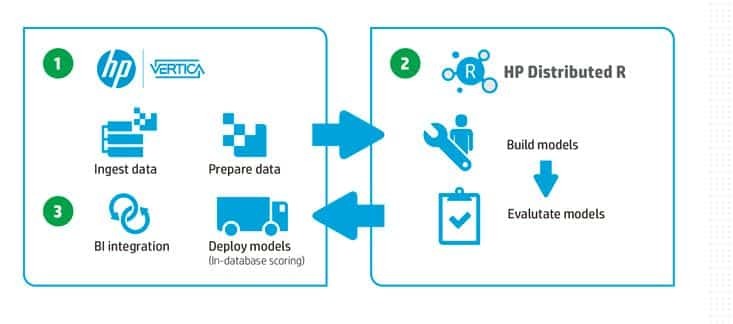 15.KNIME
KNIME Desktop is open source and is a user friendly graphical workbench for data access, data transformation, initial investigation, predictive analytics, visualization and reporting. The open integration platform provides over 1000 modules or nodes. KNIME also provides the ability to develop reports based on data information and to automate the application of new insight back into production systems. KNIME products are available as KNIME Desktop, KNIME Professional, KNIME Team Space, KNIME Server and KNIME Cluster Execution. KNIME Desktop can be freely downloaded in to desktop. This is based on the Eclipse platform and is available in dual license. The functionalities in non open source products include shared repositories, authentication, remote execution, scheduling, SOA integration and a web user interface.
16.scikit-learn
scikit-learn is simple and efficient tools for data mining and data analysis. It is Machine Learning in Python and built on NumPy, SciPy, and matplotlib which is also Open source. The features include Classification, Regression, Clustering, Dimensionality reduction, Model selection and Preprocessing.
17.Actian Analytics Platform, Express
Actian Analytics Platform, Express Hadoop SQL Edition, is a free community version of the end-to-end analytics platform running 100 percent inside of Hadoop. The Actian Analytics Platform turns Hadoop into a high-performance analytics platform, enabling organizations to improve the accuracy of predictions and decision making by analyzing data from more sources without sampling. Actian Express, Hadoop SQL Edition delivers unmatched speed and price/performance using existing Hadoop clusters.
Actian Analytics Platform, Express
18.Apache Spark MLlib
Apache Spark MLlib built on Apache Spark, is a fast and general engine for large-scale data processing. MLlib provides algorithms including linear SVM and logistic regression, classification and regression tree, random forest and gradient-boosted trees, recommendation via alternating least squares, clustering via k-means, Gaussian mixtures, and power iteration clustering, topic modeling via latent Dirichlet allocation, singular value decomposition, linear regression with L1- and L2-regularization, isotonic regression, multinomial naive Bayes, frequent itemset mining via FP-growth, basic statistics and feature transformations.
19.Apache Mahout
Apache Mahout provides scalable machine learning algorithms focused primarily in the areas of collaborative filtering, clustering and classification. Many of the implementations use the Apache Hadoop platform and include mature Hadoop MapReduce algorithms, Scala, Spark, H2O algorithms. Collaborative Filtering : User-Based Collaborative Filtering,Item-Based Collaborative Filtering,Matrix Factorization with ALS,Matrix Factorization with ALS on Implicit Feedback and Weighted Matrix Factorization, SVD++.
20.LIBLINEAR
LIBLINEAR is a linear classifier for data with millions of instances and features. It supports L2-regularized classifiers, L2-loss linear SVM, L1-loss linear SVM, and logistic regression (LR), L1-regularized classifiers (after version 1.4),L2-loss linear SVM and logistic regression (LR). Main features include multi-class classification: 1) one-vs-the rest, 2) Crammer & Singer, cross validation for model selection and probability estimates (logistic regression only).
21.Vowpal Wabbit
Vowpal Wabbit is a scalable implementation of online machine learning and support for a number of machine learning reductions, importance weighting, and a selection of different loss functions and optimization algorithms.Via parallel learning, it can exceed the throughput of any single machine network interface when doing linear learning, a first amongst learning algorithms.
22.NumPy
NumPy is a package for scientific computing with Python, which supports N-dimensional array object, sophisticated (broadcasting) functions, tools for integrating C/C++ and Fortran code and useful linear algebra, Fourier transform, and random number capabilities
23.SciPy
The SciPy Stack, is a collection of open source software for scientific computing in Python, and specified set of core packages including NumPy, scipy, matplotlib, ipython, Sympy and pandas.
You may also like to review the predictive analytics software API :
Predictive Analytics Software API
You may also like to review the top predictive analytics proprietary software list:
Top Predictive Analytics proprietary Software
More Information on Predictive Analysis Process
For more information of predictive analytics process, please review the overview of each components in the predictive analytics process: data collection (data mining), data analysis, statistical analysis, predictive modeling and predictive model deployment.