Weiss-Röhlig Achieves Improved Operations with 3GTMS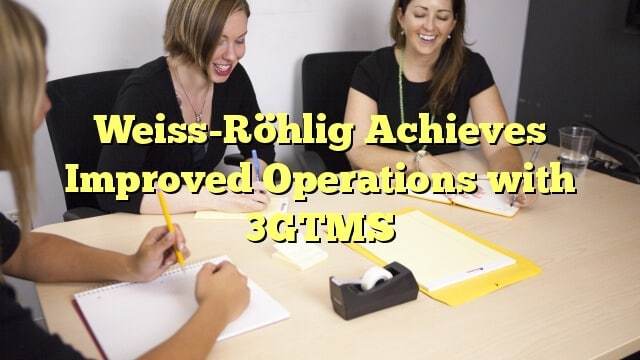 Weiss-Röhlig achieves operational benefits and expands the usage of 3GTMS. Weiss-Röhlig's core business is international freight forwarding with warehousing and distribution for their clients. Weiss-Röhlig uses 3GTMS for pick-up and delivery to/from ports and for distribution out of the warehouses. Also, 3GTMS is used as 3PL support for their managed freight. Usage by Weiss-Röhlig's overseas facilities provides the ability for end to end quotations quickly and accurately worldwide.
"We use 3GTMS at over 150 locations worldwide to provide quick and accurate quotes for our customers." says Ryan Murphy, Vice President Supply Chain Solutions, "Without 3GTMS we would have to have a significantly larger set of resources to manage the quotations across the time zones."
"At 3GTMS we consider our customer's success to be the highest priority." says Mitch Weseley, CEO 3GTMS, "3GTMS' approach to Weiss-Röhlig was personalized to make certain our process led to the most effective and efficient results."
"3GTMS has also allowed us to perform analytics on our carriers." says Murphy, "This has given us the basis to understand our spend patterns and negotiate appropriate rates."
With over 5,250 employees and an annual revenue of 1.15 billion euros in 2012, Gebrüder Weiss ranks among the leading transport and logistics companies in Europe. In addition to its core business of overland transport, air & sea freight and logistics, the company also operates a number of highly specialized industry solutions and subsidiaries under the umbrella of Gebrüder Weiss Holding AG, based in Lauterach (Vorarlberg, Austria).