Review
SAS Event Stream Processing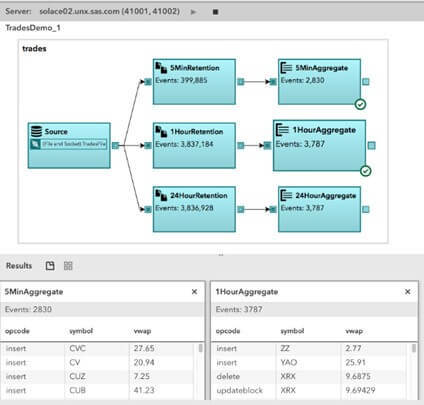 Overview
SAS Event Stream Processing, helps to analyze high-velocity big data while it's in motion, helping you know what requires action, and what can be ignored.
Big Data Streaming Analytics
Small (<50 employees), Medium (50 to 1000 Enterprise (>1001 employees)
SAS Event Stream Processing provides instant information that an organization can take immediate action. With a huge amount of date flow is received, SAS Event Stream Processing allows users to make responses and actions right away before they are tagged as obsolete. View and respond to real time and high velocity of data and plan on the required action effectively.With SAS Event Stream Processing, streamed data are of quality and accuracy which give the business the opportunity to make necessary actions that are also accurate. It also provides prebuilt analytic expressions as well as advanced analytics integration for complex pattern matching that is advantageous for the company for creating current and long term decisions.
Manage large amounts of data with SAS Event Stream Processing, it provides faster and more powerful stream processing that can lead to high volumes of throughput with millions of events per second. Simultaneously work on queries and updates as well as deleting all at the same time. The configurable dashboard is designed to be customized for real time monitoring as well as streaming different activities.Manage all data in just one interface with SAS Event Stream Processing. Regardless how fast the flow of the data is, how much information you have available and from which sources you are using at the same time, this intuitive program can provide the business the ability make quick changes and right actions that would be beneficial to both the company and customers. Consolidate data sources with SAS Event Stream Processing using adapters such as SAP Sybase ASE, Hadoop, OSIsoft PI, Axeda, RabbitMQ, Solace, Tervela Data Fabric, XML/JSON File Socket Adapter and so much more.