CognitiveCommerce cloud personalized, enriched experiences for Retailers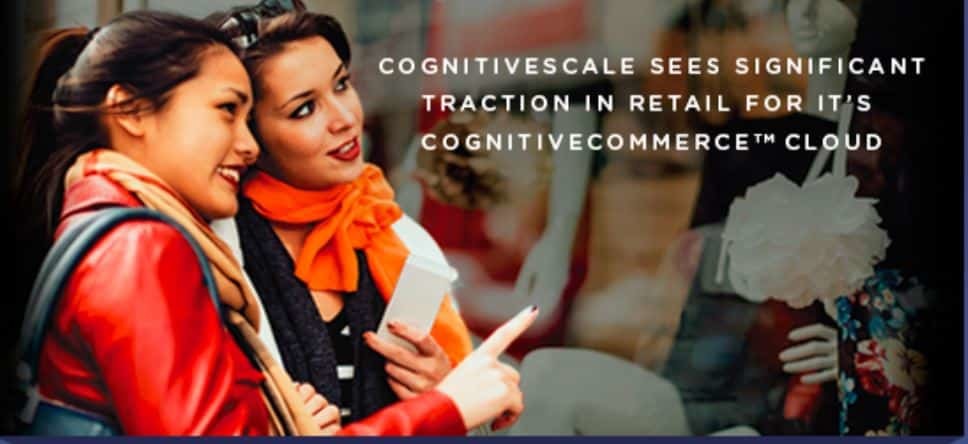 CognitiveCommerce uses a machine intelligence powered learning platform to deliver hyper-personalized, enriched experiences to transform shopping . Global retailers in apparel, department store, grocery, and drug verticals are adopting CognitiveCommerce cloud to disrupt traditional models of engagement with shoppers.
"Brand loyalty is a huge problem for retailers who struggle to power game changing, 'wow me' experiences for their customers. CognitiveCommerce gives retailers a 'Digital Brain,' which when plugged behind their existing eCommerce sites or Mobile apps delivers transformative capabilities to increase conversion, engagement, and brand loyalty, while providing an intimate, delightful, serendipitous, and expert shopping experiences for their consumers—even when anonymous. No one does this today," said Nij (Neeraj) Chawla, Chief Product Officer at CognitiveScale.
CogntiveScale is powering a CognitiveCommerce cloud for one of the largest omni-channel department store retailers in the world. As a first step towards becoming a Cognitive business, this retailer will roll out a new generation of transformative shopping experiences. Some of the largest global retailers across apparel, grocery, and department stores are also beginning their cognitive journey with CognitiveCommerce.
With CognitiveCommerce, consumers will start seeing entire shopping departments hyper-personalized to their preferences that include color, fit, style, brand, pricing, diet, and even allergy indicators. They will be able to shop based on context and occasion. Existing retailer web and mobile sites will wow them with micro-experiences that are powered by a deep understanding of their profile allowing the retailer to market to them as an individual rather than as a broad market segment.
With fast changing catalogs and tons of unstructured data, retailers don't know how to process new products, multiple reviews, images, and social signals. They also struggle to create a 360 view of a consumer. CognitiveScale's CognitiveCommerce cloud acts like a digital brain that plugs into a retailer's existing digital commerce infrastructure, enabling the retailer to actively discover, learn, and act from complex, multi-structured "Dark Data," i.e., data that is uncollected, neglected, or under-utilized.
CognitiveCommerce aggregates consumers' digital exhaust, purchase history, and social signals to create a holistic view of a customer's style, preferences, and shopping behavior. The cloud is composed of "learning agents," or machine learning algorithms that anonymously and securely build an understanding of each consumer. It correlates their digital interactions and purchase history with contextual information like intent, catalog changes, enterprise data, reviews, trends, weather, diet, and even allergies.
As a result, CognitiveCommerce is able to provide retailers with accurate and timely insights that account for individual customer intent and context and help the buyer or omni-channel executive understand shopper behavior at a massive scale to drive better assortment and merchandising decisions. With CognitiveCommerce, apparel, department stores, or grocery chains can accurately capture what a customer likes or dislikes, what they will want next, and deliver new micro-experiences throughout the shopping journey.
CognitiveScale delivers a new class of machine intelligence-powered cognitive cloud software that revolutionizes customer engagement, decision-making and productivity for shoppers, patients, financial clients, and employees.