Review
SAP Event Stream Processor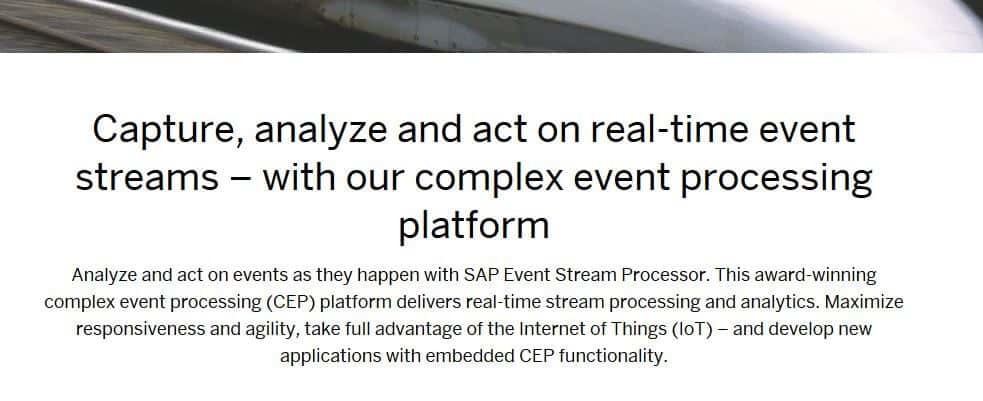 Overview
SAP event processing (CEP) platform delivers real-time stream processing and analytics. Maximize responsiveness and agility, take full advantage of the Internet of Things (IoT) – and develop new applications with embedded CEP functionality.
Big Data Streaming Analytics
Small (<50 employees), Medium (50 to 1000 Enterprise (>1001 employees)
SAP Event Stream Processor is an event processing platform that helps businesses capture, analyze and get real time event streams to ensure a company's better data management. By using the Internet of Things (IoT) as a source, and becoming responsive and quick on actions, a particular company will have a better understanding on how to effectively relate to customers and be productive for better outputs.SAP Event Stream Processor helps a company be informed of new information and provide a continuous act on it. By monitoring real time data as well as possible threats, a company will be able to respond immediately to avoid any problems in the future. SAP Event Stream Processor provides fast real time stream processing as well as analytics even on big volumes of complex data. Gather information from event streams that need immediate actions as well as alerts. Creating an automated response for different situations based on single and combined events are also part of the SAP Event Stream Processor's program.
SAP Event Stream Processor processes millions of event per second and allows streaming to get results in milliseconds. Take advantage of IoT and use it for collecting, managing, filtering as well as absorbing information from other sources. Incorporating existing data from other sources and apps can be done with SAP Event Stream Processor by using wide range of adapters as well as interfaces. This feature will help companies to simply merge all information and migrate them into one complete program such as SAP Event Stream Processor.