PROS Configure-Price-Quote with Predictive Pricing for Microsoft Dynamics CRM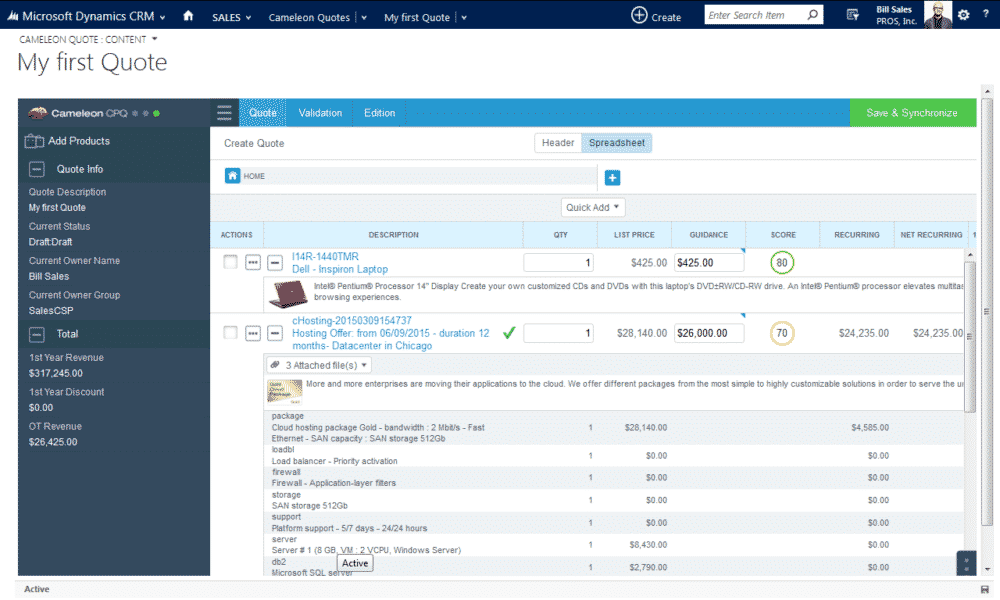 PROS Configure-Price-Quote with Predictive Pricing for Microsoft Dynamics CRM : PROS Cameleon CPQ for Microsoft Dynamics CRM is an enterprise-class CPQ (configure-price-quote) product with PROS price optimization for Microsoft Dynamics CRM. PROS Cameleon CPQ integrated with Microsoft Dynamics CRM is designed to increase quoting speed and accuracy, drive incremental profitability and enable sales teams to win more business. Guided selling, cross-sell and up-sell recommendations and PROS pricing guidance empower sales teams to respond even faster and smarter with more targeted offerings for each customer. "Every organization is searching for new ways to drive profitable growth in today's increasingly competitive global market," said PROS Chief Marketing Officer Patrick Schneidau. "At PROS, we combine analytics, automation and intelligence to deliver CPQ capabilities that redefine what companies should expect from a CPQ solution. By arming sales teams with product and pricing information, they're able to negotiate from an informed position, develop targeted offers with profitable margins, and win the business with speed and accuracy. Our goal is to deliver exponential value and help companies provide even better experiences for their customers."
PROS Cameleon CPQ helps sales representatives win more deals by making quoting much easier, faster and smarter. PROS Cameleon CPQ with pricing guidance provides companies with the added advantage of guiding the sales team with pricing recommendations for each product with each customer. All of the information is integrated into their Microsoft Dynamics CRM environment, enabling sales teams to better respond to customers more quickly with tailored offers, anywhere and anytime.
PROS Cameleon CPQ for Microsoft Dynamics CRM combines the power of CPQ and intelligent pricing, making selling and quoting easier, faster and smarter than ever. Sales teams drive more accurate quotes with Cameleon CPQ, supported by business rules that drive automated workflows and frictionless approvals. Now, representatives are able to spend more time with customers and far fewer hours on the drudgery of administrative details.PROS Cameleon CPQ provides sales teams with predictive guidance that identifies customer and product opportunities with pricing guidance, which empowers negotiations from an informed point of view. Guided selling illuminates cross-sell and up-sell recommendations, which ensures sales teams deliver tailored responses for each individual opportunity in minutes or hours – not days or weeks.
The name of the game for winning requires sales teams to respond quickly and accurately to quote requests, which builds customer trust and confidence. PROS Cameleon CPQ provides automatic and consistent proposal creation that includes the customer's exacting requirements so sales teams can respond at the speed of business. The seamless experience within their Microsoft Dynamics CRM environment means sales representatives can quickly adopt the new capabilities and respond more quickly to customer requests. Cameleon CPQ identifies customer and product opportunities that focus sales teams on those with the highest probability of winning. Data from transaction history and pricing analysis enables fact-based coaching to help build negotiation skills and share best practices for developing world-class sales teams.
PROS Holdings, Inc. is a big data software company that helps customers outperform in their markets by using big data to sell more effectively by unlocking buying patterns and preferences within transaction data to reveal which opportunities are most likely to close, which offers are most likely to sell and which prices are most likely to win. PROS offers big data solutions to optimize sales, pricing, quoting, rebates and revenue management across more than 40 industries.
You may also like to read, Predictive Analytics Free Software, Top Predictive Analytics Software, Predictive Analytics Software API, Top Free Data Mining Software, Top Data Mining Software,and Data Ingestion Tools.
Top Predictive Lead Scoring Software, Top Artificial Intelligence Platforms, Top Predictive Pricing Platforms,and Top Artificial Neural Network Software, and Customer Churn, Renew, Upsell, Cross Sell Software Tools
More Information on Predictive Analysis Process
For more information of predictive analytics process, please review the overview of each components in the predictive analytics process: data collection (data mining), data analysis, statistical analysis, predictive modeling and predictive model deployment.