Marketo Engagement Marketing Platform to Engage Customers Everywhere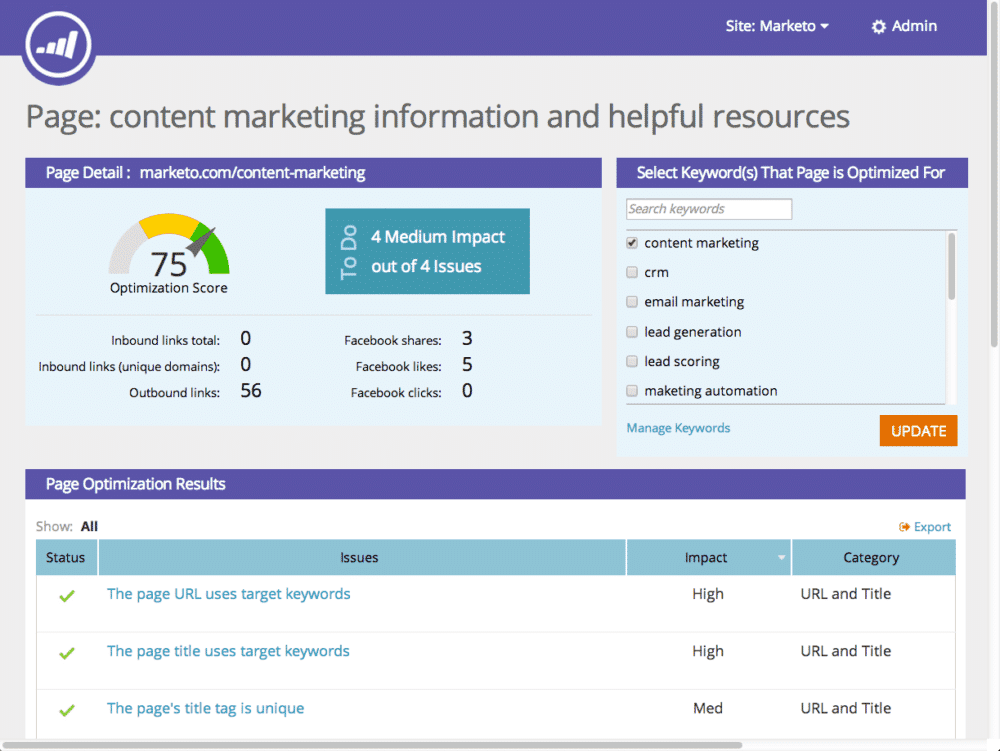 Marketo Engagement Marketing Platform to Engage Customers Everywhere : Marketo, enables marketers to engage their customers across all major digital channels from a single marketing software platform. Brands can now deliver a consistent message to customers over previously disconnected digital channels like email, social media, web sites, digital advertising and mobile applications. For years, companies have often struggled to consistently engage their customers across a wide range of digital channels. Frequently, campaigns have been crafted in isolation, often designed in silos with a specific digital channel in mind. For example, messages delivered to a prospect through a digital advertising campaign on Facebook often are not at all connected or consistent with her prior interaction on the company's website. As a result, it has been difficult for companies to have a two-way conversation with individuals with a single brand voice no matter where they are. With Marketo Engagement Marketing Platform, Marketo is uniting all major digital marketing channels in one platform. Now marketers can leverage Marketo's built-in automation to deliver the right message at the right time across a range of digital channels including mobile and digital advertising. By using a single platform rather than loosely coupled technologies, marketers can now build these unified experiences in minutes, not months. As a result, marketers can now find new customers faster, keep them longer and convert them into loyal fans.
"Marketing should not live in silos – it's imperative that brands connect with their customers with the right message wherever they are," said Phil Fernandez, chairman and CEO at Marketo. "Marketo's ability to drive simple yet powerful innovation puts us in a prime position to deliver a true marketing platform that transcends channels. We are ushering in a new era of marketing that is all about engagement everywhere."
Marketo Mobile Engagement allows marketers to drive lasting customer engagement by listening for customer behavior across web, social, email and advertising channels and communicating directly within the mobile environment. In addition, Marketo Mobile Engagement triggers communications across all other digital channels based on behaviors it detects in the mobile environment, creating a consistent conversation every time. Marketo Mobile Engagement also enables marketers to deliver personalized push messaging and in-app notifications tailored for each customer's needs.
Marketo Ad Bridge connects online advertising efforts to an overall engagement marketing strategy so marketers can find and attract the right prospects and move them quickly through the buyer journey. By bringing together Marketo's marketing insights with ad tech solutions, marketers can effectively target audiences based on who they are, their stage in the buyer journey and their individual behavior over time to deliver more personalized digital ads.
Marketo Calendar HD is an extension of Marketo Calendar, Marketo Calendar HD helps marketers to display their plans and programs in a format suitable for large-screen wall-mounted TV displays, opening up a new channel for marketing team coordination and communication. With the new Calendar HD feature, marketing teams can now align to bigger picture goals and provide program visibility to the C-suite, sales or other company stakeholders for more cross-functional alignment.
Marketo Moments is a beautifully-designed mobile application that provides Marketo users with a continuously updated view of the most important marketing program information, whenever and wherever they need it. Marketers can see how their most recent campaigns are performing in real-time, as well as preview upcoming campaigns from the convenience of their mobile device. Marketo Moments also provides a set of reports that help marketers measure the impact of their overall marketing efforts and includes a sharing feature to make it easy to celebrate program successes with their teams.
Marketo provides the leading marketing software and solutions designed to help marketers master the art and science of digital marketing. Marketo is focused solely on helping marketers keep pace in an ever-changing digital world. Marketo's Engagement Marketing Platform powers a set of breakthrough applications to help marketers tackle all aspects of digital marketing from the planning and orchestration of marketing activities to the delivery of personalized interactions that can be optimized in real-time. Marketo's applications are known for their ease-of-use, and are complemented by the Marketing Nation, a thriving network of more than 400 third-party solutions through our LaunchPoint ecosystem and over 50,000 marketers who share and learn from each other to grow their collective marketing expertise.
You may also like to read, Predictive Analytics Free Software, Top Predictive Analytics Software, Predictive Analytics Software API, Top Free Data Mining Software, Top Data Mining Software,and Data Ingestion Tools.
Top Predictive Lead Scoring Software, Top Artificial Intelligence Platforms, Top Predictive Pricing Platforms,and Top Artificial Neural Network Software, and Customer Churn, Renew, Upsell, Cross Sell Software Tools
More Information on Predictive Analysis Process
For more information of predictive analytics process, please review the overview of each components in the predictive analytics process: data collection (data mining), data analysis, statistical analysis, predictive modeling and predictive model deployment.