FusionOps Predictive Analytics For The Supply Chain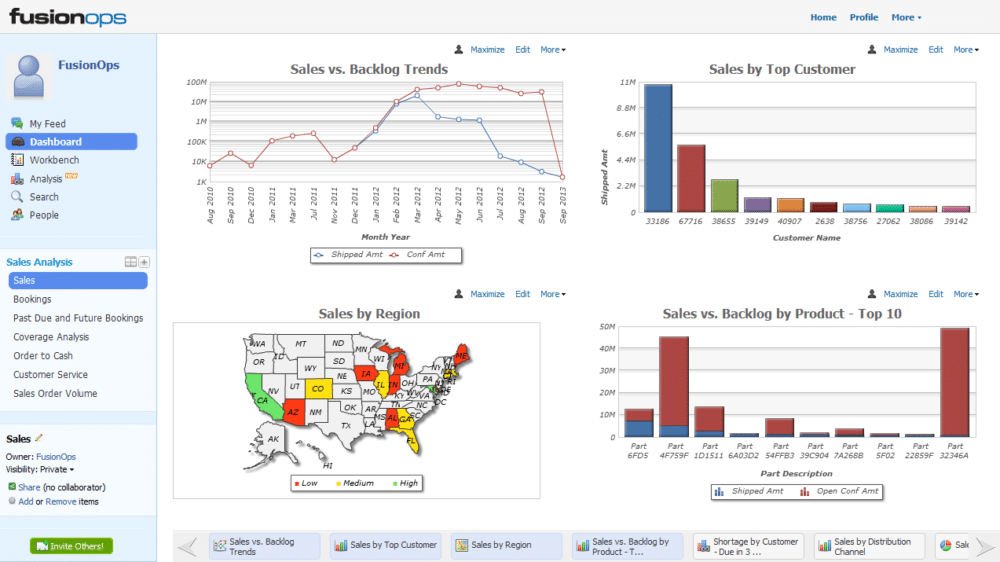 FusionOps Predictive Analytics For The Supply Chain : FusionOps, announced the availability of predictive analytics for the supply chain. By extending the FusionOps platform to include pre-defined predictive models based on the most advanced statistical models and machine learning techniques, business users in the supply chain now have access to forward-looking insights that they can trust to make informed decisions. Thousands of new and existing users who use FusionOps for its descriptive and diagnostic capabilities will now have access to powerful predictive analytics. Typically seen as the domain of only data scientists, predictive analytics have not received broad usage among the people who need future insights the most: business users. Furthermore, most predictive analysis efforts are time consuming, project-based, and don't have a continuous impact. FusionOps predictive analytics addresses these issues by leveraging the most advanced and intuitive self-service supply chain analytics platform available in the market. The announcement underscores yet another way that the FusionOps platform automatically transforms unlimited sources of data into actionable information for business users without the need to employ data scientists.
FusionOps provides the cloud-based analytics platform that mines the world's information and makes it actionable to help people make faster, better business decisions. FusionOps is a cloud-based application that provides leading metrics to drive better decisions with information that is relevant and actionable. With FusionOps, companies can eliminate the extensive cost and resources spent developing their own supply chain applications and improve time to value.
As the leader in supply chain analytics, predictive is a natural extension of our platform," said Gary Meyers, CEO of FusionOps. "Demand forecasting provides a remarkably powerful method to develop accurate forecasts down to the SKU level, as both an input to demand planning solutions, as well as a statistical check on market and sales based forecasts. And users get this out of the box – without the time-consuming processes of curating data, developing models, and visualizing the results. We're excited to continue providing the innovation fueling the most efficient and advanced global supply chains.
The FusionOps predictive analytics capabilities will be applied to key aspects of the supply chain process, helping companies achieve success in key initiatives such as mitigating supply risk, reducing inventory from returns, predicting maintenance requirements, and improving demand forecasting, to name a few.
Using FusionOps' Demand Forecasting, companies can immediately improve the accuracy and efficiency of their forecasting process to drive more optimal production plans, thereby eliminating excess inventory and ensuring adequate supply. FusionOps is the first company to automate the entire end-to-end process of extracting the data, applying the algorithms and visualizing the results in a single application.
Demand forecasting capabilities include remarkably fast predictions across a massive amount of data. For example, thousands of SKU predictions can be made in just a few hours. Also available are ten different statistical models, with more in development, which are automatically selected and applied on a per SKU basis. It provide the ability to aggregate and view demand across multiple dimensions, such as product line, region, time interval and more to support demand planning solutions. Users are able to immediately understand revenue impact by quarter or by region in an intuitive LiveAnalytics infographics format and also provides lexibility to embed external data, such as Google Trends, macroeconomic data, weather, and other domain-specific factors to analyze their impact on demand.
You may also like to read, Predictive Analytics Free Software, Top Predictive Analytics Software, Predictive Analytics Software API, Top Free Data Mining Software, Top Data Mining Software,and Data Ingestion Tools.
Top Predictive Lead Scoring Software, Top Artificial Intelligence Platforms, Top Predictive Pricing Platforms,and Top Artificial Neural Network Software, and Customer Churn, Renew, Upsell, Cross Sell Software Tools
More Information on Predictive Analysis Process
For more information of predictive analytics process, please review the overview of each components in the predictive analytics process: data collection (data mining), data analysis, statistical analysis, predictive modeling and predictive model deployment.