Review
Trac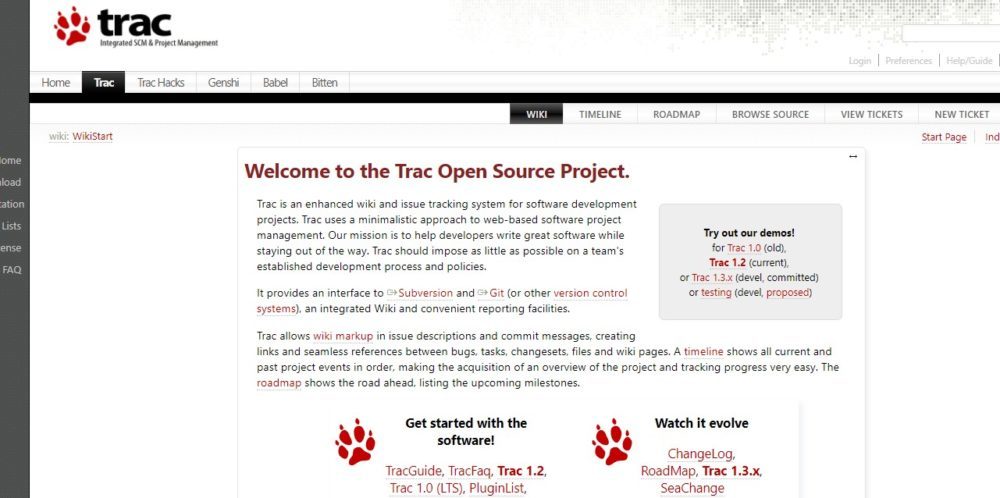 Overview
Trac is an enhanced wiki and issue tracking system for software development projects. Trac uses a minimalistic approach to web-based software project management
Project Management Software Open Source
• Project management
• Ticket system
• Wiki
• iCalendar export
• Customized reporting
• The Trac timeline
• The Trac Roadmap
Small (<50 employees), Medium (50 to 1000 Enterprise (>1001 employees)
What is best?
• Project management
• Ticket system
• Wiki
• iCalendar export
• Customized reporting
• The Trac timeline
What are the benefits?
• Customization feature enabling user to be in control of everything
• Leverage a descent dashboard from which you can check current lists of priorities and existing issues
• Ability to put knowledge for other to share by use of an integrated wiki
• Friendly interface that enables non-technical people to share ideas and contribute to bug reports
• Allows creation of links with seamless references between bugs, tasks, changes, wiki pages and files
Trac is an issue tracking system and enhanced wiki system used for development of software projects. Trac implements the use of a minimalistic approach to software projects that are based on the web.
Trac provides a good platform for developers to write useful software with ease while imposing little problems experienced on the team's established policies and developments. Trac provides developers with an interface for convenient and integrated Wiki reporting facilities. Trac three main features are the wiki markup, a timeline and the roadmap.
All the three features are essential to developers when writing great software. The wiki markup feature provided by Trac is a core feature that facilitates tight integrations of all other parts of Trac into a powerful and flexible whole. Wiki markup also facilitates issuing of commit messages and descriptions, link creation, and creation of seamless relations between wiki pages, files, bugs, files, tasks and changes.
The wiki markup there is the wiki rendering engine that implements growing subset of the required commands from other popular Wiki's platforms such as WikiCreole and MoinMoin. The timeline feature facilitates showing of past project and current events in a chronological order. This enables a timeline feature to make an easy acquisition of an overlook of the tracking and project progress.
The timeline feature simply provides a historic view of the events and projects. The roadmap feature provides developers with a good platform for showing the way ahead and stating down the expected milestones. The roadmap feature simply facilitates viewing of the system generating the tickets that is important in managing and planning development of projects in the future.
You may like to read: Top Free, Open Source and Premium Project Management Software and Buyer Guide for Selecting the Best Project Management Software