Buyer Guide for Selecting the Best Project Management Software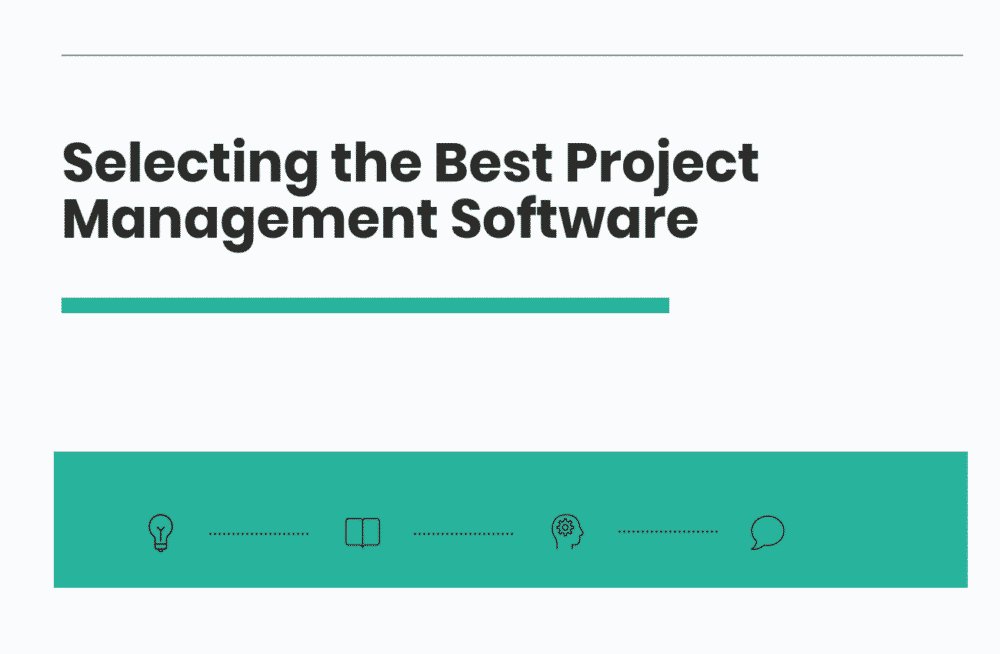 Project Management Software are designed to help you improve the efficiency of your project team. This is necessary to every business as it lets your outside partners and team members keep an eye on every detail of the work that brings a project to fruition.
Project Management Software gives small and big companies, which undoubtedly juggle many tasks, with a solution that helps keep them organize their project. This software brings all the components of the work into a single application from scheduling to tracking time and improves transparency, productivity, and alignment. It's a software that helps you meet your goals whether you are planning an event, constructing a building or restructuring a website. They also help redefine how teams work together.
Using Project Management Software, you can set milestones and deadlines that are more realistic, automate assignments, and keep all of your members focused on your deliverables. The very best software help team handle common problems, like slipped deadlines and automatically rescheduling tasks that are affected by them. They create reports that give managers insight of which team members have too little or too much work on their desk. The right software for you depends on the size, budget, and needs of your organization.
What are Project Management Software?
Project Management Software provides you with the capability of planning, organizing, managing resource tools, and developing resource estimates. Project management software can perform multiple functionalities depending on the sophistication of the software. The software comes in two forms, which are browser-based and PC-based.
Currently, the software finds its application in almost every type of business software starting from estimation and planning to administrative systems. Project management software is also a tool that helps the project, business owners, and people managers to track the progress of deliverables. In organizations, project management is a vital tool for knowledge sharing as it promotes proper documentation in the entire organization.
You may like to review: Top Free, Open Source and Premium Project Management Software
What Type of Project Management Software is right for your business
There are various types of Project Management Software out there with different features. Some will surpass your expectations while others may contain errors, bugs, and system deficiencies so look thoroughly. Project management software falls into different categories, regardless of the capabilities included. Below are some types of Project Management Software we have on the market.
Web / Cloud based: Users can access the web application and read, write or change the project management-related activities with this software. This type is a good solution for distributed projects across departments and geographies. They allow access from any computer without installing software.
Client server: The software is installed on a company's server and allows multiple users to be logged into the application at once. This type holds data centrally and incorporates collaboration tools so that users can share knowledge.
Depending on company`s needs, business requirements and future goals, there are several types of Project Management Software available based on licensing:
Open Source Project Management Software : These are Open Source Software where the source code is available.
Free Proprietary Project Management Software : These are limited versions of a fully functional propriety Project Management Software.
Proprietary Project Management Software : Full paid version of Project Management Software which is available either in cloud or standalone client server architecture.
You may like to review: Top Free, Open Source and Premium Project Management Software
20 Essential Features of Project Management Software
When you're looking for Project Management Software, it is essential to have an in-depth understanding of your requirements. The purpose of using the software must be clear to you because this will allow you to identify the exact features you need. Following are some of the top features you need to look for in Project Management Software.
Project planning: A project manager may use the software to map project tasks, decide on which projects to fund, what additional resources to hire and what other investments needed to meet demand.
Documentation: For you to accomplish tracking a project, you should have proper documenting. The feature enables you to document the knowledge acquired throughout the entire tracking process. Documentation is the key towards helping you and your organization simplify the process of updating changes, documenting changes, documenting technology, and new intelligence.
Shared team calendar: A team calendar is ideal for organizing and scheduling meetings. A synchronized team calendar ensures everyone in your organization receives notifications and alerts. The shared team calendar also allows you to add critical due dates so that your team may have a quick overview of the upcoming updates.
Multi-user log-ins: The software has no limit on the number of uses it can hold. Users in an organization are granted different privileges of accessing the areas specifies to them. The software offers two types of access, which are Read Only and Read Write access.
Project tracking: It is the primary function of the project management software. The feature enables you to track members of your team who worked on which task last, identify exemplary performers, and have a general view overview of the entire project.
Collaboration: It is a vital objective of the software. With the collaboration software, your co-workers can quickly check on the latest changes to a project, continue from where they left off as well as continuing from where their colleagues left off.
Dashboards: Accurate dashboards enable you to achieve accurate reporting. With accurate dashboards, you can quickly identify your company's KPI. The dashboards also help you to generate the best reports for your business.
Task scheduling tool: The tool outlines all your planned project tasks and allows you to schedule new activities easily. The tool enhances your project management by providing you with a time slot view. The time slot overview offers you with an overview of the number of tasks and hours booked for each team member. The scheduling tool also facilitates setting of realistic deadlines and to avoid overbooking people.
Time billing and automated invoicing: The feature is ideal when working in an agency with multiple customers. The feature enables you to track the time spent on tasks by your users, add the hourly rates to your users, and compile the invoices based on the work done.
Project budget dashboard: There are many benefits of using the project budget dashboard. One of it is creating a financial reporting dashboard and adding multiple KPIs that help you to reflect on your progress. The feature also enables you to add charts and graphs to your dashboard to receive updates about the project's progress in real-time.
Budget reports: These types of reports enable you to track your expenses and provide you with a precise and quick reporting on the performance of your budget. The feature also allows the project management software to save data to your computer and easily export the data in the budget reports that you require.
Resource management: In any project, you not only need to manage your team's time but also keep track of other project resources. These resources include materials used in the project process and meeting rooms. The feature also enables you to outline all the planned and scheduled resources and to calculate the cost of their use. With the resource management, you also have an excellent platform for avoiding possible conflicts arising from lack of resources as well as avoiding over-assignments.
Project KPI dashboard: The dashboard gives you the quickest way for tracking the performance of your project. You can also update the information found in the KPI dashboard in real-time. The feature includes vital metrics such as actual project value and planned project value, schedule the percentage of completed tasks as well as the variance.
Sharing of customer data: In any project, it is highly essential to manage and store the data of your client. The software allows you to do exactly this and also enable you to create a customer data card that is easily shared with other team members. You can also insert the contact information for your clients and link invoices and projects to customer profiles
Team dashboards: These type of dashboards serve as a project KPI report tool. From the team dashboards, all the members of your team can access the charts, graphs, key performance indicators, and metrics that you add.
File sharing: The members of your team can add information to the system and others can quickly access the information at any time. A project management software allows the addition of files to projects to facilitate quick sharing of these files.
Task prioritization: Prioritizing tasks in any project is highly significant especially whenever urgent problems arise. By using this feature, you can quickly create rooms in your planned schedule without the need of rescheduling the whole project plan.
Task management: Defining the tasks, setting the schedules, and identifying the critical path of the project is key to the success of any project. Managers and admins of a project can monitor deadlines and get an overview of the tasks.
Project categorization: The feature enables you to categorize projects by industry-specific category names. Such category names include on hold, complete and in progress. Additionally, the project categorization feature allows you to insert color codes to any project as well as groups types of projects for easy visual reference.
Automatic email notification: The project management software ensures the members of your team receive notifications anytime a project is updated. The notifications about the exact progress of the project are sent to your members through email.
Contact list: You have an excellent platform for storing your contact list. The project management software also has a v-card capability that makes it easier for you to import and export your contact list.
Gantt charts: These types of charts enable you to visualize where exactly you are in regards to your ongoing project. The Gantt charts are also entirely intuitive.
Milestones: Project management software enables you to set any task to be a milestone to identify the milestones within a project efficiently. The display of the milestones would be different from the typical tasks, therefore making it easy for identifying and will be updated automatically in the Gantt charts.
Project ownership: The system used in the project management software keeps track of the creator of the project and any member assigned to any task in the project. The system also allows you to set the plan to be public, private, or participant based.
Here are the trending Top 20 Project Management Software for your review :
What are the Benefits of Project Management Software
Project Management Software is an efficient tool that can assist project managers in being as productive as possible, regardless of the industry. The benefits of this software are boundless but the major essential include:
Enhanced customer satisfaction: Project management software allows your client walks away with a smile on their face when you get a project done promptly and under budget.
Optimized decision-making: Project management software let you have all the details in one designated place to enhance more accurate decision-making.
Collaborate on projects: It gives companies a method to collaborate on projects by discussing outstanding work, documents, timelines, etc.
Central database: You have a central database for all your project information, rather than spreadsheets scattered over different employees' local hard drives.
Access Anywhere: Your team can access needed work information anywhere and anytime.
Easy to use: You can save time and money on employee training because tools are intuitive.
What are the Latest trends in Project Management Software
A transformation is taking place in the project management field as the result of changes to business practices, requirements, and expectations. It may no longer make sense for businesses to use limited resources as they have in the past. Here are the latest trends in Project Management Software.
Remote work: Everyday workforces are becoming more widely disbursed and mobile, increasing the need for remote project tools and labor.
Automation: Tasks like filling up timesheets, daily updates are now on the top of the list of exciting things that are being integrated into this software.
Big data: This is the most crucial technology trend impacting project management, it enables the identification of the weak links in the team so you can challenge them appropriately time to improve productivity.
Flexibility work hour: Digital tools and mobile devices have a positive impact on overall productivity of the team as it helps them to work more extended hours.
Agile management: Agile is getting more and more popular as a method of project management, it values speed over perfection, and relies on quick fixes for getting the job done right the first time.
Is a Free Project Management Software Worthwhile?
Project Management Software has many features and can do a lot to help your business to succeed in your projects, but it can be expensive. There are plenty of free Project Management Software available. There are two category of Free Project Management Software : Free Open Source Project Management Software and Limited version of a Proprietary Project Management Software.
Free Open Source Project Management Software is a good choice, when you have a development team available in your company and when you want to try out the product or build new features and functionality on top of it. You need to spend time to set it up and running.
The limited version of a Proprietary Project Management Software is a good way to see if it will be useful to your business before making a big investment but these software comes with limitations.  A free limited version from a proprietary product company will make it easier to upgrade in the long run and also help you determine if that company's solution is what you want.
There are also drawbacks to Free Project Management Software . These options do not have nearly as many features available in a fully functional paid version, and there are limits such as number of projects, storage limits, number of reports, limited data integration options, and also on the number of users you can have. The free versions also have limited support options.
 How to choose the right Project Management Software
There are many Project Management Software currently flooding the market today, and new systems continue to develop at a steady rate. Choosing the right software depends on many factors including the type of project, your management style, your team, how your team collaborates and how you store your work and get the tasks approved. Below are some factors to consider before buying.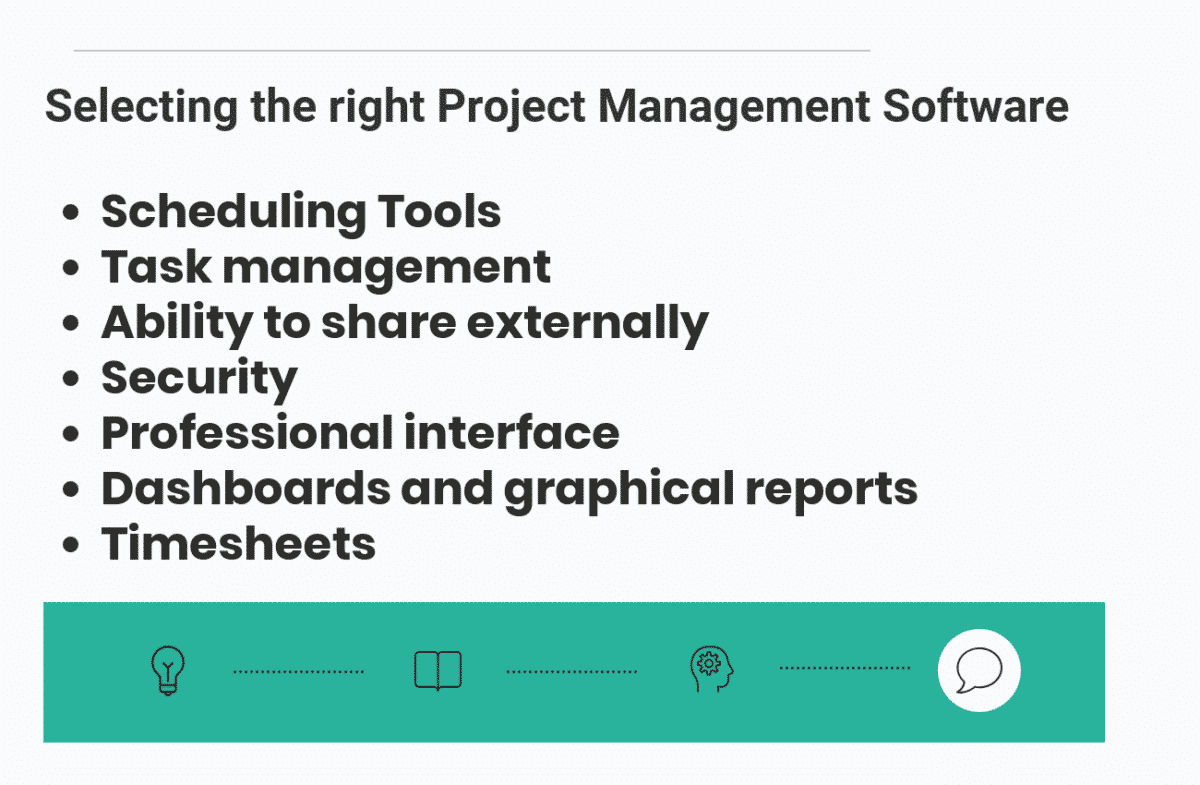 Scheduling tools: You'll need professional-grade scheduling tools if you want to handle your projects efficiently because the basic software won't display your project plans in a Gantt chart format and will just show you a list of tasks.
Task management: The software should also include the ability to assign tasks to others in the team so that they know what work they should focus on and you should be able to order tasks in ways that make sense to you.
Ability to share externally: look for the functionality which makes project data available to people outside your business as this is especially useful when it comes to working with contractors and third parties.
Security: Check out the security options offered by your preferred software provider and make sure they have a dedicated hosting platform to keep your client's data safe and secure.
Professional interface: Your primary criteria for choosing a software product should be functionality, but it doesn't hurt to go for something that looks attractive.
Dashboards and graphical reports: Look for a tool that has built-in dashboards and that can be tailored to each stakeholder needs because something that will show your reports in a graphical format is often handy.
Timesheets: Look out for project management software that includes time sheets, as they will help you keep track of tasks, provide warnings about any delays, and let you see the validity of your task.
You may want to check out the trending Top 20 Project Management Software for your review :
Top Project Management Software Free
You may want to check out the Top Project Management Software for your review :
Top Project Management Software Open Source
You may want to check out the Top Project Management Software for your review :
Top Project Management Software
You may want to check out the Top Project Management Software for your review :