Review
Moqui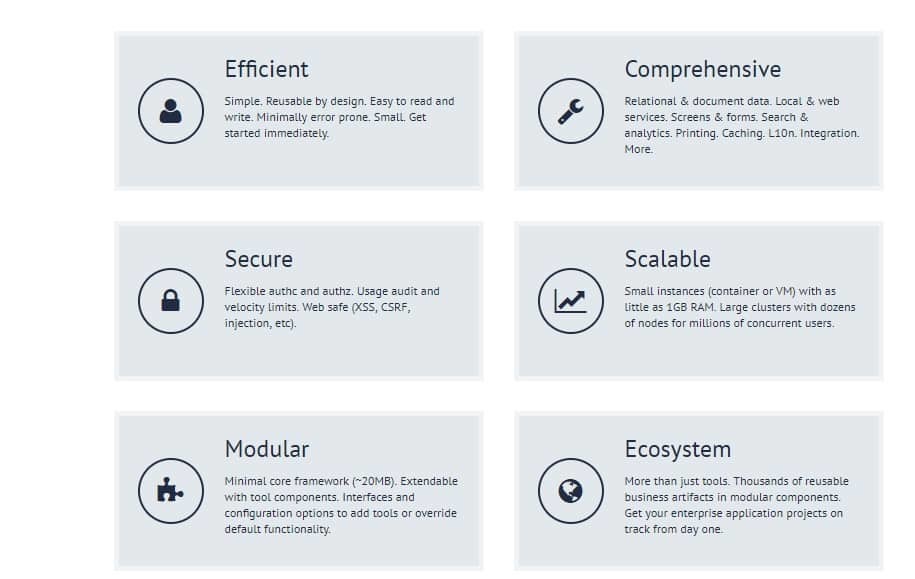 Overview
Moqui Framework is a seamlessly integrated, enterprise-ready framework for building enterprise automation applications based on Java. It includes tools for database interaction (relational, graph, document), logic in local and web services, web and other UI with screens and forms, security, file/resource access, scripts, templates, localization, caching, logging, searching, business rules, workflow, multi-tenancy, and integration.
• Developer Friendly API
• Security
• Performance Monitoring
• User Management
• Common business data structures and seed data
• Entities (Database)
Small (<50 employees), Medium (50 to 1000 Enterprise (>1001 employees)
What is best?
• Cost Effective
• Advanced Tools
• Applications
• Multi-Instance
• Cloud Computing
• Big Ideas
What are the benefits?
• Cost Effective
• Advanced Tools
• Applications
• Multi-Instance
• Cloud Computing
Moqui is a seamless and integrated enterprise-ready framework that has been designed to build automation systems and applications that are based on Java. It has numerous tools that are necessary to perform database interaction, scripts, file/resource access, localization, security, caching, multi-tenancy, searching, business rules, logging, workflow, templates, and integration.
Moqui helps a user build applications fast and scale them, especially the complicated ones. Its efficient tools make using various applications easy to use and fast to develop. This framework also allows users to control data using a universal data model or the Mantel UDM, which make it easier to look for data. It has an integral support for modern tools like Camel (integration), Jackrabbit (content), Drools (rules), jBPM (workflow), and ElasticSearch (search).
Moqui offers several great qualities, but it is also simple and reusable by how it was designed. It is compact and can get you started easily. It is also flexible and more secured than other hosted framework or solutions such as Force.com. it is easy to run via on-premise set up or in other solution such as Cloud.
While it is easier to operate or work with, it is known for having a comprehensive package like Grails, Sping, Rails, and many others. Its existing applications can be used as is or can be customized to respond to the requirements of your business. Moqui also boasts of its multi-instance qualities making it easy to present the software as a great product or service. It is also easy to access or install on any virtual machine, Cloud, and the likes.
You may like to read: Top ERP Software, Free, Open Source ERP Software, Top ERP Software for SMB, Top Cloud ERP Software, ERP Software for Large Business.