Review
Collabtive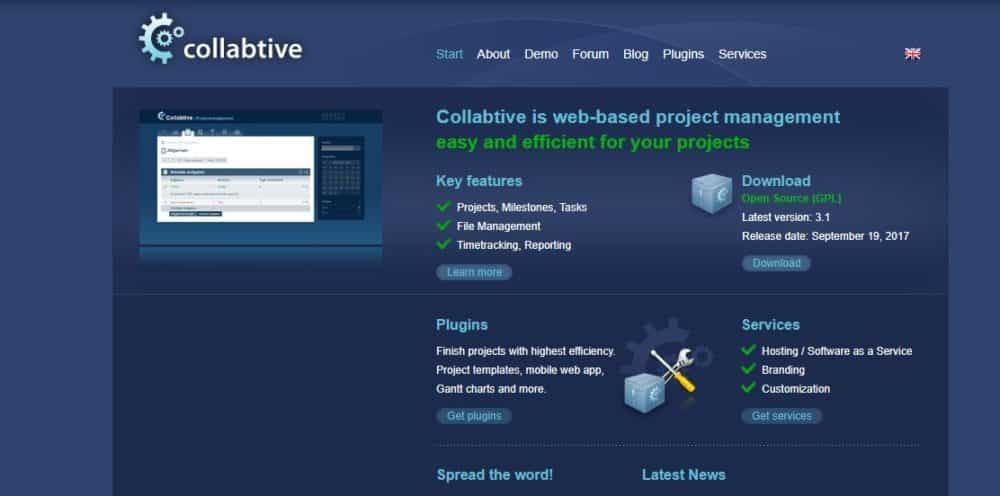 Overview
Collabtive is web-based project management easy and efficient for your projects.
Project Management Software Open Source
• Calendar
• Tasks and milestones
• Time tracker
• Task lists
• Interactive Gantt charts
• Milestones
• Task management
• Reporting features
• Unlimited projects, milestones, tasks, and Task lists.
• Role-based management
• Messaging and instant messaging
• Search tags
• Multi-language
Small (<50 employees), Medium (50 to 1000 Enterprise (>1001 employees)
What is best?
• Interactive Gantt charts
• Milestones
• Task management
• Reporting features
• Unlimited projects, milestones, tasks, and Task lists.
What are the benefits?
• Intervals PMS can be easily integrated with the most popular social networking platforms.
• Team calendar and timelines featured on the software allow you to keep track of all the project details.
• You have the option of online as well as on premise deployment with collabtive.
• Easy to use.
Collabtive is a powerful web-based project management software that is open source. With collabtive, your users will be able to create to-do-lists, create users and set role-based user permissions. Collabtive uses time tracking software to make sure your teams stay on their assigned task. This is very important if your company has offices around the world as there will be communication using a multilingual user interface. Using collabtive, you'll be able to create projects and tasks, assign due dates to them, survey your project progress form the dashboard and calendar, and review project milestones.
Collabtive is run on your own server, so this means that you are able to back up your entire installation down to the last script. If you were using a 3rd party server, you would not be able to do this. Collabtive is a very elegant and easy to use interface.
With collabtive, your users, once logged in are able to add projects to manage. You can add as many users as you would like. Your users are able to send messages about the project to each other. Using the time tracker feature, you are able to track the amount of time used to complete a task. All you need to do is to enter the name, the time it started and the time it ended and finally the comments regarding the task. The Task list feature allows you to create many important tasks which you can assign to your users under a single task list.
This task list will also show how many days are left to complete a certain task. The tasks and milestones feature in collabtive is the basic building block of project management. Using this feature, you are able to add a task or a milestone by just clicking on the date in the calendar in which its going to be assigned. On the other hand, milestones measure what has to be achieved. They make the progress of your project tangible. If you want to spend more time working on your project and less time managing it then collabtive is the software for you.
You may like to read: Top Free, Open Source and Premium Project Management Software and Buyer Guide for Selecting the Best Project Management Software