How to Select the Best Business Intelligence Software for Your Business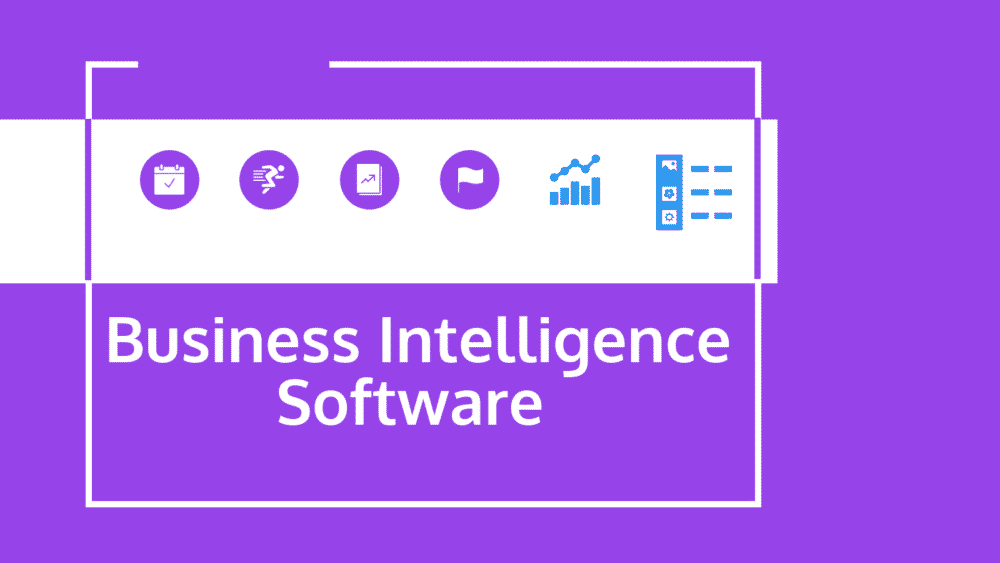 Business Intelligence is a field within the IT, whose goal is to place the overall informational potential of the companies in the function of making the best decisions, all to achieve the established strategic goals of the company. The concept of business intelligence combines methodologies, technologies and data warehousing platforms, On-line Analytical Processing and Data Mining that enable businesses to create useful management information from different internal and external sources.
Business intelligence deals with the internal situation and resources of the company, and is based on the project of creating a good business organization that has intelligent storage, management and analysis systems of all data and information that are necessary for the successful functioning of an enterprise. Business intelligence is critical to company management in order to gain an advantage over the competition, by managing its own data, information and knowledge.
The application of the business intelligence system improves the company's performance and improves its services, sales and productivity. With its use, future business trends can be foreseen, it can maintain competence in the market, as well as expand the market. Today, the application of the business intelligence system has evolved to the extent that they are considered to be critical systems from the aspect of achieving the company`s mission – mission-critical systems. In business intelligence systems, numerous tools are used to convert a large amount of company`s data into useful information and encourage profitable business activities.
The development of a business intelligence system does not rely solely on tools, techniques and processes; it also implies the participation of people who know business processes and are in charge of directing the implementation process in the right direction. A good business intelligence system provides users with the information they need at the right time and in the way that best suits them. The application of these systems does not aim to increase the number of information that employees are exposed to, but to increase the quality and usefulness of this information.
What are the Features of Business Intelligence Software

Business Intelligence (BI) software typically includes several key features, including data visualization, data warehousing, reporting and analytics, dashboards, and data discovery. Data visualization allows organizations to present data in an easy-to-understand format, using charts, graphs, and other visual aids. Data warehousing involves the central storage of data in a single location, making it easier to access and analyze. Reporting and analytics provide the ability to generate reports and perform data analysis, helping organizations to identify trends, patterns, and opportunities for improvement.
Dashboards provide real-time insights and a consolidated view of key performance indicators, allowing organizations to quickly respond to changes and take corrective action. Data discovery involves the exploration of data to uncover hidden insights and knowledge. Other features may include collaboration tools, such as shared workspaces and discussion forums, as well as mobile access, allowing organizations to access data and insights from anywhere, on any device. BI software is designed to provide organizations with a comprehensive view of their data, enabling them to make informed decisions, improve performance, and achieve their goals.
The most important features of Business Intelligence Software:
A secure environment - since the importance of information in a business intelligence system is equal to the importance of data in enforcement systems, it is required that information in the data warehouse be well protected against unauthorized access and use.
Availability through different channels - business intelligence applications are required to be available at any time and in any place.
High degree of flexibility - the ability to process data in the form of a quick response to dynamic changes in the business environment.
Scalable memory and satisfactory performance - the amount of data is rapidly increasing, and the number of users of the business intelligence system is also constantly increasing. In order for business intelligence and data storage systems to support this data growth as well as numerous users, they must provide a scalable and expandable environment for filling, updating, restoring and reorganizing data.
Standardization - it is recommended to conduct standardization of business documents and other data sources, and to establish a uniform and standard terminology within the organization. In this way, the uniqueness of the confidential analytical and logical operations over the system is ensured.
Verification - the verification procedure is undertaken to ensure the accuracy of the data in the company`s repositories, in order to make correct conclusions and make good business decisions.
Compatibility - By using modern software tools it is possible to see the compatibility between different and very similar data and abstract the essentials of irrelevant details.
Extensibility – By using sophisticated information technology it is possible to add new data to an existing data set as well as to change the value of existing data to adapt to changes in the environment.
Data quality - The goal is not exclusively efficiency, but adequate quality and good reputation of the system within the company.
Interactive reports – Provides the ability to identify trends, irregularities and data outliers.
Intelligent alerts – Automatically send emails/instant messages to users when data reaches a predefined limit.
Process Improvement - At this level, errors in the management of software-technological changes and changes in the management process are prevented.
Ad-hoc analysis - When the problem arises, ad-hoc analysis can be done immediately to identify where the problem occurs, so corrective measures can be taken.
Business analysis (BA) is a set of knowledge, skills, technology and experience, or practice in researching past business experiences. It focuses on the development of new knowledge and understanding of business based on data and statistical methods.
What are the Types of Business Intelligence Software

The basic division of business intelligence software (when it comes to data sources) is:
Market Intelligence and
Internal Intelligence
Market intelligence involves analysis of data for the decision-making needs in determining market opportunities, market penetration strategies, as well as data analysis for tracking market metrics. The aim of applying this type of analysis is a better market and customer orientation understanding, identification of new opportunities through tracking trends, early introduction to competition activities, minimizing investment risk, better market positioning and faster, more efficient and cost-effective information collecting.
The basic sources of market intelligence data are:
Clients – Client Intelligence,
Competition – Competitive Intelligence,
Suppliers and other business partners – Supply Chain Intelligence.
The company's internal intelligence provides information about the company's performance. The basic data sources for creating internal intelligence are:
Operational business processes – Business Process Intelligence,
Management processes – Management Intelligence.
What are the Key Performance Indicators (KPI's) of Business Intelligence Software

Key Performance Indicators (KPIs) are used to set goals, make them visible, monitor performance, and provide notifications when performance does not meet expectations. BI Software most important indicators are:
Return on Equity (ROE): an important measure of enterprise`s profitability from the owner`s aspect and a basic measure of profit planning.
Return on Assets ( ROA): Measurement and results planning.
Defensive Interval: Shows how many days a company can survive with its present level of activity if there is no cash out of sales or from other sources.
Operating Cycle: Shows the time (days) from the acquisition of inventories to the realization of receivables.
Revenue Growth Rate: Shows how well the business is developed.
Added Value: Part of the revenue that comes from company`s activities.
What are the Benefits of Business Intelligence Software

The benefits of Business Intelligence (BI) software include improved decision-making, increased efficiency, enhanced competitiveness, and better alignment with organizational goals. BI software provides organizations with a comprehensive view of their data, allowing them to identify trends, patterns, and opportunities for improvement. This can lead to more informed and effective decision-making, as well as improved operational efficiency. BI software can also help organizations to stay ahead of their competitors by providing real-time insights and a consolidated view of key performance indicators.
BI software can help organizations to align their activities with their goals and objectives, by providing accurate and relevant information that supports informed decision-making. Other benefits of BI software may include increased collaboration, improved data quality, and reduced costs associated with manual data analysis. Overall, BI software is a valuable tool for organizations looking to improve their performance, achieve their goals, and stay ahead of the competition.
Business intelligence allows historical reviews, ongoing reviews and forecasts of future trends in business operations. The basic advantages of using business intelligence systems are:
Making business decisions based on facts, not based on guessing;
Timely answers to the key business issues;
Reviewing key business and information indicators when and where you need it;
Reviewing and analyzing the habits and characteristics of business partners (customers and suppliers);
Identification of opportunities for expansion and improvement (cross sale and up sale) of business cooperation with partners;
Business efficiency improvement;
Reaching "one version of the truth";
Data cleansing and preprocessing of unnecessary data for faster analysis and
Reliable basis for the decision making.
What are the Latest trends in Business Intelligence Software
The new generation of the BI systems seeks to cope with challenges and offers adequate technological solutions that must be accompanied by appropriate changes in the approach to business in order to achieve appropriate results, or to manage the results of the business so that the organization optimizes its business performance. Some of the latest trends related to Business Intelligence Software are:
Democratization of analytics: Collaborative analytics becomes the focus of the process, the available data becomes more accessible. This marks the end of the period in which data was transmitted on a one-way basis, via static PDFs or PowerPoint presentations.
Expansion of corporate applications: The reason for this trend lies in the benefits of mobile applications, which make it possible to achieve far greater efficiency with ease of use.
Independent access to data collection: Data is available to everyone within a company in a safe environment, tasks will be performed during an analytical process.
Advanced analytics: It will not be reserved for specialists and scientists only; business users already use powerful analytical functions such as clustering and prediction.
How to choose the right Business Intelligence Software

To have a successful BI project, there must be a clear plan. In addition, this plan must be guided by the strategic goals of the company. When a company is thinking about BI, one should keep in mind the internal data sources but not only from the accounting or ERP system, but also from all other unstructured data that is available. The choice of business software is a long-term strategy of the company. Having that in mind, here are few things to consider when buying BI Software:
Budget - Certainly one of the key parameters for purchasing a new business system, but not crucial.
The ability to customize the software - For the long-term software exploitation, it is very important that it can be further adapted to the business processes of the company that introduces the system.
Long-term goals - When choosing a new information system, you need to consider what your company's long-term plans are and how you plan to expand the company.
Potential of continuous solution development - The power of the software company to continuously improve its products.
Top Business Intelligence Software
Top Business Intelligence Software
PAT Index™
What is Business Intelligence?
Business Intelligence is a field within the IT, whose goal is to place the overall informational potential of the companies in the function of making the best decisions, all to achieve the established strategic goals of the company. The concept of business intelligence combines methodologies, technologies and data warehousing platforms, On-line Analytical Processing and Data Mining that enable businesses to create useful management information from different internal and external sources.