Review
BlueSeer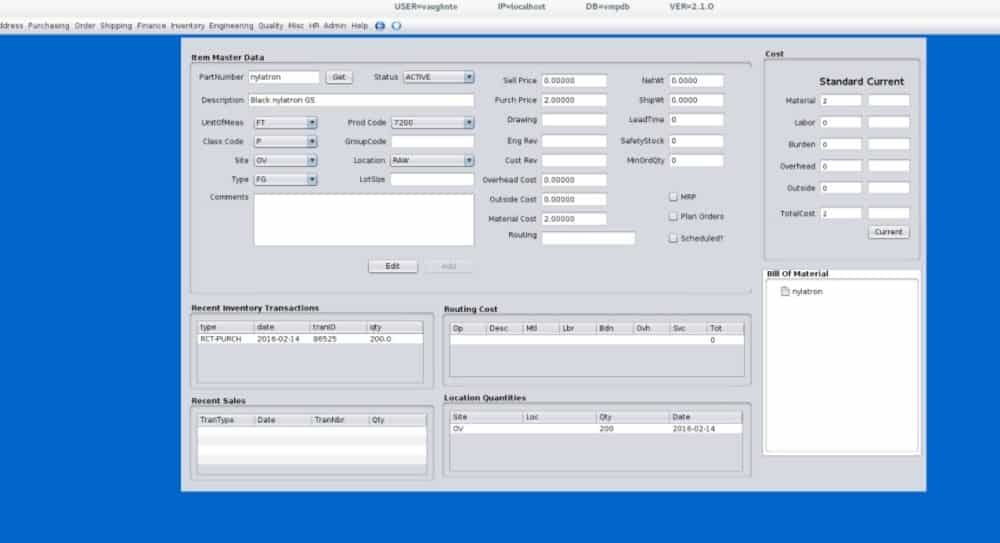 Overview
BlueSeer is a completely free ERP (Enterprise Resource Planning) package (no keys, no trials, no registration...a truly free ERP) for small to medium size manufacturing businesses.
• Accounting (double entry)
• Distribution / Sales
• Purchasing
• Inventory Control
• BOM / Costing
• Scheduling
• MRP
• EDI
• Barcode Generation / Scanning
Small (<50 employees), Medium (50 to 1000 Enterprise (>1001 employees)
What is best?
• Accounting (double entry)
• Distribution / Sales
• Purchasing
• Inventory Control
• BOM / Costing
• Scheduling
• MRP
BlueSeer is an Enterprise Resource Planning or ERP package that is typically used in the area of manufacturing, both small and medium size businesses. It does not come with any cost 100- no trial fee, no registration fee, and truly free from any charge.
This gives manufacturers a good alternative to the costly commercial ERPs on the market today. BlueSeer was primarily developed for companies specializing in manufacturing. Its goal is to give these manufacturing companies the basic elements that are necessary for default installation for them to operate without any issues. It allows them to customize and manage their software without having to spend too much on proprietary support. Various developers around the world use free toolsets, MySQL, and Java to gain the required knowledge to modify and improve BlueSeer's features and functionalities at a very reasonable cost.
BlueSeer a is a GUI or graphical user interface client-server that can be set up on a local single PC or can be accessed over a bigger network. It uses GUI applications that are coded in Java Swing while the backend DB uses MySQL.
BlueSeer's demo model makes use of SQLite for an easier installation process. As mentioned earlier, many developers use MySQL and Java as they are free and accessible publicly and can work with any operating systems Windows, Mac, and Linux.BlueSeer software package is supported by Accounting and General Ledger (both are double entry). It also contains modules like MRP, AP, AR, inventory control, scheduling, purchasing, shipping, sales, order entry, costing, distribution, EDI, TimeClock, and many others. Like the other ERPs on the market, BlueSeer is not a one size fits all type of software. It has been designed for customization for continuous innovation.
You may like to read: Top ERP Software, Free, Open Source ERP Software, Top ERP Software for SMB, Top Cloud ERP Software, ERP Software for Large Business.