FICO Data Management Integration Platform for Streaming Analytics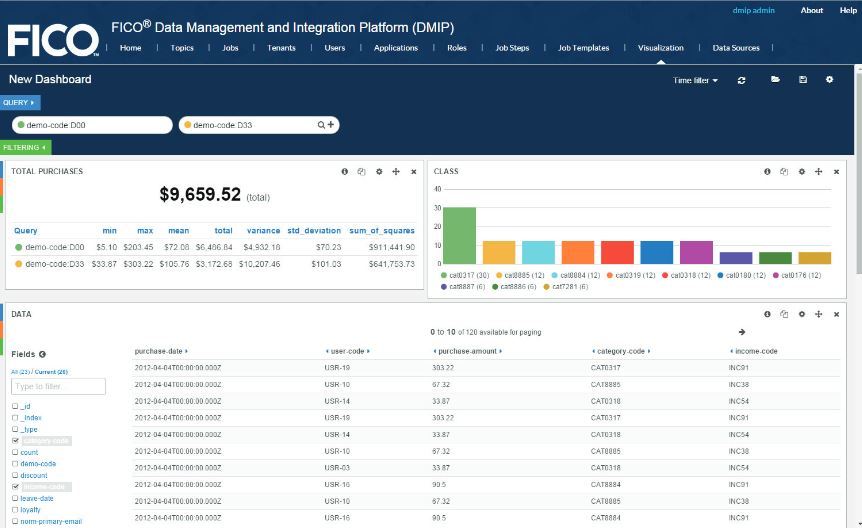 FICO Data Management Integration Platform for Streaming Analytics : FICO Data Management Integration Platform, is a streaming analytics and real time distributed processing platform that ingests, normalizes, correlates and distills Big Data as it is being generated. The Platform analyzes data in stream to accelerate timely and actionable insights and decisions and provides a solution to deliver timely and actionable insights to the new breed of applications that need to respond to what's happening now and anticipate what will happen in the future. The platform collects, filters and aggregates batch and streaming data from hundreds of sources and analyzes it on the fly, providing applications with greater agility and responsiveness to deliver the highest-impact decision when and where it matters.
FICO Data Management Integration Platform is a data ingestion, correlation and analytic processing platform that helps users flexibly create, manage and execute on data from a variety of sources: batch, streaming, structured and unstructured. Analytic processing allows users to extract meaning from the data with low latencies. Processed data can be used in a variety of downstream applications such as marketing, customer service and CRM systems.
"The decision value of data is short-lived, and the sheer volume, velocity and variety of Big Data make it extremely challenging to find the right data for your decisions, let alone act on that data while the decision is still relevant," said Stuart Wells, chief technology officer at FICO. "FICO Decision Management Integration Platform enables businesses to harness the power of Big Data and the emerging Internet of Things by turning massive, complex data streams into clear insights – and ultimately actions – in real time."
"The Internet of Things is at the heart of our view of the 'third platform' of technology and the four pillars — mobility, social business, Big Data/analytics, and cloud — resulting in millions of applications available to billions of end points," said Brian McDonough, research manager for Business Analytics Solutions at IDC. "The Internet of things has already started to produce a huge mass of data, but there is no value in that data until data-processing technology and analytics are ready to take on the challenge in real time."
The platform is part of the FICO Decision Management Suite, a cost-effective and easy way for organizations to evaluate, customize, deploy and scale state-of-the-art analytics and decision management solutions.
FICO is a leading analytics software company, helping businesses to make better decisions that drive higher levels of growth, profitability and customer satisfaction. FICO provides analytics software and tools used across multiple industries to manage risk, fight fraud, build more profitable customer relationships, optimize operations and meet strict government regulations. Many of our products reach industry-wide adoption. These include the FICO Score, the standard measure of consumer credit risk in the United States. FICO solutions leverage open-source standards and cloud computing to maximize flexibility, speed deployment and reduce costs.