The Beginner's Guide to Cloud Computing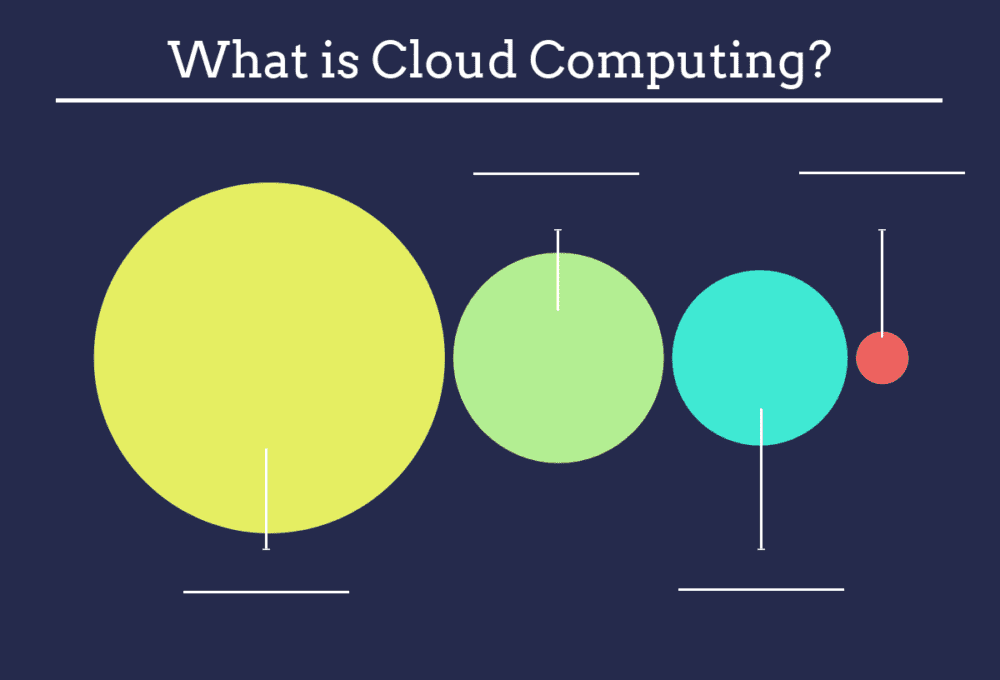 As a result of the ever growing processes in businesses, the data being produced are complex and often overwhelming for systems that do not utilize shared resources. It is important that data generated by business processes are recorded and properly analysed in real time and without error. To get the best out of data, there is a need for a nonstop exchange and adequate processing of information between management and other departments so as to know what decision jobs are next. A solution being used now by a lot of organizations in overcoming the problem faced in processing large data is cloud computing. Cloud computing as a concept can be traced back to the 1960s. Back then, Computer bureaus allowed companies rent time on a mainframe instead of buying one themselves. However. The term 'cloud computing' came sometime in the early 2000s.  With cloud computing, companies can use shared resources from different available systems that have the ability to handle the processing of large amounts of data. It increases performance and reduces cost.
What is Cloud Computing?
Cloud computing can be described simply as a system pool that is integrated into a network that also provides an infrastructure that is scalable so that it can be made use of by data and software systems. It is the utilization of services such as servers, software, storage and platforms over the Internet. It is also a general term used for over the Internet delivery of hosting services. It is also referred to as the cloud. By using cloud computing, the cost incurred by companies when implementing data storage and software solutions is significantly reduced. When comparing cloud computing to traditional concepts like grid computing, you realise cloud computing provides a solution to most of the problems often found in traditional concepts and the 'one-affects-all' problem is one of it. In grid computing, the failure of one system puts the others at high risk of failing. In contrast,  cloud computing  utilizes  all systems found in the network such that one system's failure does not affect the others but is rather replaced. Cloud computing is everywhere as it has greatly been integrated into activities companies and individuals carryout such as with their emails and online services.
What are the Cloud Computing Models?
Infrastructure as a service(laas): this is the most basic of all the models of cloud computing. The providers of laas provide a virtual or physical machines upon which software solutions can be implemented to fulfil customer's needs. It offers resources such as software solutions, IP addresses, raw block storage, virtual local area network, load balancers and firewalls. It is best for clients in need of an infrastructure that is both solid and flexible. It is secure and enables the deployment of software of choice by users at a reduced cost. The client does not manage the cloud infrastructure but controls storage, deployed applications and operating systems. This means that clients do not have to worry about hardware maintenance.
Platform as a service(Paas): this is likely the most commonly used type of cloud computing because it enhances software solutions implementation and testing. It has a web server, programming language, an operating system and more already installed. It provides the resources needed to run an application. These resources are allocated automatically so that it does not have to be manually done by the user. It serves as an environment for development for application developers which is hosted by Pass providers. For example, one who is a web developer might make use of a Pass that includes a database , web server software, operating system software and related tools for web development. Top Pass vendors include Google cloud platform, IBM, Microsoft Azure, Amazon web services.
Software as a service(Saas): this model of cloud computing is also referred to as a pay-per-use service where the Saas providers provides for clients well configured software of hardware solution. A subscription is paid by clients to again access to the service. There are benefits this model offers clients. One of such benefits is that the clients no longer have to bother about hardware or software maintenance. This is taken care of by the Saas provider. Basically, clients can get access to Saas from any device connected to the Internet from anywhere and at anytime. Popular Saas include Adobe creative cloud, Dropbox, Google G suite, Microsoft office 365, Salesforce.com and others.
What are the Cloud Computing Deployment Models?
Public cloud: from the name, one can deduce that this deployment model is open for public use. It enables users store data, however, it does not provide the privacy that secure networks provide. In this cloud computing deployment model, cloud services are delivered by the cloud service provider over the Internet. They are typically sold on demand by the minute or hourly. What clients pay for includes the bandwidth they use, and storage CPU cycle. Top providers of public cloud services platforms include Google cloud platform, Amazon web services(AWS), IBM and Microsoft Azure. Public cloud could as be offered to clients for free. The main issue with public cloud is privacy as it is not guaranteed by vendors.
Private cloud: this infrastructure is used by just one user or company. It may reside internally in the company building also know as data center, or externally which is also referred to as the provider. Private cloud is a highly secure model of cloud computing deployment and it is the model most preferred by companies. This is because a private cloud that resides externally would be maintained by the provider. Another benefit of this to users is that resources are allocated to just one client and this creates an infrastructure that is custom built to provide immense stability and performance. Billing for services of internal users may be through IT charge back or not. With private cloud, companies can monitor where their data is kept and can create the infrastructure they need the way they want it. Commonly used private cloud providers include Openstack and VMware.
Hybrid Cloud: this model of cloud computing combines both public and private cloud with automation and orchestration between them. Companies can decide what data stays on the private cloud such as sensitive applications or workload that are mission critical, and also decide what data resides in the public cloud which can be used in handling spikes in demand or workload bursts. Hybrid cloud basically allows companies use a little bit of this and a little bit of that in carrying out their operations which significantly reduces company expenses. The data needed to provide the results needed by the client is aggregated from both private and public cloud.
Community cloud: this is not a main cloud computing deployment models. It is referred to as a cloud infrastructure that is being used by organizations who share data on it. This deployment model could be used by supplies, universities from a country or region and others. It also provides a level of security that is similar to that of private cloud.
What are the Cloud Computing Obstacles and Opportunities?
Obstacles faced in cloud computing can be categorized in terms of growth, adoption, business and policy. One of the first challenges cloud computing needs to overcome is data privacy. The issue of privacy arises for many when they consider the fact that their data will be stored on a shared infrastructure.despit the fact that data can be accessed only with the use of specific software under certain security situations such as encryption or password protection, is still not enough. Responsibility is taken by the cloud user for the security of the software that he implements in the cloud. This is an issue because in a controlled and closed infrastructure like the intranet, the user gets access to the system only with the network. A system such as this can provide adequate security because no one can gain access from outside the trusted network. Cloud lacks the ability to do that, although the provider of the cloud service tries to ensure infrastructure security by introducing firewalls and other software or hardware solutions that prevents the stealing of data by outsiders. Even though this is efficient in most cases, in some situations, cloud users become victims of phishing emails and sites. A breach in security may lead to client' data exposure.
Protection of the user from the provider is also a security issue of concern. Although it is illegal, the provider can access every data stored on the infrastructure and can use it however he pleases. In order to protect the user from that, software that allows for the encryption of sensitive data can be used. By encrypting data, cloud providers would be unable to read it and therefore would be unable to use it, despite being able yo access it. Another obstacle faced when using cloud computing is software licensing. Software are usually sold with a license or machine by software providers. As a reason of the pool of machines working at the same time in the cloud, this type of license cannot be used. Software developers now change license agreement so that the software the build can be utilized in the cloud.