How to Select the Best Event Management Software for Your Business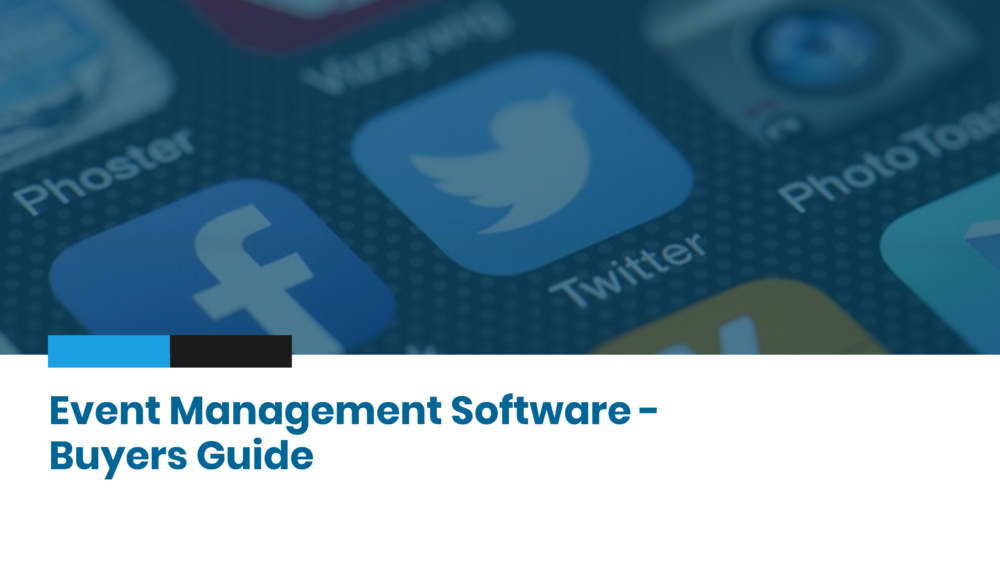 Event management software is a solution that helps businesses to automate processes surrounding promotional events such as conventions, trade shows, and conferences. The automation of the planning, marketing, coordinating, and analyzing aspects of event management enables businesses to improve operational efficiency.
A great feature of event management software is the comprehensive database that allows businesses to get a complete overview of activities. The built-in tools facilitate registration of participants, ticketing, seat assignments, and management of onsite activities. The software also enables businesses to conduct surveys and polls in real-time which encourage participant engagement and assist with the improvement of future events. Event management software can be integrated with existing applications to provide businesses with one centralized solution.
Businesses from various industries use event management software. The most popular businesses fall in advertising, marketing, PR, and communication. While these businesses represent the largest percentage of buyers of event management software, other businesses have gravitated toward this integrated solution to promote their events. Another reason businesses use the software is to manage internal meetings among departments.
Event management software also allows businesses to effectively manage multiple events. Furthermore, businesses use the software to process guest arrivals, or allow participants to access the self-service registration options such as registration kiosks and online payment facilities. Businesses that implement the solution can get real-time overview of online and on-site registration data, emailing recipients, and other analytics.
Businesses also use the software to effectively budget and analyze actual costs to help with future planning. The software's ability to generate reports and identify trends allows businesses to conduct meaningful evaluations after each event and find ways to improve where necessary. Participants can also provide feedback to businesses which is critical to measure how successful an event was. The survey feedback tool also enables businesses to identify engaged users and target them first for future events.
You may like to read: Top Premium, Free & Open Source Event Management Software
What are the Features of Event Management Software
Event Management Software provides businesses with a range of features to optimize the promotion and management of seminars, conferences, and other events. The basic features offered by vendors include Web Builder, Mailer Tool, Event Calendar, Registration Management, Attendee Management, Onsite Management, Session Management, Ticketing, Venue Management, and Reporting and Analytics.
Web Builder: Enables businesses to create captivating landing pages on their websites that can be accessed both on desktops and mobile devices
Mailer Tool: Enables business to promote events via email, send follow-up reminders at different stages to prompt call to action for early registration, and track recipients' reactions to emails
Event Calendar: Enables participants to view current and future events
Registration Management: Allows users to register online and change registration status using offline and online avenues; and also to reserve venues and rooms for events
Attendee Management: Allows businesses to manage participants' experience with tools for customized registration, reserved seating, managing guest lists, coordinate participants' travel arrangements, FAQs, feedback sections, and other activities.
Onsite Management: Facilitates the management of on-site activities such as physical registrations, checking in participants with a barcode scanner, and printing name tags.
Session Management: Allows businesses to create agendas, track participant engagement, and develop content for key personnel including speakers and sponsors.
Ticketing: Enables businesses to set ticket prices, identify selling limits, and conduct ticket sales via online and offline avenues.
Venue Management: Allows businesses to identify possible venues for events, create floor plans, and coordinate resources.
Reporting and Analytics: Allows businesses to generate reports to measure event success with emphasis on marketing strategies, participant engagement, and venue and budget allocation.
What are the Types of Event Management Software

Event schedule planning: Provides self-service registration features for participants and facilitates rescheduling, online payments and real-time communication with businesses. This eliminates scheduling conflicts, manual booking and miscommunication.
End-to-end solution: Covers all aspects hosting an event from planning to post-event evaluation, including marketing tools to help businesses promote events, and analyze critical metrics such as attendance, expenses, and revenue.
Open source: Allows businesses to customize processes to fit their unique needs at no cost. This type has limited features and does not include helpful tools such as scheduler or form builder.
Web conferencing: Allows businesses to conduct online events such as webinars and can accommodate small sessions to large conventions.
Polling app: Provides businesses with tools that facilitate live polls for any size audience, featuring graphical displays of poll results
Ticketing app: Enables the sale of tickets online and may include advanced tools that manage attendance and allow customization.
Exhibition management: Facilitates the management of exhibitions from start to finish, covering activities such as uploading floor plans, selling booths, and sending communication to exhibitors
Content management: Provides businesses with a set of tools to create, modify and publish digital content
Venue management: Manages venues by facilitating activities such as reserving rooms, generating quotes, organizing event details, displaying bookings, and more
You may like to read: Top Premium, Free & Open Source Event Management Software
What are the Key Performance Indicators (KPI's) of Event Management Software

Cost to revenue ratio: Shows the total cost against the revenue for an event to assess how much profit or loss generated
Ticket sales: Measures the number of persons who registered for events within a month or specific period of time
Registration by ticket type: Provides a breakdown of the registration by ticket type and price, showing which were most attractive to participants
Social media engagement: Measures how participants respond to an event, various sessions, and speakers (usually depicted by a like, share, post, or retweet)
Sponsor satisfaction: Measures sponsors' level of satisfaction with an event and identify what they liked or disliked
Number of returning participants: Identifies the number of past participants who attend further events
Number of active community members: Focuses on the number of users who view and/or spend time navigating the app
What are the Benefits of Event Management Software

Consolidated activities: Businesses can coordinate activities through a single platform whereby all departments can receive immediate notifications of any changes e.g. increase in attendance, change in venue, and change in floor plan and make quick adjustments.
Venue selection: The software automatically identifies suitable venues based on specific criteria (such as location, seating capacity, layout) provided by businesses and can rank venues based on the criteria for future events.
Social media and email marketing: Businesses can use event management software to effectively manage marketing efforts on social media and email using tools like marketing templates, email bounce rates, and one-click unsubscribing.
Reduced overhead costs: Having greater visibility of all activities throughout the business, managers are able to control the level of spending and effectively allocate resources. Additionally, the automation of traditionally manual activities results in time reduction which equates to lower man hour expenses.
Streamlined workflows: Robust software enables businesses to manage all activities that occur from planning to post-event review. Automated activities include managing registration and online payments, sorting and retrieving information on suppliers, and faster communication.
Shorter processing time: Businesses can quickly obtain cross-check payments easily; and print badges, labels, and invoices, agendas, and other material.
You may like to read: Top Premium, Free & Open Source Event Management Software
What are the Latest trends in Event Management Software

iBeacon technology: This Apple technology, which runs on both iOS and android devices, uses Bluetooth technology to send out signals that enable identification, navigation, participant messaging and location. Businesses can know how many participants are in attendance and their locations in the venue. Participants can use iBeacon to locate booths and breakout sessions; receive personalized welcome messages and venue maps from businesses; and network with other participants.
360o live streaming: This feature allows participants to get a live 360o view of what is happening at an event, allowing them to feel fully immersed in the experience. This will enhance customer engagement and redound to the benefit of the event host.
Big data analytics: Businesses want more than just participant registration details. There is a growing need for analytics that will track participants' online activities and show their areas of interest such as preferred products and social media platforms. Big data analytics will allow businesses to get the full picture on customers and customize communication to suit their individual needs.
 How to choose the right Event Management Software

While pricing is important, there are other factors to consider before choosing event management software. These include Business Needs, Reliable Tech Support, Integration, On-site vs. Cloud-based, Secure Online Payment System, and Reporting and Analysis.
Business Needs: Businesses must have a clear view of their specific needs and desired outcomes to find a suitable match
Reliable tech support: Businesses should check to see which vendors offer 24/7 assistance when needed or responds in a reasonable time frame to emailed requests or queries
Integration: Businesses should choose software that can easily integrate into one comprehensive solution to manage all event-related data
On-site vs. Cloud-based: Businesses should determine which approach will work best; on-site delivery requires installation of hardware but is managed internally while businesses have limited control over cloud-based solutions.
Secure online payment system: A built-in online payment system that is secure gives businesses the peace of mind to conduct transactions electronically. The system should also be able to integrate other forms of payments (e.g. onsite cash payments).
Reporting and Analysis: A good solution should be able to generate reports on information such as performance management, trends, budgets, invoice management, and contact history, which can be analyzed to evaluate event success.
What are the Top Event Management Software Open Source & Free
Top Event Management Software Open Source & Free
PAT Index™
Top Event Management Software
Top Event Management Software
PAT Index™
You may like to read: Top Premium, Free & Open Source Event Management Software