How to Select the Best Fundraising Software for your Nonprofit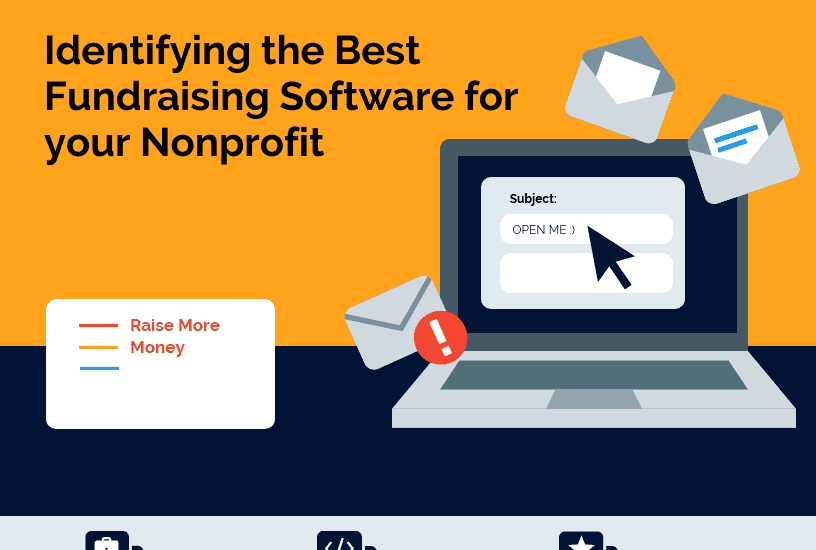 Development directors of growing nonprofit organizations are often so busy advancing their mission that they feel they don't have time to explore fundraising software. Sometimes they don't understand exactly how spending money on software can help raise more funds. They don't understand the importance of software to a business, and why spending some money to purchase software can help them raise more money. They often forget that you have to spend money to bring more money.
Fundraising software is a necessity especially with the increasingly resource constraints and economic pressures. Fundraising software varies from freeware online software to vendor software that has a wide range of solutions and features, support, training packages and price levels. With the variety of choices, the executives might be overwhelmed and unsure of where to start.
Fundraising software is a tool that enables the organization to manage and store data of all your volunteers, members, executives, donors, events attendees, etc. in one place, unified database. Fundraising software enables you to track all your donors relationship to your organization and as well other non-profit organizations.Increasing donation is not the only thing fundraising software can do, but they can help the entire development office.
The other functions that are offered by the fundraising software's are the management of donor's information, financial records, contracts and history of contributions.
You may like to read: Top Fundraising Software  and Top Fundraising CRM Software
What are Fundraising Software?
Fundraising Software allows you to store and manage data for all of your constituents such as donors, volunteers, board members, event attendees, etc in a single, unified database.
With fundraising software, you can track the type of relationships your constituents have to particular organizations, as well as the relationships they may have with one another. With tools for linking related records and coding and filtering donor attributes, your fundraising software acts as a centralized information resource that understands your donors' relationships to your nonprofit and to each other.
Fundraising products generate fundraising campaigns and track donor communication. The software helps in increasing the contribution towards the non-profit organization and decreases the costs of programs. There are several fundraising management systems in the market with different focus and features that can help in reducing costs and increasing efficiency. Here are some of the common ways:
Simplification of the database management thus smoothening administrative tasks
The quickening of the report generation, data entry and campaign analysis and tracking
Reduce the time needed to administer and plan programs
Reduce the time required to conduct a donor research
Simplification of management of volunteers, events, and members
Saving organizational resources by quickly identifying unproductive campaigns
Reduce duplications and extra postage by targeting communications
You may like to read: Top Fundraising Software  and Top Fundraising CRM Software
Why you need Fundraising Software?
Several benefits come with using fundraising software over other accounting and management software in your non-profit organization. Being able to track donation and manage the donor information is vital for every non-profit because by doing that it enables them to perform their functions efficiently. Here are the most crucial reasons why your non-profit organization needs fundraising software:
There is no Substitute for Fundraising Software: Most users might confuse fundraising software to accounting software; there are several differences in functionality on those two software's. Fundraising software is tailor-made with fundraising features that are crucial to non-profits. No other software can perform the functionalities that fundraising software can do and can grow your donor base.
Raise More Money: The primary objective of most non-profit organizations can raise sufficient amount of fund so that it may facilitate its functionality. Remember you need to share the right message to get the right donors, generate target solicitations. The reasons why donors, donate money is because they are requested to, so if you don't have the right fundraising tool to track your donors, you won't be able to raise the required money since your unable to communicate with the right donors.
Easy Management and Time Saving: Fundraising software's ensures that non-profit organizations can save time and manage their donor information efficiently. For better outcome, it's appropriate to use the right tools which instead enable you to do the right job. Once you manage your expenses and operations efficiently you will be able to raise more funds.
How to Select the Best Fundraising Software for your Nonprofit
In the process of implementing new technology, it is often seen that their businesses achieve the best results when they focus concerning process –a collection of conversations that ensure the technical solutions into primary focus rather than regarding single decision. Selection of software is more of the technology and requirements of the buyer. In choosing fundraising management software, there are four steps involved to enable you to reach your destination:
You may like to read: Top Fundraising Software  and Top Fundraising CRM Software
1.Assess your Requirements: This is the first step to consider when selecting fundraising software. First, start by assessing the needs of the software in your organization to determine if the selected software will meet your organizational goals. You are required to assess four areas:
Strategic Plan: How useful new technology is, depends on the how it supports overall goals and vision of the organization. What are your set strategies for direction, technology, and fundraising? Determine how the proposed technology serves your organization mission? How it enhances the service to your community? Will the software address the technology concerns of your donors? You should keep the focus on the organization, not the technology.
Technology Plan: The technology plan should improve your organization technology landscape and support your investments. The focus is to develop a vision of how the technology works well to ensure organizations are effective and meet their objectives.
Processes: It assesses the situation of your technology and looks for a future strategic direction. Assess the processes terrain the fundraising software will need to navigate within the framework and those boundaries. The organization should ensure that they maximize their process as that's considered as the best technical solution and contort to work within the latest technology.
People: The most non-profit organization succeeds due to the people who are drawn to work in service of the community. It is essential to assess the people need before picking a technology solution as technology is implemented for the people. Thus you should determine the internal culture of a non-profit organization.
2.Prioritize your Requirements: Once you are done with the first step where organizational needs were assessed, and now you want them addressed by the fundraising software. Then the next step involves prioritization of all the specific requirements that have been documented. By doing that it saves you a lot of time as you can narrow the list down to your potential vendors. Once you decide to skip this step, you end up spending a lot of time contacting vendors whose products wouldn't be suitable for your non-organization. Instead, they should spend most of their effort to vendors that meet their price and functionality. Prioritize phase needs you to come up with a decision based on the following three processes:
Defining functional requirements: It is crucial to identify the specific requirements of the system before you decide to buy sophisticated software. This will save you time and money from trying multiple incompatible systems and enable you to select the right fundraising software for your organization.
Comparing potential software features: You have collected the entire general requirement list that will smoothen and narrow the selection of possible fundraising software that is manageable. Now analyze deeper the group of requirements, and map your needs from the many fundraising software features prioritizing the most potential. It's important to know the features that are less needed because it helps you understand what is possible in the future.
Review the cost and make trade-offs: Conduct preliminary research. Talk to other non-profit organizations that have similar software, as the questions to different vendors on the benefit of each of the potential software and search online for more information about the various software.
3. Select the Software: Now that you have narrowed down all the potential fundraising software's to select possibilities and functionality the next step would be deciding which of the chosen software's would you pick.  Each of the possible software's should have met the general requirement and cost-effective, reasonable for the organization budget.  Then conduct a follow up on all the vendors and make a strategic decision. This step isn't difficult since most of the work has been done on the previous phases to enable easy decision making. To make a decisive decision on this phase, it is recommended that you get all the vendors and nonprofit customers to illustrate on their product so that you may select which is suitable.
4.Implement the Software: This is the final step in choosing the best fundraising software. Now that you have all the required information seen product demonstration from different vendors, and feel confident that you can select the most suitable fundraising software for your non-profit organization the next step is to implement the software.  Ensure that the vendors have installed the software in your organization or on the cloud and it is functioning as requested. Start the process of implementing the new fundraising software in your organization and encourage your staff to start familiarizing with the new software.
5.Improvise and Streamline your process: Implementing the Software is a great opportunity  to improvise and streamline your process.
Top Fundraising Software
You may like to read: Top Fundraising Software and Top Fundraising CRM Software
Top Fundraising Software
PAT Index™
You may like to read: Top Fundraising Software and Top Fundraising CRM Software