Top 13 Marketing Cloud Platforms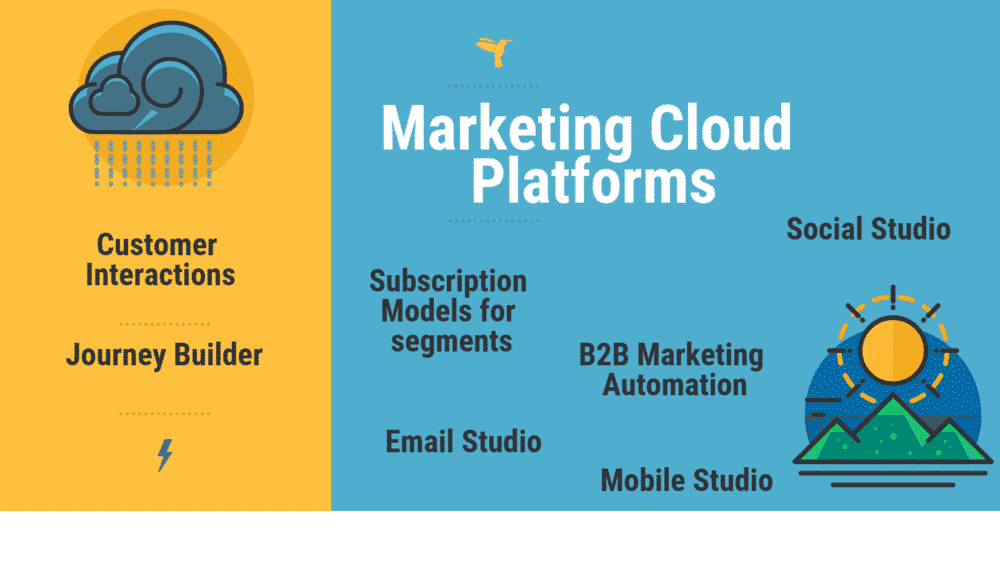 Different organizations are focusing on prioritizing various technology to make their marketing teams efficient. In the past few years, many things have changed. This includes the way an organization interacts with the consumer and how they shop in an online environment. That's why you need a marketing cloud platform.
The marketing cloud platforms provide the user with a complete view of the customer data which helps in the optimization of the marketing strategies. Furthermore, Marketing Cloud Platforms gives the user the ability to remain connected with the customers through various channels such as emails, social media, mobile and through the web.
Marketing Cloud Platforms will function to improve customer engagement, develop a great marketing strategy for your organization and increase Return On Investments.
What are the Best Marketing Cloud Platforms: Adobe Marketing Cloud, Salesforce Marketing Cloud, Oracle Marketing Cloud, Nielsen Marketing Cloud, IBM Interactive Marketing Solution, HP Marketing Optimization, FICO Analytic Cloud, Hubspot, Message Cloud, AgilOne Predictive Marketing Cloud, Marketo Engagement Marketing Platform, Teradata Marketing are some of the top marketing cloud platforms.
What are Marketing Cloud Platforms?
Marketing Cloud offers portfolio of single solutions for customer journey to get insights about customers, campaigns, social interactions. Marketing Cloud solutions allows customers to run marketing campaigns and manage data related to those campaigns on the web, social media, mobile, and email. Marketing Cloud provides core marketing functionality as a software as a service that includes data services, automation, targeting, and content.
Marketing cloud platform is a cloud-based digital platform that is integrated with marketing tools such as emails, social management, and analytics tools. The platforms help in customer profiling and targeting. Marketing Cloud platforms develop an effective marketing strategy by tracking relevant customers data such as consumer behavior and preference. Likewise, it allows marketers to automate tasks that may be time-consuming. Marketing cloud platforms provide a unified platform where all marketing assets can be easily managed. The marketing cloud platforms also include predictive analytics that is useful in making a decision such as sending a welcome message to a new customer. With the Marketing cloud platforms, organizations can easily create a strong presence online by allowing users to keep track of their visibility online as well as publish engaging marketing content. Furthermore, the platform also provides the functionality of web personalization, content creation, and management.
Journey Builder: Most of the marketing cloud systems have a journey builder which help create a visualization which aid in visualization of the customers' journeys such as experiences and other interactions a customer had in your organization. It integrates data from across the various marketing and sales tools of the user.
Subscription Models for segments: marketing cloud platforms offer flexible subscription models such as emails, mobile marketing, web marketing, advertising, and B2B automation.
Email Studio: Marketing clouds allow email personalization with data obtained from various sources including sales cloud.
Mobile Studio: This functionality help reaches the customers at the right moment through messaging platform such as MMS, SMS, Push messaging or other grouping messaging.
Social Studio: A huge functionality is that Marketing clouds have analytic features that analyses conversation from different social platforms. It unifies all the social platform of your organization and allows easy customization and management of social content.
Advertising Studio: Helps to reach advertising audience.
Customer Interactions: marketing cloud platforms allow the user to interact anywhere across various devices and combines various data and consumer behavior. The cloud platforms also automate various relevant interactions such as starting a real-time conversation.
B2B Marketing Automation: Marketing cloud provides functionalities and tools that will help in increase in lead generation, improves lead conversions and send subscription alerts. Likewise, it provides additional features such as CRM and chats support.
Top Marketing Cloud Platforms
Adobe Marketing Cloud, Salesforce Marketing Cloud, Oracle Marketing Cloud, Nielsen Marketing Cloud, IBM Interactive Marketing Solution, HP Marketing Optimization, FICO Analytic Cloud, Hubspot, Message Cloud, AgilOne Predictive Marketing Cloud, Marketo Engagement Marketing Platform, Teradata Marketing are some of the top marketing cloud platforms.
Top Marketing Cloud Platforms
PAT Index™
1
Adobe Marketing Cloud
Adobe Marketing Cloud : Adobe Marketing Cloud is a set of marketing solutions to get deep insight into customers, build personalized campaigns and manage content and assets. The portfolio includes solutions for Analytics, Audience Manager, Campaign, Experience Manager, Media Optimizer, Primetime, Social and Target. Adobe Analytics is a set of tools for predictive and real-time analytics that can be integrated into third-party source which includes the Marketing Reports and Analytics, Ad hoc analysis and Insight applications. Adobe Target is for testing and targeting digital experiences and includes a user interface, built-in best practices, and robust optimization tools for following site…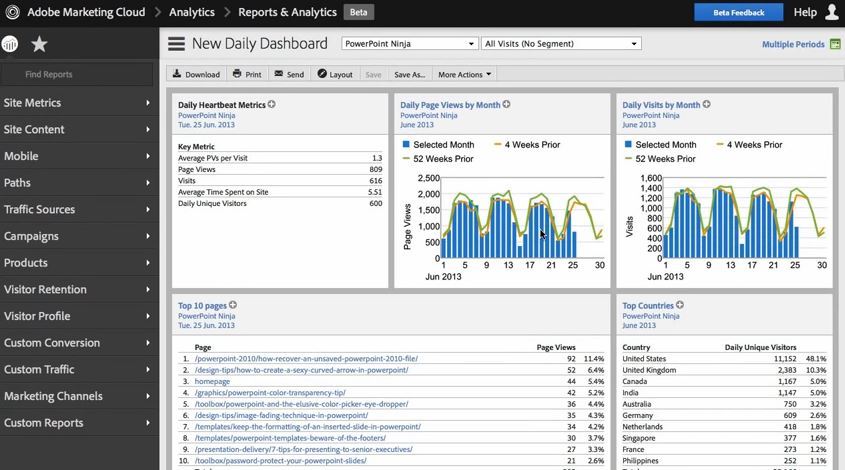 2
Salesforce Marketing Cloud
Salesforce Marketing Cloud : Salesforce Marketing Cloud helps to make the most of every customer interaction such as creating personalized, cross-channel customer journeys that deliver exceptional brand experiences. Salesforce Marketing Cloud provides Email, Mobile, and Web Marketing with ExactTarget, Social Media Marketing with Social Studio, Digital Advertising with Social.com, B2B Marketing Automation with Pardot. Features include Email marketing, Mobile messaging, Campaign management, Predictive Intelligence, Data and analytics, Social listening and analysis, Content marketing, Community engagement and social care, Media optimization and audience management on Facebook, Twitter, and LinkedIn, Lead generation, Lead qualification, Lead nurturing and Lead tracking. Journey Builder empowers…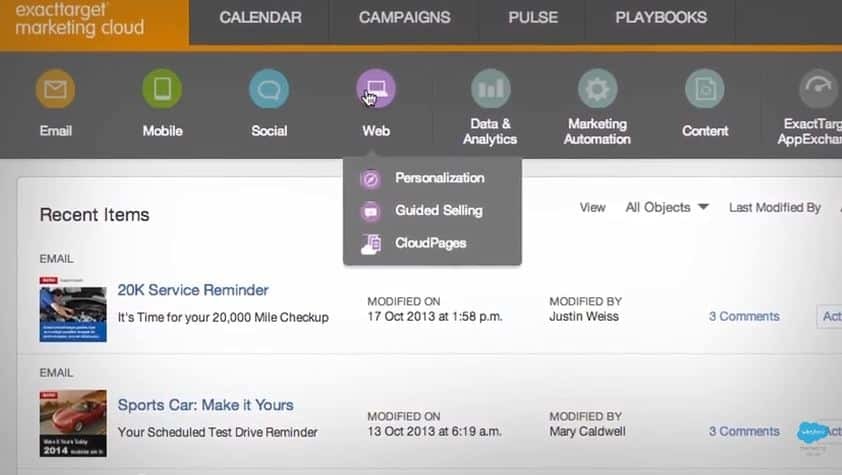 3
Oracle Marketing Cloud
Oracle Marketing Cloud : Oracle Marketing Cloud delivers the enterprise-capabilities marketers need to quickly and easily unify customer data, engage the right audiences, and deliver the high-performing marketing programs. Oracle Marketing Cloud combines Oracle BlueKai, Oracle Content Marketing, Oracle Eloqua and Oracle Responsys cloud service offerings with Oracle Social Cloud, as part of a scalable, open platform. Oracle Marketing Cloud enables marketers to influence customers to find the right products, remain loyal, and become "ideal customers" who serve as advocates for their brands. Oracle Marketing Cloud helps marketers move beyond individual transactions and achieve deeper, lasting relationships by developing a…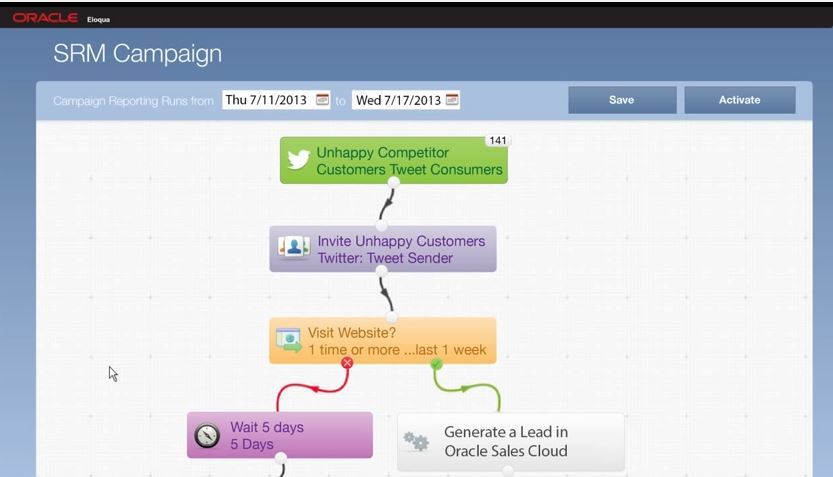 4
Nielsen Marketing Cloud
Nielsen Marketing Cloud empowers brands, agencies and media companies to connect more deeply with customers by combining Nielsen's world-class data, analytics, media planning, marketing activation and data management platform capabilities in a single cloud platform. The data synergies facilitate a deeper understanding of consumers and audiences, more effective one-to-one messaging, and superior ROI analysis and campaign optimization. The Nielsen Marketing Cloud houses powerful marketing applications that can be used on their own or in concert with others. Clients can seamlessly move data between apps to increase learning and fuel a 360-degree view of their customers. More Nielsen and third-party applications…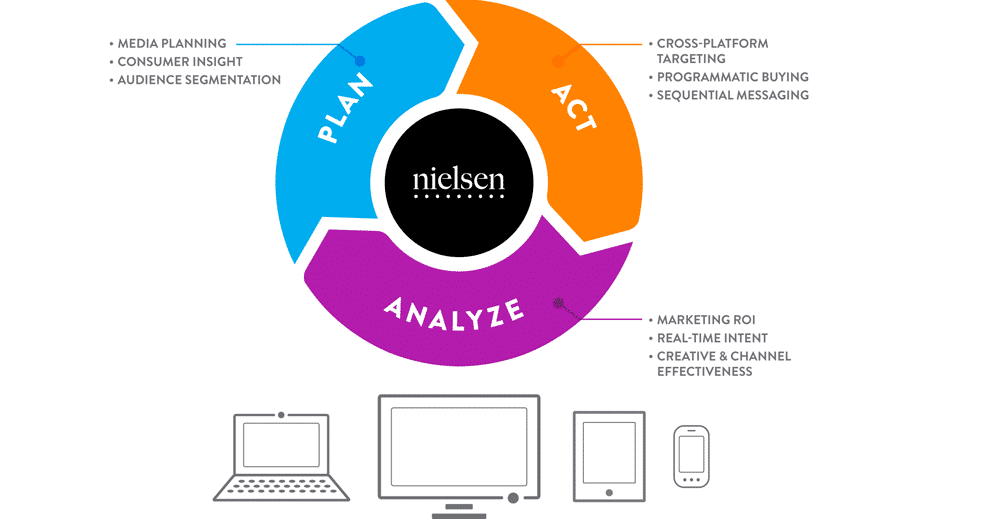 5
IBM Interactive Marketing Solution
IBM Interactive Marketing Solution : The IBM Interactive Marketing solution provides a set of capabilities to engage in newly personal, relevant marketing for inbound-outbound, online-offline, anytime, real-time world. Solution portfolio includes IBM Campaign, IBM Interact, IBM eMessage, IBM Marketing Operations, IBM product recommendations, IBM Email Optimization and IBM LIVEmail. IBM Campaign deliver personalized, relevant marketing messages across all touch points. IBM Interact determine, in real-time, the right message to present in inbound marketing channels. IBM eMessage engage customers and prospects with timely, personalized email and mobile messages. IBM Marketing Operations streamline marketing processes and improve marketing management. IBM product recommendations…
IBM Interactive Marketing Solution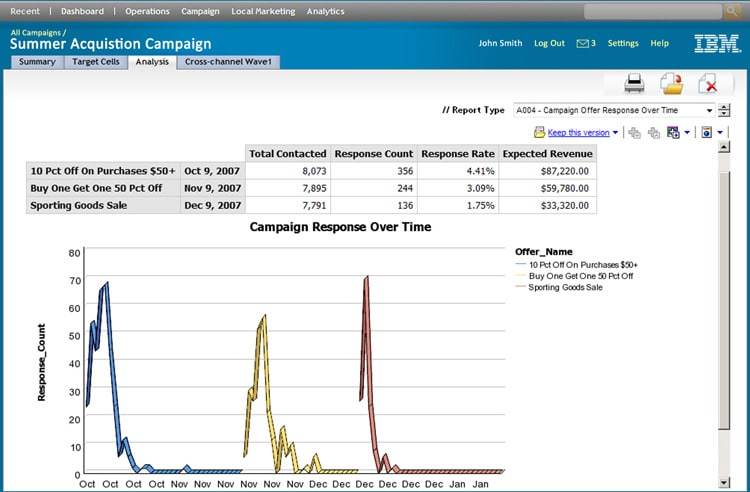 6
HP Marketing Optimization
HP Marketing Optimization : HP Marketing Optimization offers a range of single suite of apps designed to work together to help deliver compelling and consistent customer experiences across every channel. The Suite includes HP Exstream, HP Relate, HP TeamSite , HP MediaBin, HP Qfiniti , HP Explore, HP Optimost, HP Aurasma and HP Digital Marketing Hub. HP Exstream deliver multichannel communications that matter. HP TeamSite provides personalized web experiences. HP MediaBin Power the content with rich digital assets and HP Qfiniti deliver outstanding contact center interactions. HP Explore Power the decisions with market-leading multichannel analytics. HP Optimost provides web engagement…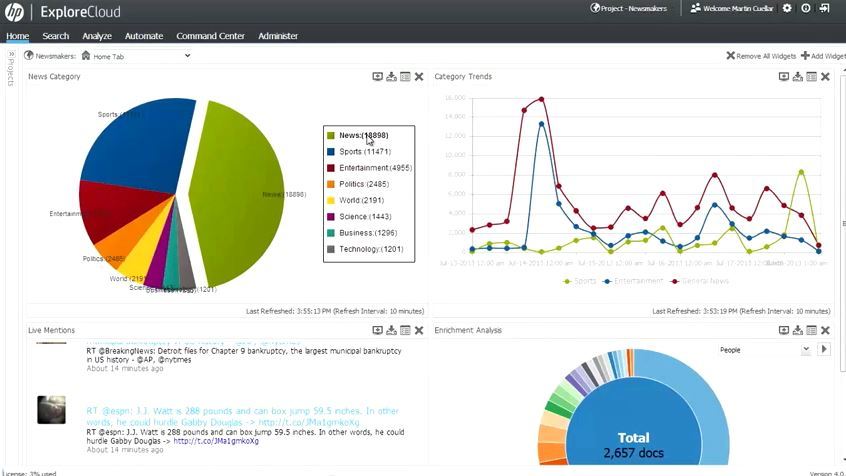 7
FICO Analytic Cloud
FICO Analytic Cloud, is a web-based infrastructure for creating, customizing and deploying powerful, analytics-driven applications and services. Users are able to conduct hands-on testing and experimentation with the FICO Solution Stack, FICO's platform for Big Data analytics and decision management and also to explore the FICO Analytic Cloud Community, to collaborate with peers and the FICO Analytic Cloud Marketplace to buy and sell analytic components, add-ons or complete turnkey decision management solutions. FICO helps businesses develop successful customer centric strategies through deep analytics, predictive models and multi-channel communications to target, what to offer, when to offer, and how to communicate…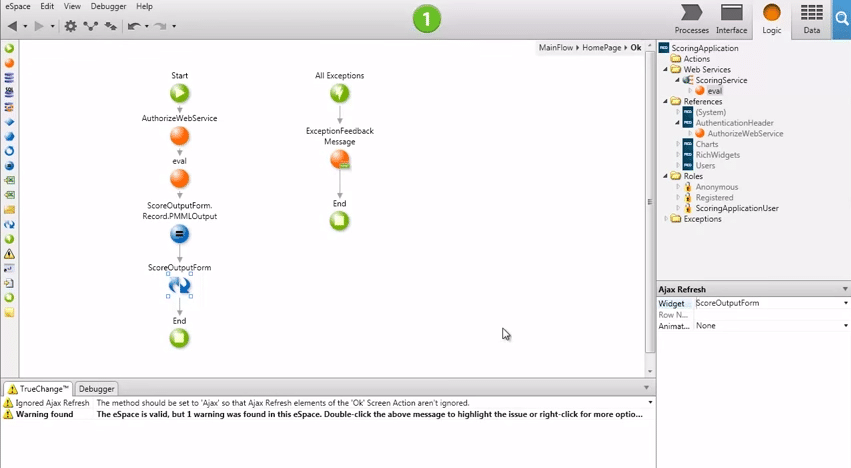 8
Hubspot
HubSpot inbound marketing and sales software helps businesses get found online, generate more inbound leads, and convert a higher percentage of those leads into paying customers. HubSpot's software platform includes tools that allow professional marketers and small business owners to manage search engine optimization, blogging and social media, as well as landing pages, lead intelligence and marketing analytics. Hubspot analytics lets to measure your entire marketing funnel in one place. From website traffic to customer acquisition, HubSpot's integrated analytics tools provide all the metrics you need to be a data-driven marketer who makes smarter decisions and gets better results.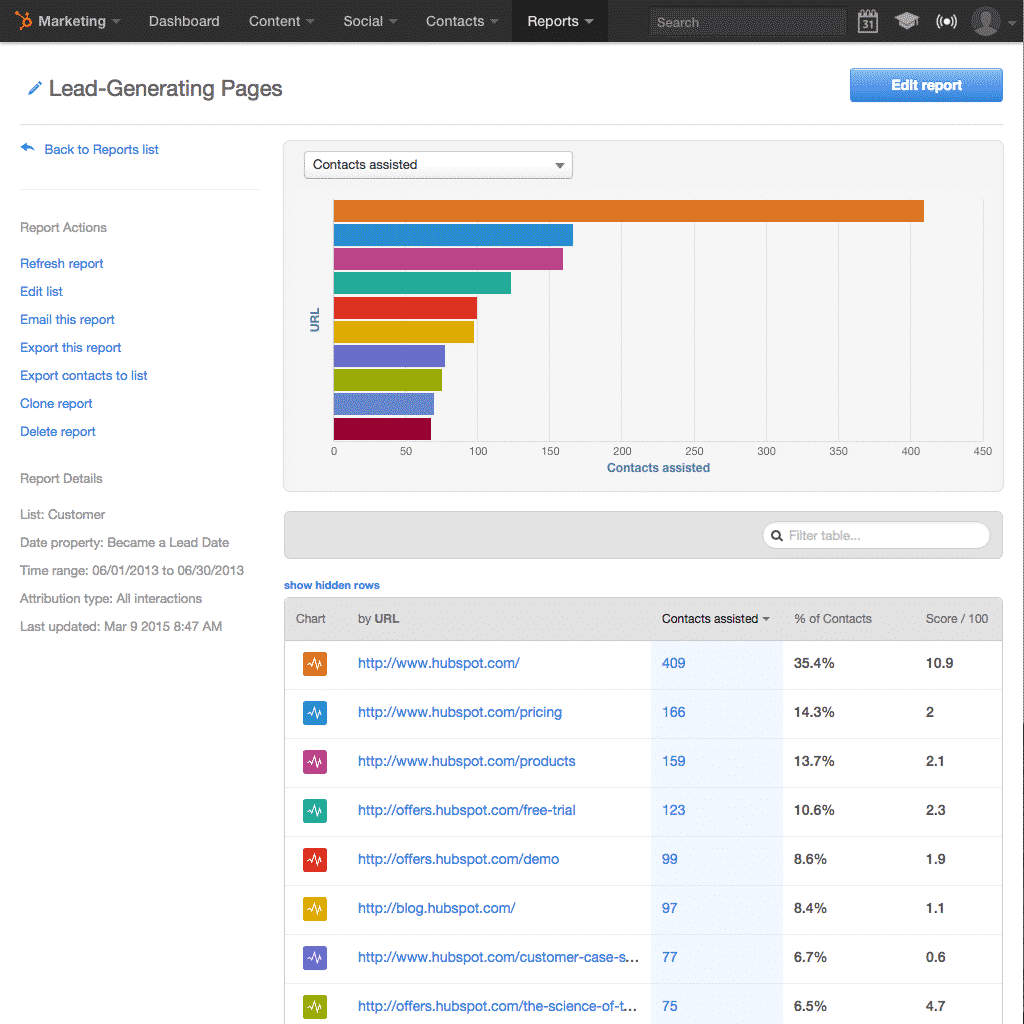 9
Message Cloud
The Message Cloud encompasses everything marketers desire with their digital strategies – enabling them to own every customer moment, with a decisioning engine that creates contextualized messages triggered by customer behavior, not by the marketer's guess. It allows businesses to eradicate conversion kerbing obstacles, through smart and crowd insights, email, personalization and push messaging across any device – all on one powerful platform. SmartFocus empowers businesses to influence their valuable customer journeys, connecting and engaging with them at every treasured touch point. SmartFocus provides actionable customer insights that help businesses quickly recognize different customer segments which would enhance sales and…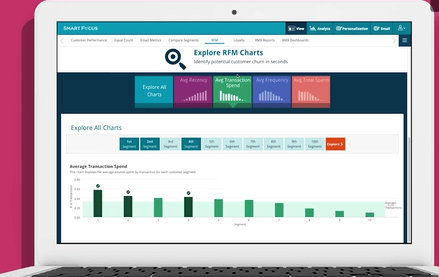 10
AgilOne Predictive Marketing Cloud
AgilOne is a Predictive Marketing Cloud that helps retailers, large and small, create relevant omni-channel customer experiences by complete and accurate customer profiles, out of the box predictive models and turnkey campaigns across different channels. AgilOne puts turnkey predictive analysis, turnkey hyper targeted campaigns and complete and accurate customer profiles in the hands of any marketer. Features includes turnkey predictive models, audiences, campaigns, creative templates, holdout testing, built-in email and web personalization, as well as connectors to existing marketing technology vendors. The out of the box predictive models includes propensity models, clusters and recommendations, that are self learning and don't…
AgilOne Predictive Marketing Cloud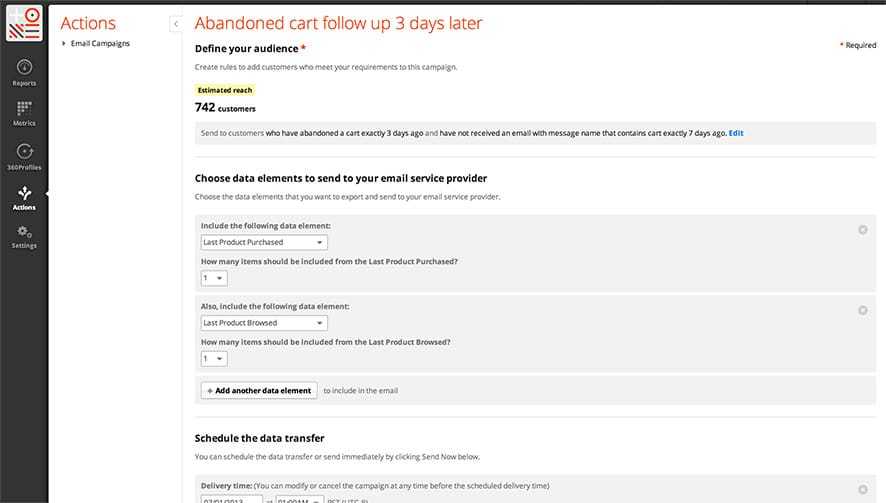 11
Marketo Engagement Marketing Platform
Marketo Engagement Marketing Platform help marketers to master the art and science of digital marketing. Marketo deliver software that helps marketing understand its target audience, engage them as individuals on their terms, measure the impact of their marketing efforts, and manage the team for success. Marketo Mobile Engagement allows marketers to drive lasting customer engagement by listening for customer behavior across web, social, email and advertising channels and communicating directly within the mobile environment. In addition, Marketo Mobile Engagement triggers communications across all other digital channels based on behaviors it detects in the mobile environment, creating a consistent conversation every…
Marketo Engagement Marketing Platform

12
Teradata Marketing
Teradata Marketing Applications empowers your brand to be more agile and orchestrate dynamic, right-time marketing campaigns that truly captivate and engage audiences.Leverage powerful marketing automation and power your digital marketing campaigns. Achieve more agile marketing and understand the needs of individual customers. Generate integrated insights using customer data harvested from anonymous and known touch points. Execute connected interactions that elevate brand value, and increase revenue. Teradata Services can provide the professional marketing support and strategic guidance you need to maximize the value of your technology investment.