Top 16 Private Cloud Platforms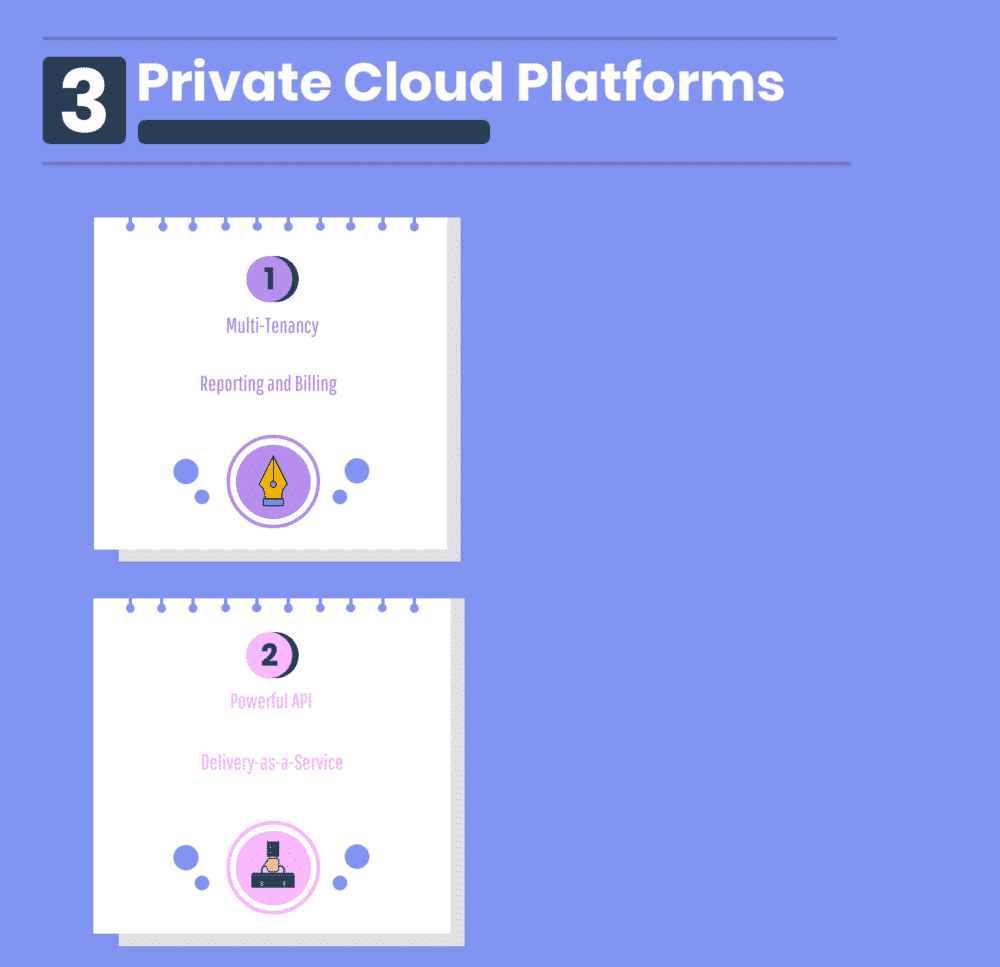 Several years ago, companies could only depend on an onsite server as the only available infrastructure hosting option. Luckily, modern-day companies are free to choose from a wide range of options including cloud infrastructures. When looking for the most suitable cloud platform for a company, many companies are focused on key features and benefits such as control, stability, customization, availability, and high levels of security. It's hard to enjoy these benefits when using public cloud platforms and thus companies consider private cloud platforms to be a great option.
Private clouds are easy to access and control because they are onsite cloud solutions. The company's IT team can easily identify and solve problems. Private clouds also allow companies to store data in secured locations. Moreover, companies can configure private clouds and scale resources to meet their business needs. Overall, private clouds aim to address the limitations of public clouds.
What are the Best Private Cloud Computing Platforms: BMC Software, VMware, Microsoft Cloud, IBM Bluemix Cloud, SAP HANA Cloud Platform, Dell Cloud, Platform.sh , Citrix Cloud, HP Helion, Cisco Systems, Red Hat Cloud, Huawei Cloud, Amazon Virtual Private Cloud,Google Cloud Virtual Network, Wolfram Private Cloud, ASG Cloud, CA Cloud are some of the top Private Cloud Computing Platforms.
What are Private Cloud Platforms?
A private cloud is a virtualized data center that meets the cloud computing needs of one customer only. Unlike public clouds, private clouds are designed and maintained by a single enterprise to meet the specific needs of that enterprise. Generally, private clouds are good for businesses with changing computing needs that are difficult to control. Many companies prefer private clouds over public clouds because of security, governance, management, privacy, and compliance concerns.
Companies that use private clouds may decide to base the cloud on an existing infrastructure/data center or on new infrastructure. Either way, the organization owns and manages the cloud.  A company may decide to manage its private cloud internally or use the services of a third party. Like other cloud computing platforms, private clouds are internet-based platforms that allow organizations to share computing devices, data, information, and other resources on demand. It's all about sharing configurable computing resources to meet the needs of the organization.
Private cloud is cloud infrastructure that is operated solely for a single organization. Private cloud can be managed internally or by a third party, and hosted either internally or externally. Cloud computing, is an Internet-based computing that provides shared processing resources and data to computers and other devices on demand. It is a model for enabling on-demand access to a shared pool of configurable computing resources which can be rapidly scaled with minimal management effort.
Multi-Tenancy – One of the key features of private cloud platforms is the ability to support multiple users such as individuals, divisions, offices, and departments. In this case, storage is shared to capitalize on economies of scale. Many users can use the cloud without being aware of, or without being affected by the activities of other users.
Reporting and Billing – When using a private cloud, the client is charged based on consumption over time. A private cloud can report and charge against individual teams, business units, or departments at a high level of granularity. Private cloud users may be required to pay more for premium services.
Powerful API – Private cloud platforms feature a powerful application programming interface (API) or a portal that makes it possible to request resources and have them configured automatically on demand. This feature helps clients save time by cutting down on manual maintenance. Clients can use automated tools to control their infrastructure and integrate the cloud with their systems.
Delivery-as-a-Service – A private cloud delivers resources as service with service definitions and abstraction from the underlying physical hardware.
Elasticity – Elasticity is the ability to scale up or down depending on the client's needs. This feature allows business users to access resources using a delivery-as-service model with no or minimal intervention from the IT team or administrators.
Some of the benefits include:
On-demand cloud computing services
Efficient allocation of resources
Increased security
Top Private Cloud Computing Platforms
BMC Software, VMware, Microsoft Cloud, IBM Bluemix Cloud, SAP HANA Cloud Platform, Dell Cloud, Platform.sh , Citrix Cloud, HP Helion, Cisco Systems, Red Hat Cloud, Huawei Cloud, Amazon Virtual Private Cloud,Google Cloud Virtual Network, Wolfram Private Cloud, ASG Cloud, CA Cloud are some of the top Private Cloud Computing Platforms.
Top Private Cloud Platforms
PAT Index™
1
BMC Software
BMC Software's cloud management platform drives digital innovation with agile, full-stack service provisioning across cloud and traditional platforms. BMC Cloud Lifecycle Management scales easily while integrating with essential compliance and governance policies to reduce risk. It intelligently place services according to policies across traditional infrastructure and private and public clouds as well as avoid service API lock-in and maintain choice across any platform.Users will be able to quickly deploy simple use cases and scale to production-grade hybrid cloud management. BMC Software offers built-in integration to change management and the configuration management database (CMDB) that ensures governance across the full lifecycle…
Overview
Automated ITSM governance
Public cloud compliance
Self-service portal
Full-stack service provisioning
Intelligent compliance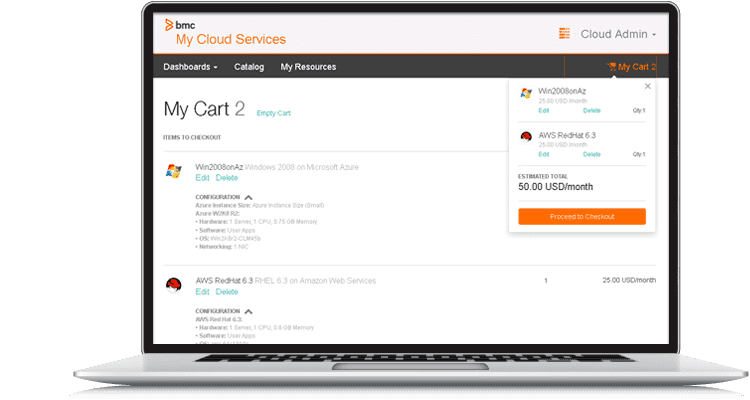 2
VMware
VMware Cloud Management Platform delivers a complete solution for managing a heterogeneous, hybrid cloud. Cloud Management Platform supports companies addressing cloud management requirements related to day one and day two IT operations for compute, storage, network and application-level resources across a hybrid and heterogeneous IT environment. The platform provides the underlying management capabilities to address two key IT initiatives: Streamlined and automated data center operations Application and infrastructure delivery automation. vRealize cloud management platform delivers intelligent operations that address the need to manage everything from applications to the complete infrastructure stack (compute, storage and network) across a hybrid landscape. VMware…
Overview
Data Center & Cloud Infrastructure
Networking and security
vSphere with Operations Management
vRealize Suite for addressing intelligent operations, automated IT.
Virtualization management
vSphere Hypervisor having built-in management tool, advanced memory management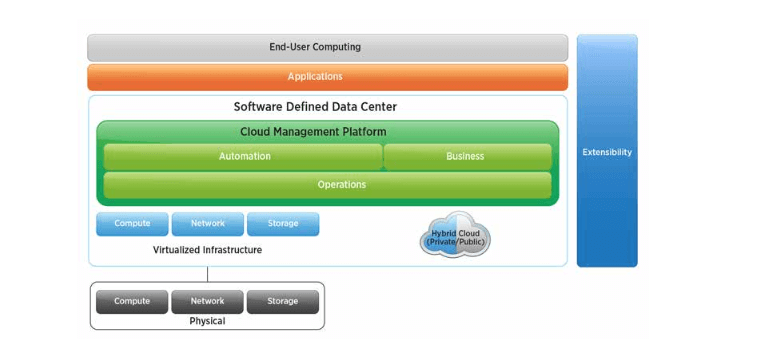 3
Microsoft Cloud
Microsoft Cloud provide you the control of your on-premises infrastructure with the scalability of cloud resources when it makes sense for your business—using products and services built on industry-leading standards for compliance, privacy, and security. Microsoft Cloud secure and manage your data and applications with hybrid IT and use familiar tools and a common identity on any platform and in any cloud.Microsoft Cloud let to build applications in your preferred method, then deploy applications and store data in the cloud locations that best meet your business and regulatory needs. Microsoft's Azure StorSimple addresses massive data growth, empowering you to take…
Overview
Hybrid Cloud Tiering
Multi-Platform iSCSI Support
Consolidated Enterprise-Wide Storage Management
Automated Off-Site Data Protection
Cost-effective Backup
Reliable Disaster Recovery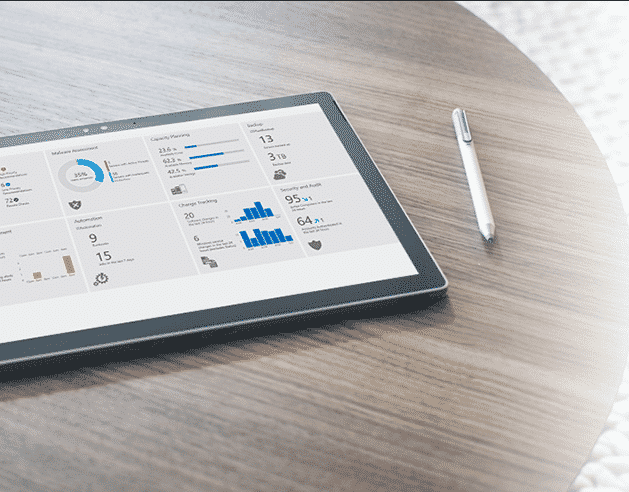 4
IBM Bluemix Cloud
The cloud is not just about new apps or existing ones, on-prem or off-prem, IaaS or PaaS. It's about bringing all of this together to move cloud into the core business of modern enterprise. Bluemix is a platform built to help companies drive pervasive transformation. Bluemix Dedicated is designed to feel like another node on your network. Using either VPN or Direct Link technology, your Bluemix environment is securely connected to your enterprise. Bluemix is the home of more than 130 unique services, including offerings like IBM Watson and Weather.com. Starter apps are pre-configured and can be easily modify to…
Overview
Integration and portability
Developer productivity
Data and analytics
Visibility, control and security
Connection and Services Across Hybrid Environments

5
SAP HANA Cloud Platform
SAP HANA Cloud Platform is an open platform-as-a-service that provides unique in-memory database and application services. It is the proven cloud platform that enables you to rapidly develop new applications or extend existing ones. SAP HANA enables to extend SAP applications in minutes, all in the cloud. SAP Agile Data Preparation is a self-service data preparation application providing data discovery, integration, and transformation capabilities. It quickly transforms data into actionable, easily consumable information. SAP HANA is built for all types of users. This software can help drive more successful analytics, data migration, and master data management (MDM) initiatives. It simplifies…
Overview
Collaboration
Personalize, responsive user experience
Secure integration
Embed advanced analytics.
Quickly develop loT apps.
Quick deployment of real-time loT apps.
Tightly manage security services.
Deliver enterprise-grade native mobile apps.
Utilize business services from partners.
Data storage.
Increase developer productivity.

6
Dell Cloud
Dell's Cloud Computing provides it users the ability to enable a faster, simpler path to cloud that delivers industry-leading TCO and the flexibility to adapt the company's cloud to the future. Users can customize cloud solution with an end-to-end portfolio, which includes cross-platform infrastructure services, private and hybrid clouds, heterogeneous management and expert guidance.These will help the company cut their cloud deployment time by 80 percent compared to Cisco, slash their operating costs and respond faster to business demands as well as match the right applications to the right cloud to meet the business' challenges.With Dell's cloud computing program, users…
Overview
Centralized cloud management
Application performance monitoring
Automated workload delivery and infrastructure management
Secure access
Simplified provisioning, governance and access management
Dell Blueprint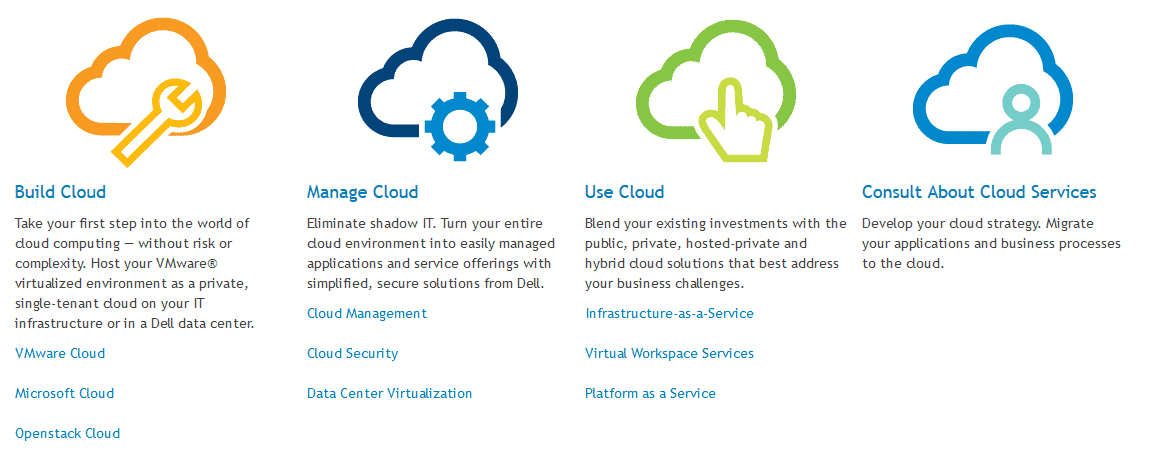 7
Platform.sh
Platform.sh not only gives you a great workflow, incredible stability and dynamic scaling but it is hands-down the fastest hosting platform for Drupal, Symfony and NodeJS projects. Targeting the web application market and foremost large PHP e-commerce sites and media sites Platform.sh has been chosen as the official cloud partner of major open source projects such as Symfony and Drupal Commerce. Platform.sh has also been chosen by major Open Source software vendors and is now powering their SaaS offering through its technology. It has signed exclusive deals with two major European sovereign cloud providers. Platform.sh was built for a buzzing…
Overview
Flexible development.
Massively scalable.
Collaborative and agile.
Version control from code to infrastructure.
Built-in Github and Bitbucket intergations.
SSL at no extra cost.
Speedy, secure and stable live infrastructure.
Configurable micro-container architecture.
Optimized for Drupal & commerce.
NodeJS, Python, Ruby support.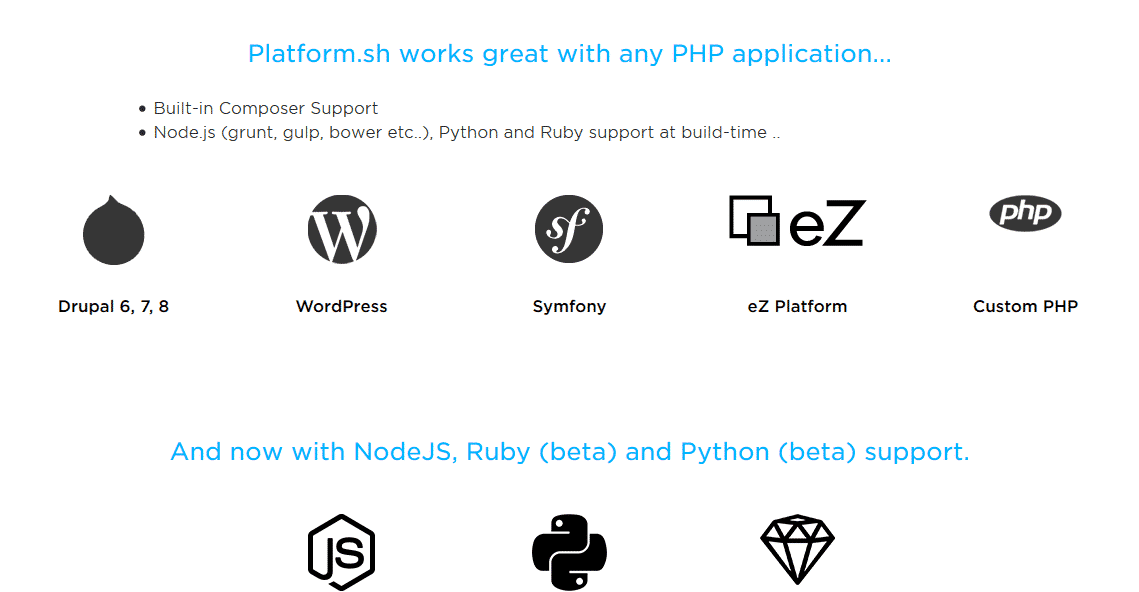 8
Citrix Cloud
Citrix Cloud is a control plane to manage all Citrix technologies. This cloud-based approach means reduced infrastructure, centralized control and SaaS-style updates, contributing to lower administration cost and complexity. It provides the simplest, most flexible way to manage company's apps and data.Citrix offers the quickest way to deploy Citrix technologies and rapidly manage and scale across one or more locations. It's simple interface provide its users less programs to install, one-click service integration and easy-to-understand subscription pricing model, all without the need to have any special programming skills from its users. its flexible features allows usage of any public, private,…
Overview
Citrix Cloud Core Platform
Design and Edit Blueprints
Mobile Device Management
Multiple Resource Locations
Monitor deployments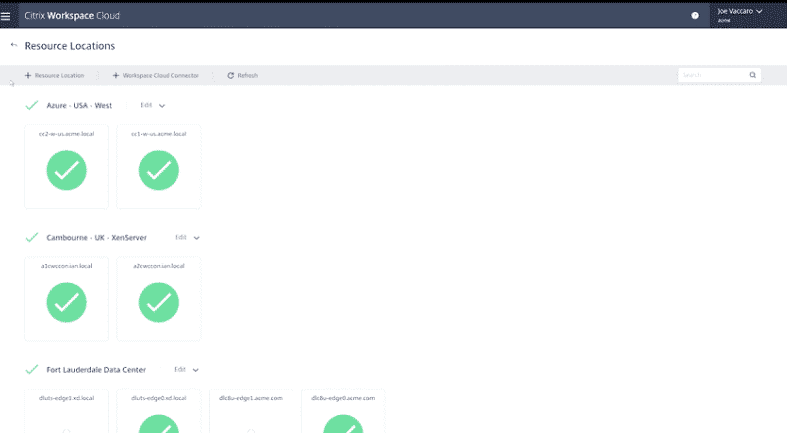 9
HP Helion
HP Helion, the Hewlett Packard Enterprise portfolio of cloud products and services—is a proven solution that enables new cloud services that have changed the world, saved lives, and revolutionized businesses. HPE Helion provide a complete hybrid cloud with a cloud management environment that delivers control for all services, whether they are hosted in a private, public, or managed cloud. Simplify operations and reduce costs with a single management environment across your entire infrastructure.Improve efficiencies by automating and orchestrating manual tasks and processes, modernizing IT delivery for applications, managing performance and data locality, and controlling security and compliance across workloads. Built…
Overview
Access Cloud
Gain New Insights
Find Expert Services
Manage Operations
Secure Cloud

10
Cisco Systems
Cisco Intercloud Fabric for Business is deployed on premises, and allows connectivity to a large ecosystem of cloud providers to support hybrid cloud deployments for enterprises.Cisco Intercloud Fabric is a highly secure, open, and flexible solution that gives you complete freedom in workload placement, based on business needs. It applies the same network security, quality of service (QoS), and access control policies in public clouds that you enforce in the data center. And as capacity is added, there is no demarcation between internal and external clouds. Cisco Systems builds highly secure hybrid clouds and extend company's existing data center to…
Overview
Intercloud Fabric Director
Intercloud Fabric Secure Extender
Data Center Management and Automation
Network Management for IT Organizations
Network Management for Small Businesses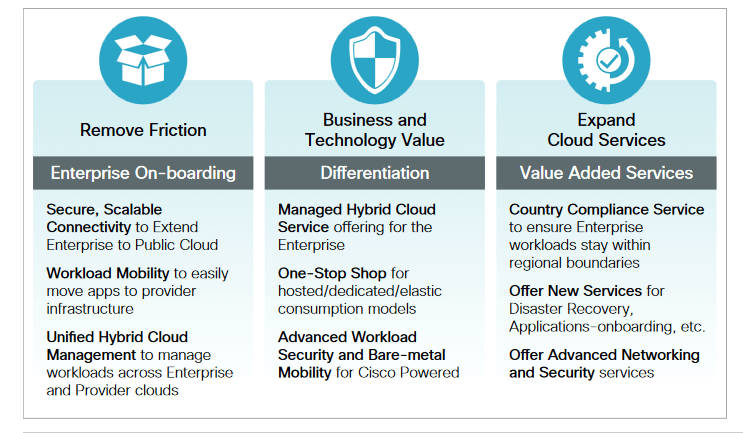 11
Red Hat Cloud
Red Hat is an open hybrid cloud infrastructure which makes a comapany's IT organization do better in serving the business by delivering more agile and flexible solutions while protecting business assets and preparing for the future. To better provide services to their customers, Red Hat has different products that organizations can select from to see what fits their needs the most.Red Hat Cloud Infrastructure is a combination of tightly integrated Red Hat technologies that lets the business build and manage an open, private Infrastructure-as-a-Service (IaaS) cloud—at a much lower cost than alternative solutions. Users can deploy any combination of these…
Overview
High performance
Integrated Life-Cycle Management
Heterogeneous Coverage
Choice and Interoperability
Flexible Cloud Management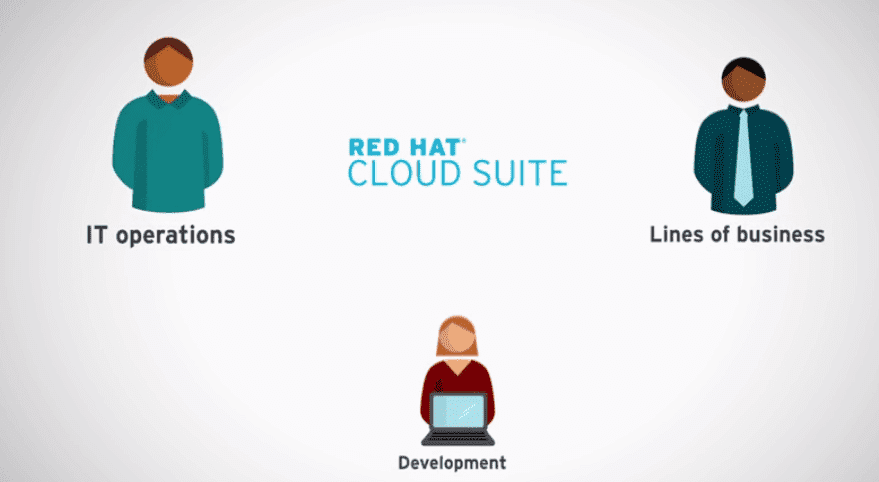 12.Huawei Cloud
Huawei Cloud enables to optimize datacenter's efficiency and agility while maintaining security and control with a private cloud from Huawei. Huawei allows to easily manage service transformation by evolving legacy enterprise architecture. Build an agile, smart enterprise for your customers while leveraging your existing IT investment.
13.Amazon Virtual Private Cloud
Amazon Virtual Private Cloud (Amazon VPC) lets you provision a logically isolated section of the Amazon Web Services (AWS) cloud where you can launch AWS resources in a virtual network that you define.
14. Google Cloud Virtual Network
Google Cloud Virtual Network, you can provision your Google Cloud Platform resources, connect them to each other and isolate them from one another in a Virtual Private Cloud (VPC). You can also define fine-grained networking policies with Cloud Platform, on-premise or other public cloud infrastructure. Cloud Virtual Network is a comprehensive set of Google-managed networking capabilities, including granular IP address range selection, routes, firewalls, Virtual Private Network (VPN) and Cloud Route.
15.Wolfram Private Cloud
Wolfram Private Cloud lets you do computations, store data, and share material in your own private environment—either hosted or on-premises, for both development and deployment use.
16.ASG Cloud
ASG CloudFactory is a solution suite to plan, build and manage modern cloud management platforms that combine cross platform service aggregation and management with an attractive, easy to use workspace environment that delivers applications, information, and all IT services to any device.
17.CA Cloud
CA Automation Suite for Clouds offers the software tools necessary to deploy entire business services via CA Server Automation, CA AppLogic, and multiple public clouds, including Amazon EC2 and Windows Azure. CA AppLogic constitutes CA Technologies cloud platform, which is able to rapidly create, deploy and decommission complex business services.