Top Reasons why you should Choose G Suite for your business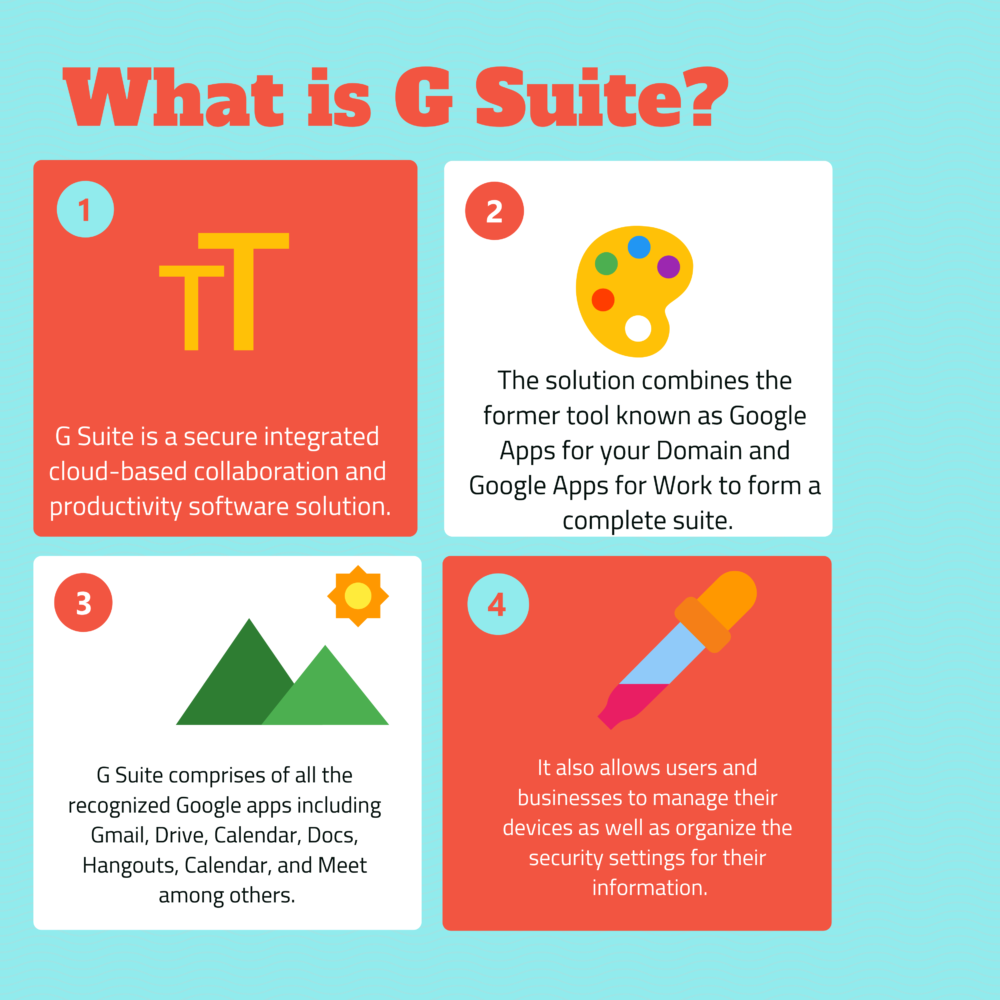 The business world is changing rapidly, and for this reason, every business needs to adapt to the changes and trends in the current markets for them to survive. It has become critical for businesses to find ways to operate in the open and competitive market and remain profitable.
Collaboration and productivity apps are essential tools that help your teams and departments, collaborate efficiently, openly share information and communicate effortlessly.  Collaboration ensures that the teams work at their most effective level by offering them an equal opportunity to participate as well as communicate their information. It gives the teams a common goal to work upon thus forging a stronger front towards achieving the company's objectives.
Collaboration and productivity software ensures easy communication between employees, effective and efficient discussions between remote team members as well as gives them the capabilities of sharing data and files from anywhere and at any time. It promotes transparency and efficient problem-solving.
G Suite
What is G Suite?
G Suite is a secure integrated cloud-based collaboration and productivity software solution that is designed by Google AI to cater to businesses of all sizes. The solution combines the former tool known as Google Apps for your Domain and Google Apps for Work to form a complete suite.
G Suite comprises of all the recognized Google apps including Gmail, Drive, Calendar, Docs, Hangouts, Calendar, and Meet among others. It features Google Admin and Console that helps govern the apps. It also allows users and businesses to manage their devices as well as organize the security settings for their information.
What are the features of G Suite?
The core features of G suite solution include the following:
G Suite
Connect: The feature allows you to reach your colleagues from anywhere through;
Gmail: Gmail enables you or your employees to access their email on any device anywhere and at any time, without the need of internet connection. It allows you to draft or read your messages without connectivity and send them whenever you are back online.
Calendar: Calendar provides integrated online calendars that are designed for teams helping you to save the planning time.
Google+: Google+ provides a secure corporate social network that allows you to connect with colleagues anywhere. It also allows employers to create an online community through which your employees can share team updates safely.
Hangouts chat: Hangouts chat which is a messaging platform designed for teams and helps them work from one place.
Create: It provides everything you require to get your projects running through;
Docs: Docs offers Word processing for teams and helps them create or edit text in the browser. It also provides chat, commenting, and real-time editing, sharing controls that are easy to manage and more.
Forms: Forms enables you to create surveys and forms for all your employees. It allows you to generate custom survey forms and questionnaires without any extra charge.
App Maker: App Maker feature enables you to build business apps for your company.
Sheets: Sheets provides collaboration on data analysis using smart spreadsheets
Keep: Keep gives you the capabilities to capture the important things as well as getting more done. It helps employees to easily capture inspirations and collaborate on notes with colleagues as well as keeping them on the track.
Access: Be able to store all your files and locate them instantly using Drive and Google Cloud Search
Drive: Drive allows you to store, access, as well as share your files all from a single secure location
Google Cloud Search: Google Cloud Search offers the ability to search through the content of your company using the Google search. It provides the information you require, just when in need of it.
Control: Provides devices, manage user tools, as well as receive data easily and securely through Admin Vault and Mobile.
Admin feature allows you to manage G Suite for your business by giving you the capabilities to add users, manage your devices and configure your security settings.
The vault feature helps you to Archive and eDiscover emails, files, as well as chats. It enables you to search, retain, export and manage your organization's emails, file content on the Google drive and more.
The mobile feature offers you mobile management for Windows, Androids, iOS, and other smart devices that help you keep your data secure and employees happy.
What are the benefits of G Suite?
An all-in-one integrated collaboration tools for anything you need to help you connect with your employees, colleagues as well as the ability to work without interruptions.
G Suite provides you with a custom email @yourcompany that allows you to give every employee a customized email address at your domain.
It comes with an option that enables the users to possess multiple email addresses through making email aliases. One can add up to 30 email aliases for every user.
Security and privacy - G suite provides in-built comprehensive security in every phase starting from their reliable infrastructure all the way to their cutting-edge detection systems. They have trained and dedicated security professionals who include top experts and stand-behind as well as any other support they may deem important, to protect your data.
It provides secure data privacy terms in the contracts, which are verified by third-party public audits to help you remain compliant.
Top Reasons why you should Choose G Suite for your business?
G Suite solution offers various benefits to your business that will make you want to use it instead of any other collaboration and productivity software. We divide these reasons into three categories including New business, Small business and Enterprise.
G Suite
New Business:
G suite enables you to get an email address for your company that offers a free version for 14 days and after you start paying $5/users/ month.
Email @yourcompany- it provides a professional look for your business by providing you with a customized email @yourcompany Domain. You can create your employees, personal email such as sarah@yourcompany. The personalized emails build customer trust for your employees.
Offers more than just email- at $5/users/month, you get 30GB cloud storage, video conferencing, sharing of files, and 24/7 support among others. The package allows you to upgrade to a higher package when you are required to.
Offers safe and secure platform- G Suite provides a secure and ultra-reliable server that will guarantee you a 99.9% email uptime to ensure efficiency in your company's communication. It protects your company's data via spam protection, security, and automatic backups which is among the leading in the industry.
It offers an easy way to help you and your employees start sending emails from anywhere and at any time.
Small Business benefits:
Helps you to take Gmail to work- Google's servers that are ultra-reliable guarantees your business a 99% email uptime. It offers industry-leading filters for spams that keep your inbox junk free.
Helps you to store and share files- it allows you to secure all your company's work in a single place with the cloud as well as share and access it whenever you need it.
Work from anywhere- the suite helps you to collaborate on document, presentations, and spreadsheets, through various devices.
Business-grade security- it provides you protection for your company's data even in an instant that you or your employees loss their devices or they stop working for your company.
Easy IT administration- it enables you to set up new members quickly, and it automatically updates itself so no need to keep purchasing updates.
Work with common file types- allows you to perform specific actions such as opening as well as editing the popular file formats like Microsoft® Word, PowerPoint, and Excel. Microsoft. The software offers integration capabilities that allow you to share and export documents and files even with people not using G suite.
Enterprise benefits:
Connect helps you to make your decisions faster, face to face- the HD video conferencing feature allows you to gather your whole team into a single room by just one click from wherever they are. You can talk to your employees without the need for them to come to the office thus saving time for your business and optimizing on other vital issues. It is possible to use features such as Gmail, calendars, Hangout charts and more.
Create feature allows you to collaborate from anywhere- It helps you to work together across various devices on one file and at the same time. Changes you make on the documents are saved automatically in real-time. It offers online and fast online spreadsheets, websites that are easy to build, and helps you create customized business apps.
Access gives you the ability to keep everything in a single location. You can store files and documents in a single shared place that is secure where your team has access to them across devices. The Drive offers a secure cloud sharing and storage while Google cloud search provides the users with a powerful search through G Suite.
The control feature permits you to manage everything using the central IT administration. It makes it easy to configure security settings, remove or add more users as well as control the access of users to your company's data across various devices from a central console. The Admin feature lets you manage user device as well as and security setting. The Vault enables you to search export and archive the company's information.  G suite also secures data using mobile device management.
G Suite, gives you all the excellent tools you need to build your business through effective communication and getting a better way of working together.  It gives you a chance to share files easily, brings together your employees from different places to talk face to face as well as collaborate quickly.
G Suite