Review
iDempiere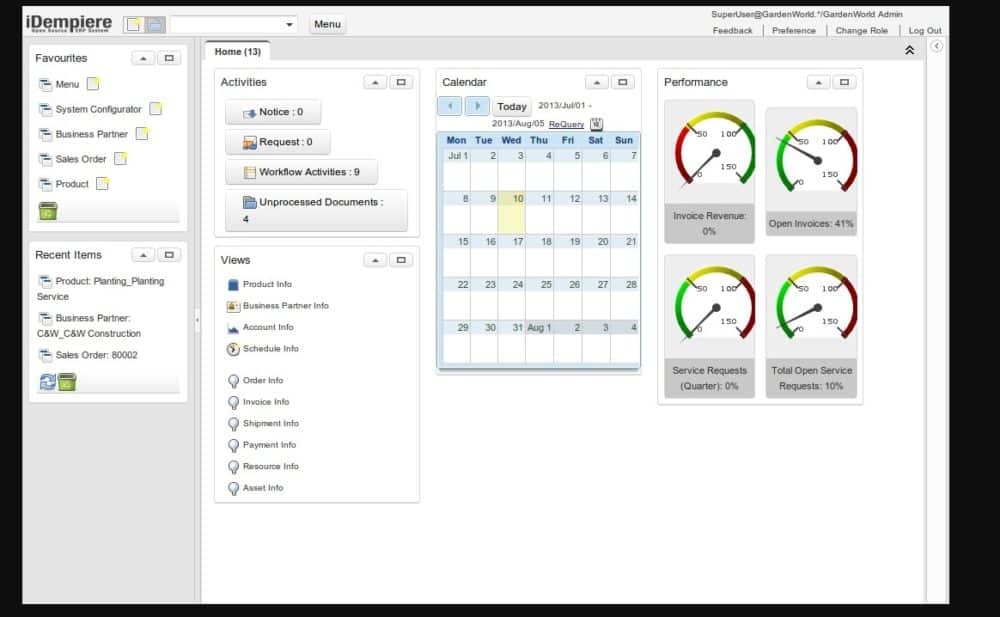 Overview
iDempiere Business Suite ERP/CRM/SCM done the community way. Focus is on the Community that includes Subject Matter Specialists, Implementors and End-Users.
• Financial Accounting
• Manufacturing management
• Materials management
• Procurement support
• Sales and marketing
Small (<50 employees), Medium (50 to 1000 Enterprise (>1001 employees)
What is best?
• Financial Accounting
• Manufacturing management
• Materials management
• Procurement support
iDempiere Business Suite, also known as OSGi + ADempiere, is a mid-tier open source Enterprise Resource Planning (ERP) software. It also features a Customer Relationship Management (CRM) and Supply Chain Management (SCM) system. It is licensed under GPL version 2 and was developed from iDempiere which was created from Compiere.
iDempiere is a community driven open source project. It heavily depends on community of developers, implementors and end-users for its architectural design, financial donations, code contributions, documentation, testing, and support. It's free to download, develop and put into production. It is written in Java and runs on a PostgreSQL database. The iDempiere user Interface runs on zk and swing platforms.
It is supported by a Jetty server and OSGI (Open Service Gateway Initiative) plugin architecture that gives it a more logic functionality compared to other open source ERPs. OSGI architecture reduces complexity by providing a modular architecture for today's large scale distributed systems and small embedded applications. This significantly reduces development, operational, and maintenance costs.
iDempiere source code is hosted at bitbucket using a mercurial repository which can be downloaded or cloned by users. iDempiere supports third-party components in an application and is one of the most robust open source options available. It is compatible with major Operating Systems including Windows, Linux, Mac OS, and Solaris.
iDempiere also has several integration points that integrates with other systems. The built in integration points are; configurable and flexible CSV-import, Web services, JMS messaging. iDempiere is a complete ERP offering everything from invoicing to Point of Sale (POS) integration to warehouse management to forecasting. iDempiere could be the future of open source ERP as it embraces community support and continuous innovation.
You may like to read: Top ERP Software, Free, Open Source ERP Software, Top ERP Software for SMB, Top Cloud ERP Software, ERP Software for Large Business.