Review
Datafari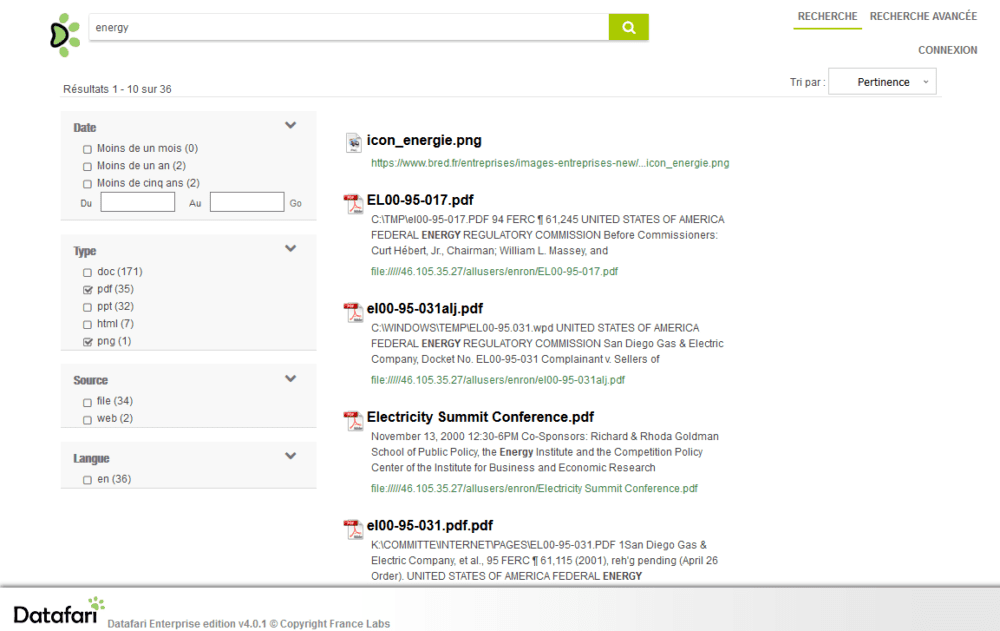 Overview
Datafari enables employees to find enterprise data wherever they are (multisource) and whatever they are (multiformat). It is a secure federated enterprise search solution, also called Insights Engine. It
•AD/LDAP connectivity
•Security (access control lists, https…)
• Multisource (Sharepoint, Alfresco, CMS, DB, Fileshares, Web…)
•Multiformat (Office, PDF, zip, text, images…)
•Analytics Dashboards (search behavior, corpus analytics, servers monitoring...)
• Big Data
•Semantic (synonyms, entity extraction, thesaurii...)
•Interoperable and fully customisable
•Responsive Design
•Open Source and Enterprise Editions
•And many more !
Proprietary or Open Source
What is best?
Datafari is natively Big Data, and fully interoperable.
What are the benefits?
Users get a 360° on the data available within their company. In a blink of an eye, they find the relevant information they need for their work.
Datafari is an Enterprise Search solution, also known as an Insights Engine. It indexes data and documents wherever they are, whatever they are, securely. The aim is to be multisource and multiformat, to index both the metadata AND the contents, and to present the information through an easy-to-understand user interface. Datafari is able through an open source community Edition, and a production ready Enterprise Edition. Its big data capabilities allow it to scale to hundreds of millions of documents. Its analytics capabilities enable search experts to analyse search behaviors and to customise the search experience.