Review
Flexmonster Pivot Table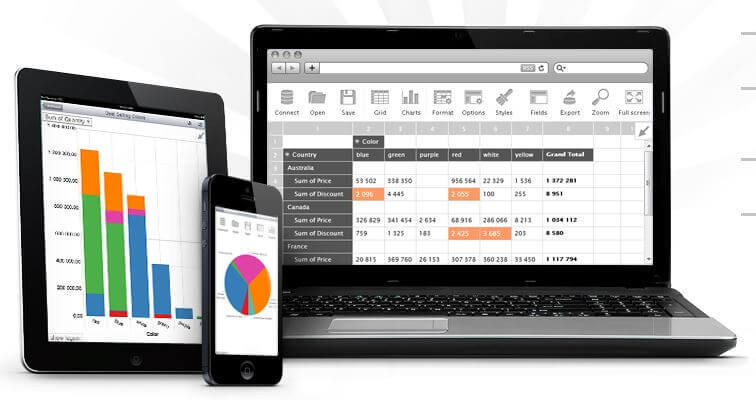 Overview
Flexmonster Pivot Table is web-based Pivot Table component (HTML5/JS, Flash/Flex, mobile). It provides Up to 100Mb data from SQL DBs and CSV sheets, connecting to Pentaho Mondrian, Microsoft Analysis Services, icCube and fully customizable with API: JavaScript or Flex.
Business Intelligence Software
•Displays data from OLAP cubes, SQL databases, JSON or static CSV files into compact tables and charts.
•Forms more summarized or raw reports.
•Exposes the real-time business data to analysts.
•Changes a report's layout visually and examine data from different perspective
•Each report data can be filtered, sorted, formatted
•Features visual highlights
•Creates and saves new reports
•Enterprise Premium Html5 $1199/Year
•Enterprise Advanced Html5 Edition $799/Year
•Enterprise Site Html5 Edition $399/Year
•Professional Html5 $199/Year
Small (<50 employees), Medium (50 to 1000 Enterprise (>1001 employees)
What is best?
•Exposes the real-time business data to analysts.
•Changes a report's layout visually and examine data from different perspective
•Each report data can be filtered, sorted, formatted
•Features visual highlights
•Creates and saves new reports
What are the benefits?
• Define what features you want to enable/disable
• Build your own scenarios around the component
• Save and restore reports
• See your data from the different points of view
• Get notification about deviations in data
Flexmonster Pivot Table is web-based Pivot Table component (HTML5/JS, Flash/Flex, mobile). It provides Up to 100Mb data from SQL DBs and CSV sheets, connecting to Pentaho Mondrian, Microsoft Analysis Services, icCube and fully customizable with API: JavaScript or Flex. Flexmonster allows integration into any website or online application. It also features exceptionally fast working tools and saves time while working with really large data volumes. It organizational features allow the data to be presented in compact, attractive and interactive visual reports.
It also allows the formation of multidimensional tables and highlighted charts and allow the data to be fully customized according to the need. It features tools that make its usability convenient. It also features boosting tools which help increase the speed of its application. Another feature is its mobility and scalability. It allows intelligent business analysis and formulation of reports.
The charts also use different data sources to gather required information. The Pivot table allows looking at the same info from different angles and perspectives. It can materialize any view of the data under consideration by using Fields List with drag-and-drop feature. Its display features allow the display of complex data from OLAP cubes, SQL databases, JSON or static CSV files by turning it into summarized visuals Data is automatically arranged into a tree structure with expandable parents.
End-users can expand or collapse child groups to see more summarized or raw reports. The Pivot Charts feature a powerful method that exposes the data for analysis in real time. The layout features allow the change in a report's layout at any time. It also provides the option to filter, sort and format the data. There are also tools that highlight the data to be viewed. It also allows the data reports to be printed or exported as PDF file, Excel, CSV, image or an HTML page.
You may like to read: Open Source, Free and Top Dashboard Software and How to Select the Best Dashboard Software for Your Business
Flexmonster Pivot Table Videos