Review
webERP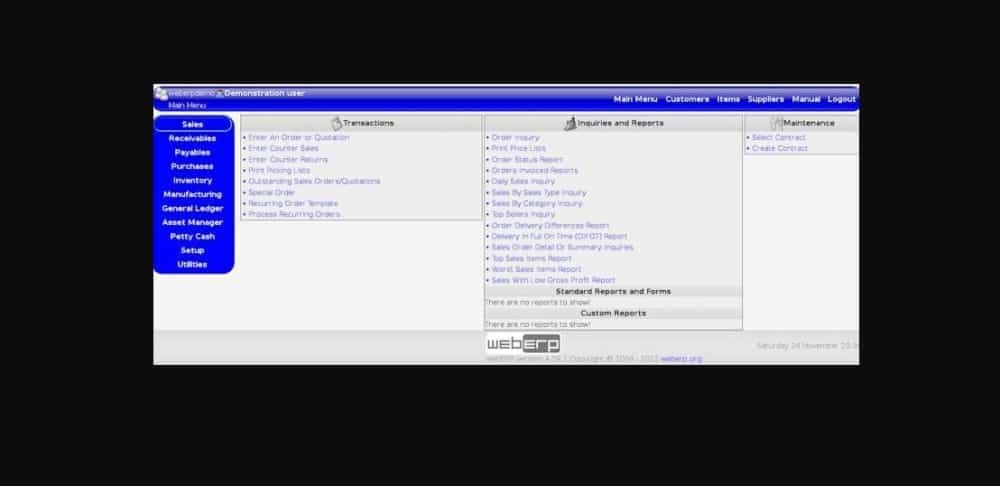 Overview
webERP is a complete web based accounting and business management system that requires only a web-browser and pdf reader to use.
• Sales & orders
• Taxes
• Accounts Receivables
• Inventory
• Purchasing
• Accounts payables
• Banking
• General Ledger
• Manufacturing
• Fixed assets
• Contract costing
Small (<50 employees), Medium (50 to 1000 Enterprise (>1001 employees)
What is best?
• Sales & orders
• Taxes
• Accounts Receivables
• Inventory
• Purchasing
• Accounts payables
• Banking
• General Ledger
webERP is an open-source ERP system providing best practice for multi-user business administration and accounting tools over the web. All processing is done on a web-server with no installation required and so requires only a web browser and a PDF reader to use. It is available as a free download to use with any web-server that can run PHP modules and it's easily accessible for code development.
WebERP has been designed and developed with specific goals since its inception. These goals include; fast, web-based, integrated business administration software that is fast and efficient, a platform independent of proprietary technologies, and easily readable and modifiable scripts. WebERP has wide range of features that are suitable for many businesses especially those dealing in manufacturing, wholesale, and distribution. It can be combined with a third party interactive desktop Point of Sale (POS) system to form a retail management system.
A fully integrated webSHOP can also be available as a 3rd party add-on. webERP produces reports in PDF format for accurate positioning of text. WebERP supports a multilingual interface and users can use their preferred language with 31 available translations available and bundled within the system. Numbers are displayed in the selected language and data can also be input in the same language.
It can be integrated with a wiki to hold narrative on items, suppliers, and customers. Pages can be encrypted using SSL and webERP can be configured to display pages using SSL to ensure that all information is encrypted. webERP's underlying code is written in a manner that maximizes it's readability and adaptability to the needs of its users.
You may like to read: Top ERP Software, Free, Open Source ERP Software, Top ERP Software for SMB, Top Cloud ERP Software, ERP Software for Large Business.