Top 9 Waste Management Software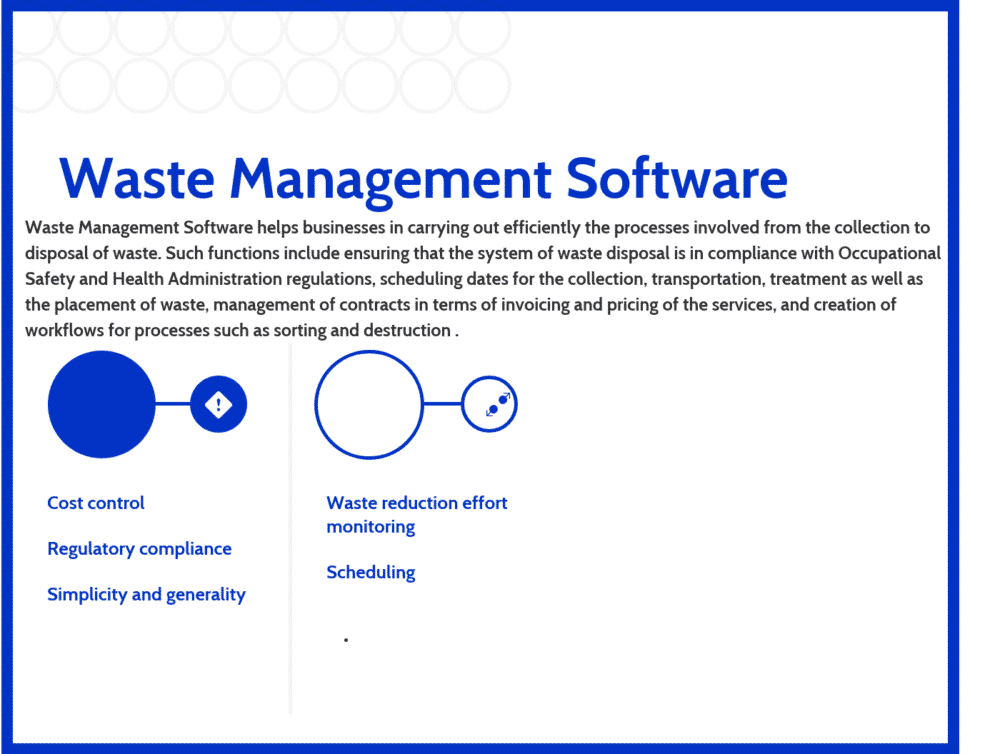 With the increasing emphasis on compliance with global waste disposal standards and protocols, it is essential that your business uses an efficient waste management software. Even companies that use external firms to take care of the disposal need the software for record keeping, reporting and invoicing. This way, it becomes a lot easier for the business to achieve sustainability targets as well as comply with legal standards of waste disposal.
Also, companies that deal with waste management and recycling need to use the software for the sake of remaining profitable in the current competitive and dynamic legislative systems.
Use of separate manual spreadsheets and other paper-based systems is outdated and involves too much cost and effort that limits the growth opportunities of such business. Waste management software is comprehensive and covers all the areas that separate systems deal with, which makes it the perfect solution.
Examples of Waste Management Software: Intelex, Haul-IT, RouteOptix, Dakota's Waste Management, Trash Flow, WasteWORKS, Webaspx Waste Manager, I-Pak, Waste Logics are some of the best examples of Waste Management Software.
You may like to read: Best Practices in Enterprise Resource Planning
What are Waste Management Software?
Waste management software helps businesses in carrying out efficiently the processes involved from the collection to disposal of waste. Such functions include ensuring that the system of waste disposal is in compliance with Occupational Safety and Health Administration regulations, scheduling dates for the collection, transportation, treatment as well as the placement of waste, management of contracts in terms of invoicing and pricing of the services, and creation of workflows for processes such as sorting and destruction.
Additionally, the software is useful for the sorting of different materials as well as the provision of different functionalities for recycling. Waste management software is also essential for the creation and management of unique waste profiles as well as the display of important notifications and alerts. This makes it easy for the business owners or responsible departments to keep up with the processes as well as take necessary action in case of breaches or any emergencies.
Cost control: Waste management software helps in the identification and selection of the most cost-effective waste collectors, transporters, treatment administrators and disposers. It then manages the processes of invoicing and pricing as well as estimating costs for anticipated waste disposals.
Regulatory compliance: The software tracks down and includes all the regulations and standards applicable to all wastes disposal processes carried out by the firm. It also checks the facility's permits and generates notifications on impending expiry dates. Additionally, it generates RCRA hazardous waste reports.
Simplicity and generality: Waste management software is easy to use. It also makes easier to manage waste profiles by combining them into one system where they can all be monitored and controlled, unlike the manual systems where individual profiles are operated on separate levels.
Waste reduction effort monitoring: The system produces detailed information and reports on both hazardous and non-hazardous waste generated during any specified time. It also helps the business to make informed decisions based on details from waste profiles and reports.
Scheduling: It also creates and manages schedules for waste collection and disposal. Some versions display notifications when such dates are close to enable enough preparation.
Top Waste Management Software

Intelex, Haul-IT, RouteOptix, Dakota's Waste Management, Trash Flow, WasteWORKS, Webaspx Waste Manager, I-Pak, Waste Logics Management are some of the Top Waste Management Software.
Top Waste Management Software
PAT Index™
1
Intelex
Intelex features a web-based system which manages and stores data in a centralized location to help businesses produce insightful reports, meet compliance and risk management needs, and evaluate performance for a set of industry standards. Intelex is compatible with various browsers, has strong mobile capabilities, is configurable to a company's unique needs, and has a robust list of 3rd party integrations. Its interface offers a flexible user experience and can process simple to complex tasks through features such as task management, intuitive dashboards, data security, community support, configurable data storage, and email notifications. Reduce risk with unparalleled visibility into waste…
Overview
• Regulatory Compliance Standards: ISO 9001 and ISO 14001
• Assets and Compliance Tracking System (ACTS)
• Audit trail: Maintain a complete history of records created, modified, maintained, archived, retrieved or transmitted
• Navigator: Seamlessly guide users through the Intelex system with configurable on-screen tips
• Image mapping: Enhance data with visuals
• Document control: Store all documents in a secure centralized repository
2
Haul-IT
TRUX Haul-IT is the flagship Waste Management Software Application for waste and recycling haulers. Route densities, route statistics, driver productivity, vehicle productivity, disposal statistics, service pricing anomalies, route profitability, customer profitability, assigned containers, available containers, container inactivity: these are just some of the measurable metrics Haul-IT provides as a by-product of performing day to day procedures and billing for services provided. TRUX Haul-IT was designed by industry experts and is constantly evolving to provide your people with the best tools to perform their jobs to the end. Comprehensive customer profiles created with industry-specific data fields make Haul-IT an invaluable tool…
Overview
• Purpose-built data structure facilitates any customer having multiple current or formerly active sites and services
• Intuitive, fast search assures instant retrieval regardless of customer count or data base size
• Multi-dimensional code tables result in fewer codes providing superior reporting
• Industry-specific billing system that eliminates revenue leaks
• Precise disposal billing with easy reconciliation of disposal costs
• Contact Management: Store information for multiple client contacts
3
RouteOptix
RouteOptix provides a complete comprehensive package for waste collection and hauling for residential, commercial, roll-off and recycling. The software also handles landfills, transfer stations, MRF's, and has scale integration. The system can be tailored to each company's way of doing business with specific language – ie. charge type descriptions such as: delivery, dump & return, extra lift, inactivity charge, etc. Materials can be set-up for C&D, MSW etc with different units of measure that can be selected and different rates. Disposal costs can also be factored into billing. RouteOptix is end user friendly, adaptable, and accommodating to changes. RouteOptix allows…
Overview
• Visual dispatch provides a real time status of all scheduled and completed work orders
• The dynamic customer service module provides accurate real time information
• Secure and full featured billing system
• GPS Vehicle Tracking Interface
• Driver-License Scanning
• Disposal Tracking & Reporting
4
Dakota's Waste Management
Built on a platform of Plan-Do-Check-Act, Dakota's Waste Management Software helps organizations manage the complex logistics and recordkeeping associated with solid and hazardous waste. This flexible and configurable application allows corporate managers to create and maintain individual profiles for waste type, authorized transporters, and authorized disposal facilities. Through the use of permission-based tools, facility managers can choose from these lists of corporate approved profiles to organize waste shipments and track manifests to closure. As with all of Dakota's solutions, alerts and notifications prompt action at the points of control and dashboard reports provide corporate and facility managers with the information…
Overview
• Alerts and notifications can be escalated based on management criteria
• Interactive graphs and 'Roll Up' reporting allow for 'on the fly' analysis
• Compliance Planning: Plan and maintain a forward-looking EHS compliance program
• Compliance Profiles include only applicable citations for a comprehensive regulatory register
• Reference Library provides guidance to staff at the points of control
• Permission-based access for enhanced control
5
Trash Flow
Trash Flow by Ivy Computer is the leading software solution for commercial, residential, roll-off, and landfill operations. Featuring a modular design, Trash Flow offers a host of capabilities for electronic billing, dispatching, routing, container tracking, in-truck mobile apps, scale house management, and more. With Trash Flow, users can cost-efficiently manage waste hauling business. Trash Flow supports waste handling businesses and municipalities that operate landfills, transfer stations, and recycling centers as well as those that provide commercial, residential, or industrial waste collection services. Trash flow's Routing route management module is the ideal trash hauler software for residential, commercial, and industrial haulers,…
Overview
• Simple Daily Route Management: Notify drivers to skip customers with suspended service
• Straightforward data entry options
• Color-coded screens highlight the priority levels and job status
• Transfer Station Management: Track and manage origins and destinations of materials
• Yard Management: Maintain real-time material inventories
• Closing date Administration
6
WasteWORKS
WasteWORKS is designed to provide a comprehensive approach to waste management information. The products are designed to be easy to use while providing the timely and accurate data one need to manage waste and recycling facilities. Based on over 20 years of customer feedback, WasteWORKS program provides a custom fit for sites of all sizes. The software provides data to manage waste and recycling facilities, including ticketing, monthly billing, accounts receivable reporting, management reporting, graphical analysis and support. WasteWORKS is typically installed at a scale house location and also at admin and finance locations. All sites are kept in sync…
Overview
• Customer Analysis: Provide excellent customer service by providing customers with the information they need
• Simple, on-demand material reports and graphs
• Container Billing helps track containers
• Integrated card processing options
• Bluetooth printer option for extra mobility
• Synchronization Manager keeps all site servers up to date
7
Webaspx Waste Manager
Webaspx Waste Manager (WM) is integrated optimization and operations solution for Waste and Recycling Collection. Doing more with less is the priority for local authorities. For the waste and recycling team that means continuing to deliver the high quality services that members and residents expect, while reducing costs. Webaspx WM is helping its customers manage their day-to-day processes more efficiently at the same time as optimizing the overall waste collection service. Webaspx Waste Manager allows waste service managers to reduce costs, make the best use of resources and lower risk, by letting them plan collection rounds more easily and effectively.…
Overview
• Commercial Waste Account Management
• Route Management: Effective tools that make easy work of route placement, re-sequencing and permanent or temporary route movements
• Improved management information – updates in real time, not at the end of the day
• Inventory of waste containers and shipments
• Notifications for waste shipments and expired waste
• Managerial views based on all known data
8
I-Pak
i-Pak is a business critical, integrated software solution that provides applications needed to manage operations by allowing users to manage customer service, online dispatching with route management, billing, inventory tracking, and more. Whether you are an industry top 20, a municipal operation, or a mid-size hauler with a single facility, i-Pak can effectively manage all operations. With i-Pak, all customer service, billing, routing, and operational information is available for users in a controlled and easy to access system. Many software packages offer service, billing or routing functions specific to a single line of business; i-Pak brings them all together in…
Overview
• On-line dispatching with route management
• Sales management of prospect quotes and customer activity
• Inventory tracking, fleet maintenance, LEED reporting
• Google Mapping: Visualize job sites, routes, customer densities and GPS position of vehicle for operational efficiency
• Management: A daily flash display of key metrics covering sales, operations and accounting
• Accounting: Auditable financials, mapped G/L entries, A/R & revenue analysis, customer ranking & profitability reports
9
Waste Logics
Intuitive and simple to use, Waste Logics is cloud-based waste management software. Create bookings, track progress, analyze business performance on the move, and enjoy the flexibility of unlimited access anywhere, anytime, from any device. Waste Logics is simple, easy to use and full of sophisticated features. Effortlessly navigate intuitive screens built around user's job roles and tasks and prioritize what matters the most with custom dashboards. Leave inaccurate spreadsheets in the past and discover the value of business intelligence reporting with Waste Logics. Gain immediate and actionable insights into your data, review real time operational performance with detailed summaries, or…
Overview
• Comprehensive and intelligent business reporting
• Customer payment management: See customers' payment status at a glance
• Cloud solution – maintenance, back-ups, reliability, and security all included
• Visualise KPIs with custom dashboards – drill down into the detail to drive decisions
• Onsite issue management and focused order update notifications
• High-performance route planning and optimisation
You may like to read: Best Practices in Enterprise Resource Planning