Top 24 Fixed Asset Management Software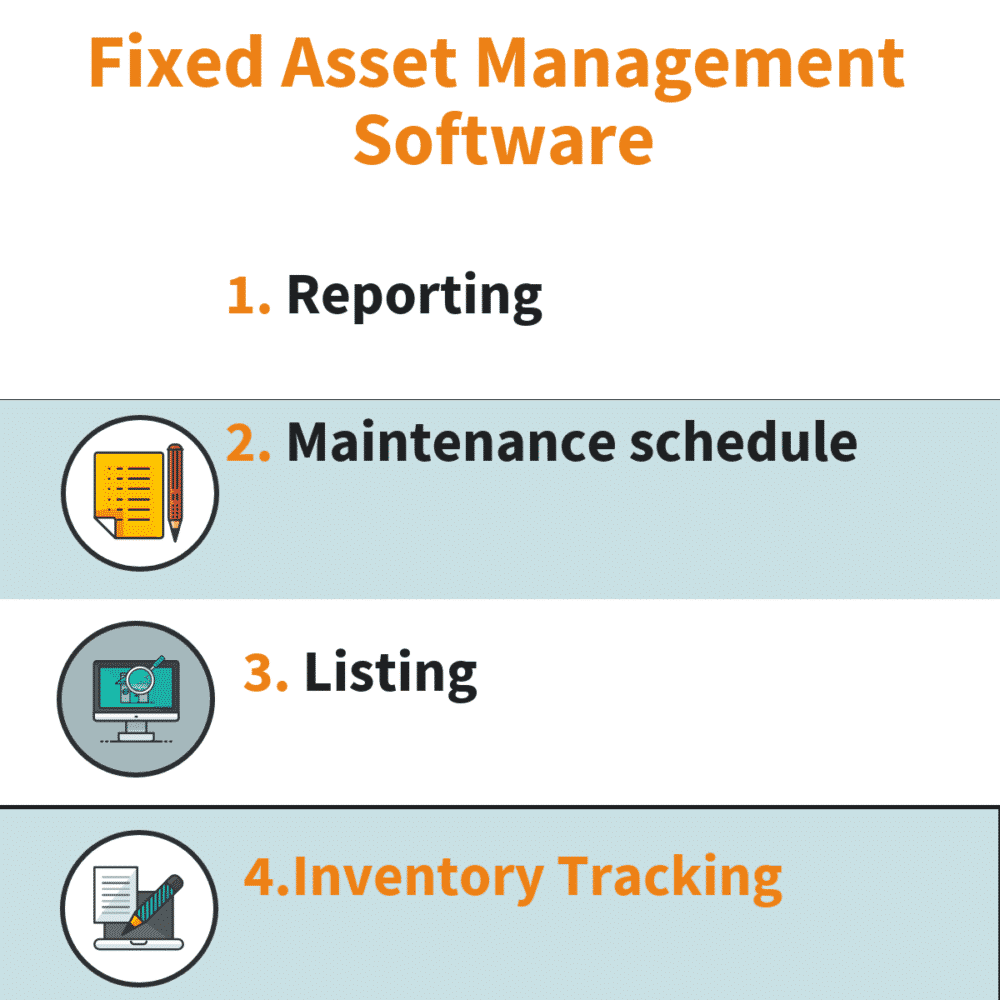 When managing the depreciation of the assets in a company, keeping an up-to-date record of the value can be a challenge. Moreover, you may miss the chance to accurately identify the financial position of your company. No matter the business, the company assets are valuable to the daily operation of the organization and need to be carefully maintained. That why you need a fixed asset management software.
The software helps you to track the purchase valuation, depreciation and total value cost of your assets. By adopting Fixed asset management software, your company also gain a significant advantage over its competitors. In addition, the technology benefits the company with a comprehensive system that allows you to manage assets making you get most out of your organization and furthermore maximize efficiency.
Example of Fixed Asset Management Software: Infor EAM, Tenna, EZOfficeInventory, Varasset, Asset Panda, FMIS Asset Management, Nektar Data platform, ManagerPlus, BNA Fixed Assets, NetFacilities, Tracet, MapYourTag, AMS Asset Management Software, AssetWIN, SiteLine, Plex, Vizor Assets, AssetCloud, GoCodes Asset Management, Traverse Fixed Assets, eQuip, Barscan, eDepreciation, Asset Manager Web Edition, Sage Fixed Assets are some of the best examples of Fixed Asset Management Software.
Fixed Assets Management is an accounting process that track fixed assets for the purposes of financial accounting, preventive maintenance, and theft deterrence. Fixed assets management tracking generally uses serial numbered asset tags, which are labels often with bar codes for easy and accurate reading and the inventory can be taken with a mobile bar code reader and then produce a report.
Fixed Asset Management and Tracking software allows companies to track what assets it owns, where each is located, who has it, when it was checked out, when it is due for return, when it is scheduled for maintenance, and the cost and depreciation of each asset. The reporting option that is built into most asset tracking solutions provides pre-built reports, including assets by category and department, check-in/check-out, net book value of assets, assets past due, audit history, and transactions.
You may like to read: How to Select the Best Fixed Asset Management Software for Your Business and How to Select the Best ERP Software for Your Small Medium Business
What are Fixed Asset Management Software?
Fixed Assets management software is a system that automates the financial tracking of assets in different stages of the asset lifecycle. The software helps in the management of the assets, improves efficiency and help in financial arrangements of by avoiding unnecessary equipment purchases. Fixed assets management software provides important details such as check-in and checks outs, a location of the assets, depreciation, audit, maintenance schedule, date of return of the assets among other details.
The software is automated helps an organization to improve on tax planning. Furthermore, Fixed assets management software assist with the most unexpected repairs and other issues with the property. The software reduces labor cost by automating the calculation of assets depreciation which may be costly when done manually. Simply, fixed assets management software us a tracking technology which plays a vital role in financial reporting.
Fixed asset management software has several added features that are important to the business and which makes it a popular software among companies. Here are the main features:
Reporting: fixed assets management software allows the user to schedule reports, evaluate costs, labor performance, productivity and track up repairs. Furthermore, the software will assist in the distribution and produces instant reports.
Bar Coding: Fixed assets management software provides a barcoding technology that assist the users to get real-time data regarding company assets and other items. In addition, you can be able to track items, identify potential items and make adjustments such as repairs and maintenance.
Tax form support: Fixed assets management software provides an organization with features that allow you to create tax forms on a company fixed assets depreciation.
Mobile Access: Fixed assets management is mobile friendly and is easily compatible with iOS and android phone. The software provides you with real-time data on fixed data in any device any time of the day.
Inventory Tracking: Fixed assets management software provides the user with a functionality that allows tracking of organization distribution of assets across the various department.
Maintenance schedule: Fixed assets management tool provide a solution such preventive and scheduling of maintenance or repair of assets in a company thus enhancing efficiency.
Listing: The software produces a comprehensive list of fixed assets that are available within a business. Furthermore, it allows assets grouping based on type, location, depreciation cost among others.
Top Fixed Asset Management Software
Infor EAM, Tenna, EZOfficeInventory, Varasset, Asset Panda, FMIS Asset Management, Nektar Data platform, ManagerPlus, BNA Fixed Assets, NetFacilities, Tracet, MapYourTag, AMS Asset Management Software, AssetWIN, SiteLine, Plex, Vizor Assets, AssetCloud, GoCodes Asset Management, Traverse Fixed Assets, eQuip, Barscan, eDepreciation, Asset Manager Web Edition, Sage Fixed Assets are some of the Top Fixed Asset Management Software.
Top Fixed Asset Management Software
PAT Index™
1
Infor EAM
Infor EAM solutions provide an enterprise asset management solution for companies in a variety of industries including manufacturing, healthcare, distribution, government entities, and energy and service organizations. The solution helps companies to manage capital assets and schedule regular maintenance of the organizations to meet compliance, reduce energy wastage and reduce risk. Infor EAM helps companies optimize the reliability and life cycle of all assets with automatically scheduled preventative maintenance and asset assignment. The inventory management module helps to locate inventory, ensure adequate stock levels and manage equipment assignment. The strategic planning feature helps organizations to maintain assets, record equipment assignment…
Overview
• Asset hierarchy management
• Budget management
• Inspection management
• Purchasing management
• Work management
• Materials management
2
Tenna
Tenna assets management software track, process, automate and inform on how to manage everything from small tools and heavy equipment to temporary materials and client stock. The range of tags and asset tracking devices perfectly match all its user assets to the asset management tracking system. It has a durable QR code asset tracking and RFID tracking solutions that provide affordable, real-time visibility and control over all company's tools, attachments, parts, and materials. The "wanted" feature in the asset tracking software conveniently gives employees and supervisors the ability to see what assets are available and to request the resources they…
Overview
• Customer Database
• Equipment Tracking
• Inventory Control
• Maintenance Scheduling
3
EZOfficeInventory
EZOfficeInventory is a leading web-based asset tracking software where users can access asset information from any device, any place, and at any time. EZOfficeInventory asset management offers features such as Web-based, Asset Lifecycle Management, Asset Stock & Inventory Module, Check out & Check in Assets, Mobile Apps, Availability Calendar, Dashboard Calendar, Reservations, Purchase Orders, Audits, GPS Location, Label Scanner and Designer, Excel Import and Export, History Tracking, Locations, Customization, Groups and Subgroups, Cart, Packages and Bundles, Company URL, API, Salesforce integration, Depreciation Management and Flexible Item Reservations. EZOfficeInventory asset management offers end-to-end asset lifecycle management from procurement to retirement where…
Overview
• Label Scanner and Designer
• Excel Import and Export
• History Tracking
• Availability Calendar
• Purchase Orders
• Silver - $ 320.00/year
• Gold - $ 540.00/year; Save $59.88
• Platinum - $ 1026.00/year; Save $114.00
• Diamond - $ 1674.00/year; Save $186.00
• Corporate – Contact on site
• Unlimited - $ 1350.00/year; Save $150.00
4
Varasset
Varasset is a comprehensive work and asset management software solution for the power and communications industries which adapts to the unique business needs of each organization, quickly delivering high return on investment. Varasset offers features such as inspections & preventive maintenance, software integration, hardware integration, integrated mapping, digital imagery, dashboards, charts and graphs, embedded GIS geo-mapping, easy to use query builders, versatile data grid display, historical data and audit history, joint use attachment invoicing, capital asset costs for accounting cost of ownership and depreciation, project labor, equipment & material costs, contractor progress, expenditures and accounts payable processing, configurable dashboards for…
Overview
• Asset Management
• Work Management
• Configurable Specialty Billing
• Configurable workflows
• Mobile Options
• Business Intelligence
• Configuration & Extensibility
5
Asset Panda
Asset Panda is a web or mobile app asset tracking and management software that provides flexible, intuitive interfaces so that teams can work with any device anywhere for a quick and easy on-demand access to assets information. Beyond this fixed asset tracking feature, Asset Panda optimizes and streamlines everything from auditing to facilities management, equipment, support ticketing, compliance, and purchase order management. With a centralized database and a cloud hosting, Asset Panda can be securely accessed. Asset Panda provides endless fields and a configurable platform that adapts to an organization's changes so that it meets the goals and solve problems…
Overview
•Asset Tracking
•Transaction Configurability
•Integrates with Legacy Systems
•Mobile Compatible
•Supports Ticketing
6
FMIS Asset Management
FMIS provides industry leading Enterprise Asset Management and Purchase to Pay solutions which offers a complete solution for medium to large users requiring a comprehensive system with the flexibility to develop with the user's requirements. FMIS Asset Management offers solutions such as Fixed Assets, FMIS Asset Tracking, FMIS Equipment Maintenance, FMIS IFRS Lease Accounting, FMIS Order Management, FMIS Kitting and Assembly, FMIS Purchase to Pay, FMIS Inventory Stock Control, FMIS Barcoding and RFID, FMIS Purchase Order Processing and FMIS Sales Order Processing. FMIS software interfaces with most leading ERP, Finance and CRM systems avoiding data duplication. FMIS asset management works…
Overview
• Fixed Assets
• Asset Tracking
• Purchase to Pay
• Order Management
• Equipment Maintenance
7
Nektar Data platform
Nektar Data platform is a unique, intuitive asset management and mapping system that utilizes the latest mobile data collection tools to track, map, assess, archive and report any data for any asset type in the construction, utility, service industries. Nektar Data platform offers features such as mobile data collection, asset tracking, work orders, GIS without the headaches, document management, enhanced asset value, dashboards & widgets, reports, permissions, API, secure cloud storage and offline mode. Nektar Data is built on an innovative cloud-based platform which was designed to meet industry needs for a unified information tracking system that would address inventory…
Overview
• Mobile data collection
• Asset tracking
• Work orders
• GIS without the headaches
• Document management
• Enhanced asset value
• Dashboards & widgets
8
ManagerPlus
ManagerPlus is easy to use asset management software system that helps companies in asset-intensive industries to increase return on investment while decreasing the cost of operations by linking asset management tracking, work order management, preventive maintenance scheduling, inventory and purchasing functions together for quick and easy viewing and decision-making. ManagerPlus software (ManagerPlus Desktop and ManagerPlus Cloud) fits the business needs of any company size or industry as its products are scalable and tailored to work with a company's operational requirements. With ManagerPlus Desktop all an enterprise's assets, work orders, schedules, warranties, and inventory are located and readily accessible in one…
Overview
•Asset Management & Tracking
•Work Order Management
•Maintenance management
•Inventory & Purchasing Functions
•Add-on modules
•Basic- $33/user/month
•Professional- $65/user/month
•Enterprise- $125/user/month
9
BNA Fixed Assets
BNA Fixed Assets from Bloomberg BNA is a system that helps companies of all sizes manages the entire lifecycle of their fixed assets, from construction and purchase through retirement. BNA Fixed Assets eliminates duplicate entry and its inherent discrepancies by providing a single location to manage fixed assets, versus disparate accounting and tax systems and spreadsheets. BNA fixed assets automates the process, and the company is in strict compliance with the complex and changeable tax and GAAP regulations. The system offers reporting capabilities as well, so users can quickly access and generate the reports that matter most to their team…
Overview
• Compliance with built-in tax code
• Expert wizards guide
• Open Timeline™ assures depreciation calculations
• Audit trail for full visibility
• Comprehensive reporting
• Integration that provides full automation
10
NetFacilities
NetFacilities has everything the user needs in one centralized, web-based (ASP), system and is a powerful web-based maintenance management solution designed to increase the user's efficiency by linking together all of the user's locations, buildings, managers, employees, tenants, vendors, and suppliers into one centralized network for workflow collaboration. NetFacilities offers features such as work order management, asset management, site/job-site management, labor tracking, inventory tracking and mobile application. NetFacilities lets users manage assets, experience preventive maintenance, work orders, inventory and vendors. NetFacilities has flexible permissions which can be set up based on the role a user will play while working on…
Overview
• Access & Permissions
• Work Order Management
• Complete Asset Tracking
• Inventory Management
• Scheduled Reporting
• Wireless & Paperless
11
Tracet
Tracet is web-based, on-cloud & mobile-ready enterprise fixed asset management software. Tracet can efficiently track, optimally manage, effortlessly perform internal or consultant audits, and always stays up to date on compliance rules and reporting. Tracet comprehensive asset tracking system effectively tracks all the fixed assets within the organization. And a user can gain complete control over their organization's assets by knowing the exact asset location, asset custodian, and track asset movement. Tracet asset tracking software is ideal for any organization looking to streamline their asset inventory processes using the Barcode and/or RFID technology. Tracet has an inbuilt Barcode generator and…
Overview
• Inventory Management
• Compliance Management
• Tax Management
• Lease Management
• Asset Budgeting
• Depreciation Management
• Audit Trail
12
MapYourTag
MapYourTag enables companies to track physical assets like equipment, tools, spare parts, appliances and can also follow the user's activity like cleaning services, maintenance, inspection and patrol. MapYourTag gives the user an overview of all the user's assets where the user gain in the asset management with more visibility, more transparency, more traceability, more productivity and more customer satisfaction. MapYourTag is a cloud-based solution which is divided into two main areas: The website and the mobile app. The user can get the app on the user's mobile phone and start tracking the user's asset which works for any business like…
Overview
• Assign A Tag To Your Asset
• Update Your Asset Status
• Manage Your Assets
• Free Plan
• Pro - START AT $17/ MONTH
• Enterprise - START AT $17/ MONTH
13
AMS Asset Management Software
AMS asset management software lets the user streamline the user's commissioning efforts, make decisions based on real-time predictive intelligence, and improve the maintenance, availability, and performance of key production assets. AMS asset management software features products such as Image AMS Device Manager, AMS Wireless SNAP-ON Application and FDI Configuration Tool. AMS asset management software also features tools such as wireless planning tool, developer toolkits, FDI configuration tool and device installation kits. AMS asset management software provides services & consulting such as 'Project Services' which delivers better project execution by reducing complexity, eliminating work, and accommodating late changes, 'Lifecycle Services' which…
Overview
• AMS Trex Device Communicator
• Calibration Assistant SNAP-ON
• AMS Machinery Manager
• AMS Valvelink SNAP-ON
14
AssetWIN
AssetWin is the most adaptable and scalable cloud or locally installed fixed asset tracking software that tracks and manages assets from anywhere, at any time with fully integrated mobile functionality to support any available devices, operating system, platform, Android, IOS, and Windows to meet the needs of small businesses, enterprise, educational institutions, and hospitals. Asset tracking software's mobile functionality enables users to; perform any type of transactions to any asset, query assets based on either the asset or serial number, automate data capturing with barcodes or RFID that supports a broad range of scanners and wedges, and it has improved…
Overview
•Mobile Data Collection
•Relational Database design
•Audit Trail Capability
•Built-in Reporting
•Unparalleled Adaptability
•Use of Barcode/RFID
15
SiteLine
SiteLine Asset Manager is a cloud-based asset management software that empowers a company to manage electric power information for good by identifying potential problems quickly and efficiently and warding off catastrophic costs associated with transformer failure to ensure reliability through more informed decision making. SiteLine is simplified: it provides information at a glance by rolling up complex data into the easily actionable information presented in Red/Amber/Green (RAG) statuses for a top-level summary or in-depth analysis, and it simplifies asset condition monitoring by making information accessible from anywhere. SiteLine is agnostic as it supports all data types, multiple import formats, auto-import…
Overview
•Electrical Asset Management
•Monitors Electrical Assets Health
•Cloud-Based Service
•Consolidates & Sorts Data
•Import and Export Data
16
Plex
Plex Fixed Assets Management Software allows users to maintain their fixed assets easily and accurately. It creates automatic GL postings based on specific depreciation schedules. And Plex store and track all of the third-party contracts with equipment providers, repair services or other suppliers in one convenient, central location. Plex also receives automated reminders when contracts need review and maintain a comprehensive list of fixed assets within the enterprise. Using Plex, fixed assets records can be tied to equipment records used in production. Users can also track and accumulate incurred costs to building an accounting project and construct an asset by…
Overview
• Multiple Methods of Depreciation
• Asset Maintenance and Calibration
• Dynamic Reporting Tool
• Automated Transfer Management
17
Vizor Assets
Vizor Assets manages the complete IT asset lifecycle with a central repository combining network discovery and inventory data with purchase, warranty and maintenance details. Vizor Assets offers features such as asset location tracking, network device discovery & inventory, Microsoft SCCM integration, purchase, maintenance and supplier management, email alerts & reminders, documentation file repository, dashboards & reports, active directory & LDAP directory integration and web based configuration tools. Vizor Assets includes a central repository for all details related to user's IT assets, including supplier information and related documentation, so users can easily manage multiple purchases, agreements and maintenance contracts. Vizor Assets…
Overview
• Track the complete IT asset lifecycle
• Automate employee on-boarding / off-boarding
• Check-in / Check-out Equipment Loan
• Know Exactly "Who Has What"
18
AssetCloud
AssetCloud is the most-feature-rich and complete asset tracking solution that provides the necessary software, hardware, and asset tags for implementing an asset management system. Thus, it improves check-in/check-out processes, offers faster auditing, and provides error-free reporting built for accountability and insight through standard reports, custom reports, and report scheduling. Uses of AssetCloud are; IT assets tracking to manage IT assets and empower an organization's strategic decisions, equipment tracking, facility management to expedite record keeping by managing similar assets with a single barcode number and tool tracking for efficient tool procedures access and tool management control. Other uses are funding management…
Overview
•Easy accurate Audits
•Triggered Notifications
•Inventory Identical Multi-Quantity Assets
•Customizable Depreciation
•Centralized database
•Basic- $49/per user/month
•Plus- $79/per user/month
•Complete- $119/per user/month
19
GoCodes Asset Management
GoCodes is easy to use cloud-based software that provides a total asset management solution to track assets anywhere, anytime with no software to load and no special equipment to add, it functions on any laptop, tablet, or computer, and it is enabled with smartphone barcode scanning. GoCodes provides a globally unique identification code that avoids the mistaking of two assets, reduces theft and accident loss as the labels are tough and permanently attached, and it securely identifies every asset for serialization and traceability to defend against counterfeits and to build customer confidence. By just scanning the QR code; automated field…
Overview
•Track assets anywhere
•Uniquely Identifies every Asset
•Inventory Audit Scanner
•GPS tracking of assets
•Automated Field Service Requests
•Standard- $228/Year
•Premium- $59/month
•Professional- $199/month
•Enterprise- Call
20
Traverse Fixed Assets
Traverse fixed asset software help users to make decisions about when to buy when to lease, and how to manage capital for maximum return. It also provides a full range of financial and management reports needed to manage investments and meet tax reporting requirements. Traverse fixed asset analyzes the tax and cash-flow implications of assets before the acquisition, and it tracks their valuation and depreciation. Fixed Asset Management Software provides the forecasting tools needed to evaluate leases, amortize loans, and experiment with depreciation strategies before making a capital commitment. The four depreciation books allow users to track four sets of…
Overview
• Period Depreciation Journal
• Lease vs. Buy Analysis
• Trial Depreciation Schedule
• Asset Value Report
• Depreciation Comparison Report
• Credit Recapture Report
• Property Assessment Schedule
• Percent of Business Use Report
• Depreciation Summary Report
21
eQuip
eQuip is a complete asset management platform that tracks the physical, contractual and financial information about physical and IT assets throughout their life-cycle by connecting with other systems to share data through three delivery methods; eQuip SaaS, eQuip with Managed Hosting and eQuip Mobile. eQuip makes it easy to collect, categorize, and store information so that it can be accessed from any web browser with native mobile apps on IOS, Android, win mobile, and audit assets with smartphones and tablet devices. eQuip offers flexible administrative tools to customize data fields, forms, reports, and workflows, and it is easy to integrate…
Overview
•Track Inventory
•Syncs with Mobile Apps
•Manages and Organizes Assets
•Customizable Asset Fields
•Web-Based Software
22
Barscan
Barscan uses barcode technology and powerful handheld mobile computers to more accurately track company's resources in less time than a manual inventory. Complete barcode system with specialized software designed to meet a company's enterprise-wide asset information needs. Barscan can be implemented as a stand-alone database repository or as a front end to an organization IT Lifecycle Management or Fixed Asset Accounting System. It supports a wide variety of the latest handheld PCs with scanning capability including Microsoft windows mobile with WiFi capability. Barscan has a menu-driven SQL based report generator and a menu driven, ODBC capable, import and export feature…
Overview
• Activity Tracking
• Audit Trails
• Depreciation Tracking
• Disposal Tracking
• Inventory Management
• Location Tracking
23
eDepreciation
Bassets eDepreciation enables users to manage business assets, control costs, maximize tax savings and meet all reporting requirements. Bassets eDepreciation is an on-premises solution which is available in four different versions: eDepreciation Compact Edition, eDepreciation WorkGroup, eDepreciation Standard and eDepreciation Enterprise. The core functionality is consistent throughout each version with the key difference being the number of assets supported. All versions operate with the Microsoft SQL database as their engine. Bassets eDepreciation is scalable from hundreds to hundreds of thousands of fixed asset records. The Bassets eDepreciation has a Fixed Asset System which allows users to simplify fixed asset management.…
Overview
• Asset Maintenance
• Data Import
• Data Export
• Multiple Client
24
Asset Manager Web Edition
Asset Manager Web Edition is an easy-to-use online web application for tracking company asset records. Asset Manager Web Edition includes an asset history which is automatically maintained as assets are audited or checked in or out, reports which allow users to print a list of all assets, checked out assets, or an audit check list, a complete Personnel and Vendor database and granting users access to the system with Roles which determine the level of access. Asset Manager provides a central online repository for storing and retrieving the user's asset records and allowing the user to quickly look up information…
Overview
• Track assets online in a central location.
• Check assets out to your employees, and maintain a history of who has had it.
• Attach any kind of file such as pictures, manuals, warranty information, etc.
• Audit your company's assets.
• Manage Service Schedules
• Keep track of related vendors and contacts.
• Print and save asset reports.
25
Sage Fixed Assets
Sage fixed assets allow users to get the most out of fixed assets by giving account for everything before they become fixed assets. Sage fixed assets planning helps with a construction-in-progress project that includes; projects being built, upgraded, renovated, or accumulated before being put in services, such as multi-component equipment, machinery upgrades, and building renovations. Sage fixed assets planning is designed to help account for everything, and it allows the user to manage as many projects as needed, regardless of the type or size. And when the assets are ready for use, they can be easily created in sage fixed…
Overview
Planning features of Sage Fixed Assets include:
• Import invoices from Accounts Payable system for full seamless integration
• Customizable entries with 45 user-defined fields
• Connect project balances to general ledger with point-in-time reporting
Tracking features of Sage Fixed Assets include:
• Analyze multiple locations and reconcile all data
• Built-in tools for each step of your asset's lifecycle
• 40 individually customizable fields per asset
• Real-time tracking and reporting
Depreciation features of Sage Fixed Assets include:
• 50+ depreciation methods including MACRS 150/200 percent
• Allocate cost and depreciation to individual and group assets
• 30 ready-to-use customizable depreciation reports
You may like to read: How to Select the Best Fixed Asset Management Software for Your Business and How to Select the Best ERP Software for Your Small Medium Business