Top 15 Data Analytics Software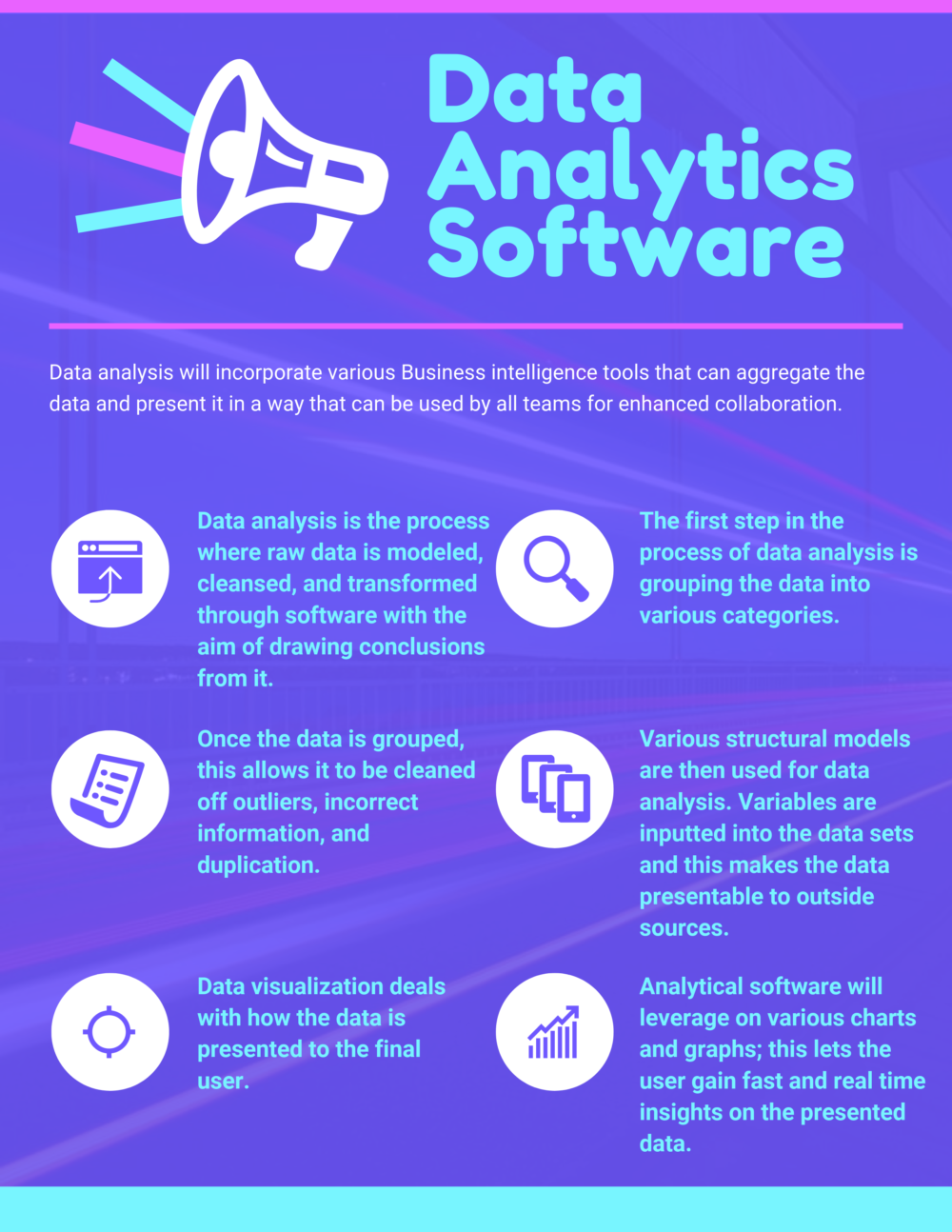 We need data to make insightful conclusions. But, raw data is hard to comprehend because it is scattered and yet to be categorized. In this regards, you need a data analytics software to clean the data off outliers, insignificant and incorrect information.
Data analysis will incorporate various Business intelligence tools that can aggregate the data and present it in a way that can be used by all teams for enhanced collaboration.  Predictive analysis utilizes various structural statistical models to make conclusions about the future.
Top Data Analytics Software: Sisense, Periscope Data, RapidMiner Studio, Blue Yonder Platform, Informatica PowerCenter Big Data Edition, Dataiku DSS, MicroStrategy, AtScale, AIMMS, TIBCO Spotfire, TARGIT Decision Suite, Alteryx Analytics, Arcadia Data, Opera Solutions Signal Hub, SAS Visual Statistics are some of the Top Data Analytics Software.
What is Data Analytics Software?
Data analysis is the process where raw data is modeled, cleansed, and transformed through software with the aim of drawing conclusions from it. The software is incorporated with various algorithms to help in data conversion. The data is then presented in the form of charts and graphs. If it was not for data analytics, the user will get lost in the maze of data sets. Date analytics is used in a variety of industries like manufacturing, production, customer care among others.
The first step in the process of data analysis is grouping the data into various categories. This could be based on a variety of inputted criteria like demographics, age, or spending habits. Once the data is grouped, this allows it to be cleaned off outliers, incorrect information, and duplication.
Various structural models are then used for data analysis. Variables are inputted into the data sets and this makes the data presentable to outside sources. Data visualization deals with how the data is presented to the final user. Analytical software will leverage on various charts and graphs; this lets the user gain fast and real time insights on the presented data.
What are the features of Data Analytics Software?
Data analysis has moved from the domain of IT departments to being a core part of the organization. The ability to model and process complex data sets gives managers the ability to make fast and real time decisions, improve their product offerings, reduce risk and fraud, and personalize their services.
Predictive analysis has enabled many companies anticipate demand and scale up and down to meet future needs. This has led to companies incorporating data analysis software having a competitive edge over their competitors.
Scalability: It is not visible to keep changing your data analytical software every time you are dealing with complex datasets. The right software should have algorithms incorporated that can work with both small and large data sets without need for hardware adjustments. As the company grows the software should be scalable to accommodate this growth.
Embedded analytics: Modern organizations operate in spaces where there is sharing of applications. The software should enable one to get instant insights for fast decision making processes. Ease of integration with other applications eliminates the duplication of resources in the organization as all involved parties are viewing and have access to the same data source. The software should allow integration with various mobile and cloud based applications without the need for making expensive configurations.
Visual dashboards: Charts and graphs are easier to comprehend when it comes to large data sets. When you have centralized data visual boards customized you can get realtime access to data. Users can then drill down the visual tools to get a deeper perspective of what is being displayed. The reporting channels are flexible enough to be exported into various formats like Excel or PDF.
Versatility: Data analysis has moved from being the preserve of data scientists and IT department to being a core organizational tool. This has led to the data analytics software having user-friendly dashboards and reporting system. This allows broad usage of the software without training. Friendly user-interfaces also led to enhanced collaboration among the organization teams. The data analytic software is also available in cloud and mobile hence allowing collaboration with field teams.
Raw data processing: Data analytical software will take raw data from multiple sources and organize it in such a way that the end user can consume it. The software also allows the importation of data from multiple sources and in different formats. The data is then centralized for use by various departments. The users also have the ability to export the data in various formats like Microsoft Excel or PDF. Processing of raw data incorporates cleansing, modeling and transformation of the data sets.
What are the benefits of Data Analytics Software?
Many organizations are embracing data analytics software as a way to save time and enhance collaboration between teams. It can be problematic handling data from different sources within the organization. Firstly, you have challenges with integration from multiple applications. You get instances where HR, Accounts, Finance, and Customer service all have their own customized applications. Then you run the risk of duplication of resources.
With data analytics you can make sense of both unstructured and structured data without being necessarily being an IT guru or data scientist. Trends uncovered by the software are critical for fast and insightful decision making. Organizations can also leverage the tools for predictive analysis. Manufacturing can predict future demand and scale up or down accordingly.
Enhanced Customer experience: Increasing demand has led to the need for enhanced customer experiences. Data analytic software aggregate various customer data from a wide range of sources and use this insight to improve their product offerings. Customer preferences, buying trends and purchasing power are used to offer personalized services to customers.
Analytics: Predictive analysis tools help companies leverage on historical data recurring trends and any anomalies in the data set to gain insights into future demand. With the information the organization can either scale up or down to meet future demand. The information from the analytical software also helps in organizations in their product mixes.
Competitive advantage: Companies that are able to leverage data analysis have a competitive advantage over their peers. Data analysis help companies capture hidden value and use this to their advantage. It also helps them lower their costs due to the elimination of duplication of resources. When data is centralized and available to all it allows fast and insightful decision making processes. Automation of inventory and production lines helps reduce the amount of human labor needed.
Risk and fraud reduction: When companies use customized data analytics software, they are able to detect and mitigate risk and fraud. It also helps protect the company's intellectual and financial resources from external threats. Correlation of internal data helps give managers a centralized view of fraud cases across various business processes and transactions.
Real-time access to information: Information should be presented in timely manner for it to be useful. Data analytics software come with advanced visual dashboards that offer the user real time charts and graphs. This means managers get access to current information hence helping them in fast and timely decision making. Most of the data analysis software is now stored in cloud; this makes it accessible by all concerned parties. It also prevents various departments from duplication and mismatched data sets.
What are the Top Data Analytics Software?
Sisense, Periscope Data, RapidMiner Studio, Blue Yonder Platform, Informatica PowerCenter Big Data Edition, Dataiku DSS, MicroStrategy, AtScale, AIMMS, TIBCO Spotfire, TARGIT Decision Suite, Alteryx Analytics, Arcadia Data, Opera Solutions Signal Hub, SAS Visual Statistics are some of the Top Data Analytics Software.
1
Sisense
Sisense simplifies business analytics for complex data. Powered by In-Chip and Single Stack technologies Sisense delivers unmatched performance, agility and value, eliminating much of the costly data preparation traditionally needed with business analytics tools and providing a single, complete tool to analyze and visualize large, disparate data sets without IT resources. Sisense's expertise in complex data includes both large data sets and data derived from multiple, disparate sources. Sisense leverages In-Chip analytics to dramatically improve business users' access to advanced analytics on low-cost, commodity machines without the need for special data warehouse tools or dedicated IT staff. One-click formulas offer…
Overview
•Join data from multiple sources
•Drag & drop joining of multiple data sources
•Build interactive dashboards with no tech skills
•Share interactive dashboards
•Provide users the freedom to query data in real-time
2
Periscope Data
Periscope Data is an end-to-end BI and analytics solution that lets you quickly connect your data, then analyze, visualize and share insights. Periscope Data can securely connect and join data from any source, creating a single source of truth for your organization. Perform BI reporting and advanced analytics operations all from one integrated platform. Communicate insights more effectively by selecting from Periscope Data's wide range of visualization options (including standard charts, statistical plots, maps and more) and instantly share real-time insights via direct linking, email or Slack. Periscope Data is a data analysis tool that unifies business data across multiple…
Overview
•One Tool For All Your Data Needs
•Enable data experts to answer more complex questions, quickly.
•SQL Editor Built By Experts, For Experts
•Advanced Analytics With Python And R
•Intuitive Drag-and-Drop Interface
3
RapidMiner Studio
RapidMiner Studio is a visual design environment for rapidly building complete predictive analytic workflows. It provides a deep library of machine learning algorithms, data preparation and exploration functions, and model validation tools to support all your data science projects and use cases.Data science teams can easily re-use existing R and Python code, and add new functionality via a large marketplace of pre-built extensions. RapidMiner provides an integrated environment for machine learning, data mining, text mining, predictive analytics and business analytics and is used for business and industrial applications as well as for research, education, training, rapid prototyping, and application development.…
Overview
• Unified Platform
• Visual Workflow Design
• Breadth of Functionality
• Open Source Innovation
• Broad Connectivity
• Data Science at Every Scale
4
Blue Yonder Platform
Blue Yonder Platform is a cloud based scalable platform for predictive applications that uses the most modern machine learning algorithms. Based on the use of Forward Demand, the platform enables data scientists and specialists to build predictive applications and integrate and operate them with existing systems such as ERP, CRM, HR, SCM using APIs. The solutions include Demand Planning, Replenishment, Dynamic Pricing, Returns Optimization, Customer Analytics, Risk Analysis and Predictive Maintenance. Blue Yonder is a software-as-a-service-based ("SaaS") delivery of predictive applications, which is embedded in its customers' core processes enabling companies to drive decisions from their data using scientifically‐based and…
Overview
• Delivering waste reduction
• Increasing efficiency gains
• Enabling operational stability
• Alignment with business strategy
• Accurate Predictions
• Scientific Optimization
• Daily Optimized replenishment decisions
• Automated forecasting
• Automating price adjustments
• Optimizing high-level KPIs
• Decreasing write-off rates
• Increasing competitiveness
5
Informatica PowerCenter Big Data Edition
Informatica PowerCenter Big Data Edition is highly scalable, high performance enterprise data integration software which uses visual development environment to build ETL data flows that run natively on Hadoop. The data flows can be reused and collaborate with other developers and analysts with a common integrated development environment (IDE). PowerCenter Big Data Edition let access all types of big transaction data, including RDBMS, OLTP, OLAP, ERP, CRM, mainframe, cloud, and others, including social media data, log files, machine sensor data, Web sites, blogs, documents, emails, and other unstructured or multi-structured data. PowerCenter Big Data Edition provides an extensive library of…
Informatica PowerCenter Big Data Edition
6
Dataiku DSS
Dataiku DSS is the collaborative data science platform that enables teams to explore, prototype, build, and deliver their own data products more efficiently. Dataiku DSS provides an interactive visual interface where they can point, click, and build or use languages like SQL to data wrangle, model, easily re-run workflows, visualize results, and get up-to-date insights on demand. Dataiku DSS provides tools to draft data preparation and modelisation in seconds, that wish to leverage their favorite ML libraries (scikitlearn, R, MLlib, H2O, and so on), and that rely on automating their work in a completely customizable interface. Data Ops. It also…
Overview
• Connectivity
• Data Wrangling
• Machine Learning
• Data Mining
• Data Visualization
• Data Workflow
• Realtime Scoring
• Code Or Click
• Collaboration
• Deployment
• Enterprise Readiness
7
MicroStrategy
MicroStrategy makes sophisticated functionality accessible to every user, from administrators to business analysts. MicroStrategy makes it easy to seamlessly connect to any enterprise resource, including databases, mobile device management (MDM) systems, enterprise directories, cloud applications, physical access control systems, and more. MicroStrategy delivers a broad set of business intelligence services that can be deployed on-premises with MicroStrategy Server or via the MicroStrategy Secure Cloud. This service-oriented architecture dynamically assembles metadata objects and provides the core analytical processing power for any business intelligence project. MicroStrategy analytics platform meets the needs of business and IT. It empowers organizations to make sense of…
Overview
• Low total cost of ownership
• Enterprise readiness.
• Ease of use.
• Self-service analytics
• Advanced analytics
8
AtScale
With AtScale, business users get interactive and multi-dimensional analysis capabilities, directly on Hadoop, at maximum speed, using the tools they already know, own and love – from Microsoft Excel to Tableau Software to QlikView. Dynamic Cubes reduce the complexity of traditional approaches by eliminating the need for data movement or tool-specific data structures and the SQL and MDX-compliant interface allows business users to leverage their existing BI tools while providing direct, secure, and interactive access to data on Hadoop. AtScale is an OLAP engine purpose-built for Hadoop. It leverages the latest advancements in the Hadoop ecosystem to support existing BI…
9
AIMMS
AIMMS is a platform designed for building and delivering Apps that can improve business performance. AIMMS software leverages the power of prescriptive analytics (optimization) to provide companies with a competitive edge and quantifiable results.Considered to be a Prescriptive Analytics, AIMMS provide recommendations on what actions can be done to better address and make decisions using optimization modeling. This will then make the business effective in making decisions that may affect the company leading to a positive outcome. Working with a team makes a lot of difference especially when everybody works on their own task assigned. Not only have it boosted…
Overview
•Interactive Dashboards
•Robust and Versatile Analytics
•Create Customized Solutions
•Fast, Flexible and Secure Web-Based Solutions
•Build Custom Apps
10
TIBCO Spotfire
TIBCO Spotfire provides interactive dashboards, visualizations, and predictive and event-driven analytics, to develop unexpected insights immediately on any device. Spotfire is an enterprise class analytics platform that helps both business and technical users quickly explore data to develop actionable insights, without requiring IT intervention. Spotfire meets the analytic needs of users across the enterprise with data discovery and ad-hoc analysis, interactive reporting and dashboards, domain-specific applications, event-driven real-time analysis, and powerful predictive analytics. All these capabilities are delivered from a single product architecture. Spotfire Analyst makes comprehensive analytics fast and easy for a variety of users, allowing them to gain…
Overview
• Data Discovery
• Data Wrangling
• Predictive Analytics
• Big Data Analytics
• Location Analytics
• Enterprise Scale Analytics
11
TARGIT Decision Suite
TARGIT Decision Suite is a business intelligence platform that offers visual data discovery tools, self-service business analytics, reporting, and stunning dashboards in a single, integrated solution. TARGIT supports the decision-making process in a world that's changing faster than ever. TARGIT's business intelligence software combines all the disciplines—from financial reporting to self-service visual data discovery—in one business intelligence platform that can be deployed across the entire organization. TARGIT Decision Suite is an enterprise-wide platform with a vast range of deployment options that can bring centralized business intelligence to everyone in the organization. The solution's self-service capabilities enable business users to create…
Overview
•Dashboards
•Analytics
•Data Discovery
•Reporting
•Data Visualization
12
Alteryx Analytics
Alteryx Analytics portfolio includes Alteryx Designer, Alteryx Server and Alteryx Analytics Gallery. Alteryx Designer allows to blend internal, third-party, and cloud-based data, build powerful R-based predictive and spatial analytics applications without any programming and share deep data insight with business decision makers. Predictive modeling techniques, such as logical regression or decision trees, clustering techniques such as K-centroid clustering and principle component analysis, data investigation techniques, such as scatter plots and association analysis- all can be included with out any programming using Alteryx Designer. Alteryx Server, scale the critical analytic workflows to meet data and analytic requirements, schedule multiple workflows and…
Overview
• Cloud-based, run-time solution
• Empower everyone to make data driven decisions
• Create a secure, private studio for analytic apps
• Customize and run analytic apps from the cloud
• Desktop-based, design-time solution
• Prep and blend all data in a repeatable workflow
• Run predictive, spatial, and statistical analytics without coding
• Output analytic results to all popular formats
•1 Year Subscription (Per User, Per Year)- Alteryx Analytics Gallery - $1,950, Alteryx Designer - $5,195, Alteryx Server - $58,500
13
Arcadia Data
Arcadia Data unifies data discovery, visual analytics and business intelligence in a single, integrated platform that runs natively on Hadoop clusters. Arcadia Data does not require coding and users can go straight to into big data with intuitive drag and drop self service interface which provides exploration and semantic modeling on breadth and depth of all business data. Arcadia Data allows working on multiple sources such as Hive, Impal, Postgres, Amazon Redshift, MySQL, Teradata Aster and much more. It's unique Active Data store models and tunes data structures continuously at Hadoop scale. Active Data automatically replaces sub-optimal curated schemas with…
Overview
•No Coding Required
•Connect With Multiple Sources
•Flexible Visual Builder
•Self-Optimizing Data Store
•Customization and Embeddability
•Data Embedding Across Sources
•On-Cluster Security
•Advanced Analytics
•Instant - FREE
•Enterprise - Annual Subscription – Contact
14
Opera Solutions Signal Hub
Opera Solutions provides advanced analytics software solutions that address the persistent problem of scaling Big Data analytics.Signal Hub extracts and applies insights from the most complex data environments to address multiple business problems and opportunities, accelerating targeted business actions and radically reducing time-to-value. The Signal Hub platform touches hundreds of millions of consumers across many leading companies, with a specific focus on dramatically increasing revenue from existing customers while introducing new capabilities that drive competitive advantage. The key innovation behind Signal Hub is its ability to deliver data science at scale. The end-to-end platform automatically creates Signals, which can be…
Overview
•Signal Library.
•External Code Integration & Augmentation.
•Modeling Tools Plug-in. Interoperate with R, SAS, IBM SPSS, and other popular analytical tools
•Provides native visualization and extends that visualization to BI tools
15
SAS Visual Statistics
SAS Visual Analytics to quickly identify predictive drivers and interactively discover outliers across multiple variables. Then create powerful descriptive and predictive models with a simple drag-and-drop interface. Visually explore and evaluate segments for further analysis using k-means clustering, scatter plots and detailed summary statistics. Build predictive models using a variety of techniques – linear regression, generalized linear modeling, logistic regression, classification trees. Design and distribute BI reports and dashboards. Explore relevant data through interactive data discovery. And provide easy-to-use, self-service analytics to more users.
Overview
• Visual data exploration and discovery
• Descriptive modeling
• Predictive modeling
• Open, code-based model development
• Dynamic group-by processing
• Model comparison and assessment
• Model scoring
• Distributed, in-memory analytical processing
• Flexible deployment options