Teradata RainStor Analytics with Archived Data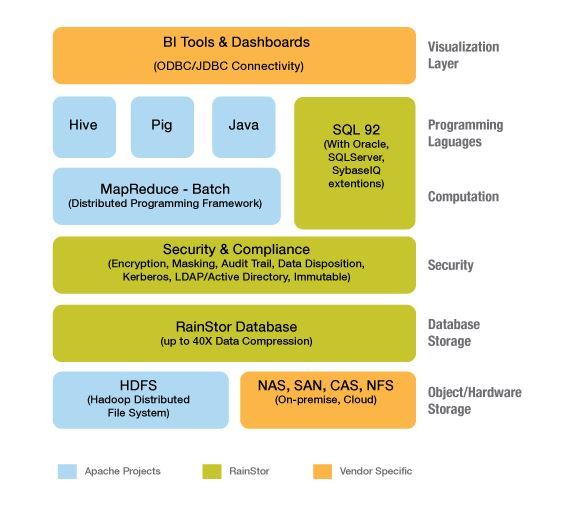 Teradata RainStor Analytics with Archived Data : Teradata RainStor is an archiving solution to meet the most demanding customer requirements including strict regulatory compliance and the integrated analysis of historical data. RainStor is an online, SQL-based, enterprise class data archive solution, which radically reduces the footprint and costs of archiving, provides immutable data storage, and helps meet regulatory, and compliance needs. It can store massive amounts of structured and semi-structured data from Data Warehouses, machines, other relational databases, or major data sources. RainStor provides a cost effective means of storing data in a minimal hardware footprint.
"By adding the Teradata RainStor archiving solution to their Teradata® Unified Data Architecture™, organizations can tap a rich source of archived data to support users' advanced analytics," said Dan Harrington, executive vice president, Global Consulting and Support Services, Teradata. "The RainStor Archive solution supports advanced analytics with data previously stored on tapes, in ungoverned data lakes, or deleted because of a lack of storage."
RainStor's features and capabilities described below enable customers to better store and extract value from their archived data. The archive compression technology radically reduces the storage footprint by as much as 10 to 40 times, depending on the type of data. RainStor provides an immutable data storage model. Once saved, data cannot be changed, which provides a tamper-proof audit trail. New data or changed data is appended to a file, not replaced. In addition, RainStor offers security for access authorization, data lineage tracking, and encryption.
RainStor provides an enterprise online data archiving solution on top of Hadoop. It runs natively on the Hadoop distributed file system (HDFS) on the Teradata Appliance for Hadoop or commodity Hadoop clusters. In addition to Hadoop, RainStor is also available on non-Hadoop platforms.In addition to the Teradata Database, RainStor can archive data from Oracle, SQL Server, Sybase IQ, and IBM Netezza. The ability to consolidate data from across the enterprise into a single archive saves money and improves analytics.
Teradata Unified Data Architecture built to work within customers' analytic ecosystem, RainStor is deeply integrated with the Teradata Integrated Data Warehouse (IDW) and supports Teradata QueryGridTM. This enables customers to answer new business questions, while reducing overall costs and complexity.Users no longer have to engage in multi-step processes when they want to analyze current and historical data by executing queries in multiple environments and doing extensive data movement. Teradata QueryGrid enables users to access data in RainStor from within their Teradata queries.
Teradata RainStor FastConnect TM enables data to be moved at high speed from the Teradata Integrated Data Warehouse to RainStor with minimal impact on the source system or moved back. Teradata RainStor FastForwardTM easily moves and converts data stored on tapes to RainStor.
RainStor can be deployed in any of these three flexible options. The RainStor System Archive retains "glacial data" or data that would normally be aged-out of a relational database to historical archive repositories, such as tape or disk. The RainStor Online Archive solution is targeted for analytics on a deep historical data repository. It builds on RainStor System The RainStor Regulatory Archive application provides the features of the RainStor Online Archive solution with added compliance capabilities.