Teradata Appliance for Hadoop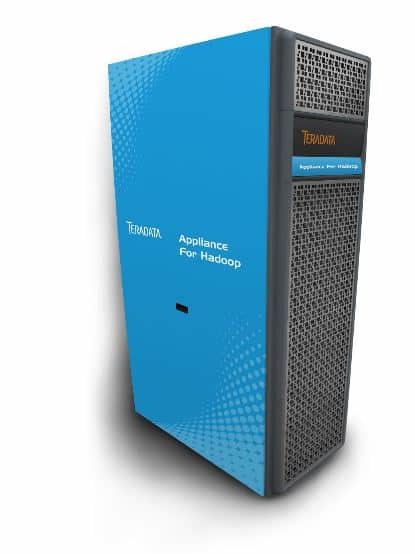 Teradata Appliance for Hadoop : Teradata Appliance for Hadoop version 5, is configurable, ready-to-run and offers a choice of the latest version of Hadoop from Hortonworks, and for Cloudera . This appliance gives users the flexibility to accelerate time-to-value and reduce Hadoop cost of ownership. Teradata's new appliance helps resolve challenges that some companies have in implementing Hadoop, providing faster time-to-market with a fully-engineered, enterprise-class solution one that reduces total cost of ownership while facilitating integration with the Teradata Unified Data Architecture (UDA), a framework for organizations to address all types of data and multiple Teradata systems.
The new Teradata Appliance for Hadoop enables users to accelerate the deployment of their Hadoop distribution from Cloudera or Hortonworks. In addition, it is the industry's first configurable platform, allowing customers to meet specific enterprise needs for performance or data capacity. Delivered pre-packaged, the enterprise-class Teradata Appliance simplifies and speeds Hadoop deployments while reducing the total cost of ownership at many levels from installation and integration throughout the operational process.
"In a world of increasing data volumes and complexity, Teradata leads by providing powerful technology options to our customers, whose requirements, strategies, industries, and objectives are each very different," said Hermann Wimmer, co-president of Teradata. "Once again, Teradata introduces innovation that gives our customers more freedom of choice while accelerating their time to business value. The new Teradata Appliance for Hadoop will be a great addition to the many who are adopting Teradata UDA."
The current generation of Hadoop software offers organizations the ability to run a growing and varied set of workloads from batch processing of extreme data sets to real-time analytics. The Appliance can be optimized to run streaming applications like Spark, Storm, and SQL-Hadoop engines such as Presto and Impala. It is optimized for intensive computational workloads with more CPU and memory, and smaller storage disks. The Appliance leverages Intel Core Processor (Haswell) technology that delivers significant performance and robust analytics. If a customer needs to store greater quantities of infrequently used data with acceptable levels of performance, then the Teradata Appliance for Hadoop can be configured with the lowest cost storage, adequate memory, and fewer CPUs. The Teradata Appliance for Hadoop scales to meet customers' growth needs. If a balance of performance and data capacity is required for extract, transform and load (ETL) jobs and analytic workloads, then the Teradata Appliance for Hadoop can be configured with appropriate CPU, memory, and storage disks.
Teradata Appliance for Hadoop is integrated within the Teradata UDA with the high-speed InfiniBand interconnect to the Teradata data warehouse and the Teradata Aster platforms. This enables faster data movement when using Teradata QueryGrid to push down processing and consolidate analytic output in a single query.