Top 25 Microsoft Dynamics Implementation Partners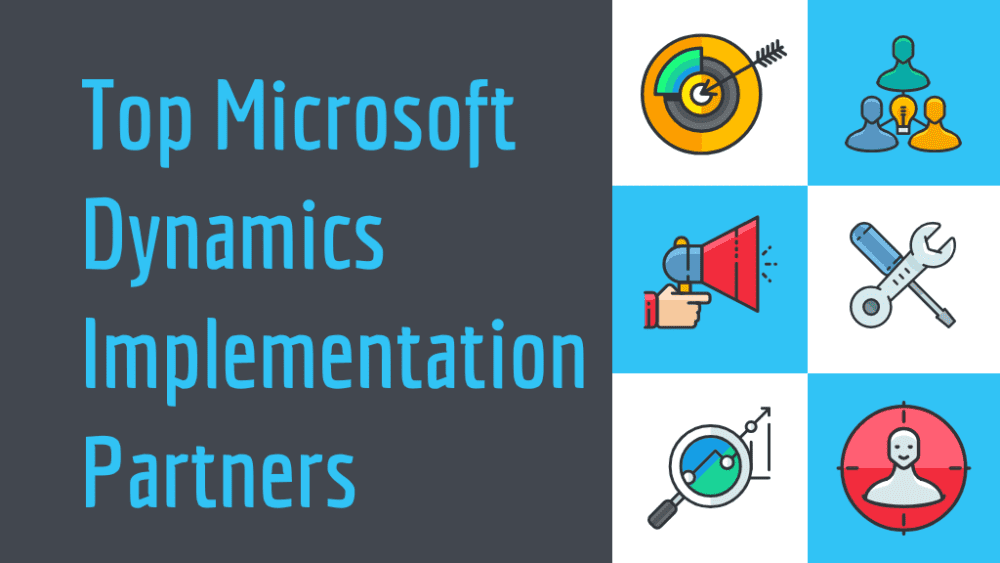 Microsoft Dynamics 365 unify CRM and ERP capabilities to break down data silos with modern, intelligent cloud applications that help move your business forward.The capabilities include Sales Service Finance and Operations Talent and Marketing.
Dynamics 365 for Sales empower sellers with insights to personalize relationships, predict customer needs, and increase sales. Dynamics 365 for Customer Service exceed customer expectations across self and assisted support with empowered agents that deliver personalized experiences.
Dynamics 365 for Finance and Operations modernize your business operations across finance, manufacturing, and supply chain to drive new growth.
Example of Microsoft Dynamics Implementation Partners: eBECS, INECTA, Syvantis, Crayon Software Experts, Velosio, Innovia Consulting, PowerObjects, Calsoft Systems, Nexus Technologies, Qixas Group, OmniVue, Dynamics Resources, ProServeIT, Acumor, Beck Consulting, AKA Enterprise Solutions, Sunrise Technologies, mbsPartners, Summit Group Software, Eide Bailly, Intelice Solutions, Accountnet, Amaxra, Arctic Information Technology, Armanino are some of the Top Microsoft Dynamics Implementation Partners.
Microsoft Dynamics Implementation partners play a key role in helping organizations by assisting to transform and run their businesses simply in Dynamics platform. They can help you identify, buy, build, implement, service, support, and run the Microsoft solutions that best fit to the business needs of your organisation.
Microsoft Dynamics Implementation partners help on implementing Microsoft Dynamics in your organisation by sharing best practices, exchanging detailed documentation, helping you to utilize the features included in your subscription and functional tips on how to optimize your business process and enable you with advanced reporting tools to benefit from the implementation.
Top Microsoft Dynamics Implementation Partners
eBECS, INECTA, Syvantis, Crayon Software Experts, Velosio, Innovia Consulting, PowerObjects, Calsoft Systems, Nexus Technologies, Qixas Group, OmniVue, Dynamics Resources, ProServeIT, Acumor, Beck Consulting, AKA Enterprise Solutions, Sunrise Technologies, mbsPartners, Summit Group Software, Eide Bailly, Intelice Solutions, Accountnet, Amaxra, Arctic Information Technology, Armanino are some of the Top Microsoft Dynamics Implementation Partners.
Top Microsoft Dynamics Implementation Partners
PAT Index™
1
eBECS
eBECS is a specialist in total Microsoft Business Solutions, designing and delivering lean and agile solutions globally for customers in manufacturing, distribution, retail, professional services, not-for-profit, financial services and other related sectors. eBECS, is a DXC Technology Company. They are an award-winning Microsoft Gold Partner delivering Total Microsoft Business Solutions and Managed Services globally that help customers digitally transform their businesses, cut complexity and cost, improve customer service and drive growth. They do this using tailored, industry-focused Microsoft Dynamics 365 solutions that embrace Operations (AX and NAV ERP), Sales, Marketing, Customer Service (CRM), Field Service, Project Service Automation, Analytics, BI…
Overview
• Digitally transform businesses
• Cut complexity and cost
• Improve customer service
• Drive growth
2
INECTA
iNECTA is a group of Microsoft Dynamics NAV Consultants that are passionate about delivering value and efficiency to businesses through technology solutions. iNECTA can help you deploy your Dynamics 365 solution. Whether you want to run it on Microsoft Azure, a private cloud, or a combination, they'll get you up and running quickly. Microsoft Dynamics 365 is a cloud-based solution that allows you to use digital intelligence to reimagine what's possible for your business. Dynamics 365 unifies CRM and ERP capabilities into applications that work seamlessly together across sales, customer service, field service, operations, financials, marketing, and project service automation.…
Overview
• Better engage customers
• Empower employees
• Optimize operations
• Reinvent products and business models
3
Syvantis
Syvantis was founded in 2000 as a managed services technology provider dedicated to helping small companies manage their complex system of servers and business programs. They quickly discovered the challenges that small and mid-sized companies faced when it came to funding and maintaining the technologies that were vital to making them competitive. For nearly 15 years, Microsoft Dynamics CRM has helped organizations expertly manage their business relationships by providing excellent sales, service, and marketing solutions. These features have been refined and built upon over the years, culminating in the release of Dynamics 365 for Enterprise. Both the Sales and Customer…
Overview
• Gain better insight into sales leads
• Give reliable and personalized customer service
• Easy-to-use support portal
• Process management capabilities
4
Crayon Software Experts
Crayon is expert at optimizing client ROI from complex technology. They are the global leader in software asset management (SAM), cloud and volume licensing and associated consulting services and are trusted advisors to many of the globe's leading organizations. D365 delivers applications to help manage specific business functions including sales, customer service, field service, operations, finance, marketing and project service automation. Its unique customisable nature means it can help accelerate organisational transformation, meeting the changing needs of the organisation and delivering tangible benefits. Microsoft have made Office 365 enterprise options available under the Open License program including Exchange Online Plan…
Overview
• Meet the unique needs
• Adapt to change
• Optimize productivity
• Find the right fit for you
5
Velosio
Velosio guides you, deploying best-fit business applications that keep you ahead of the competition in today's digital-first business environment. Their balance visionary ideas with pragmatism, delivering an exceptional client experience that drives business value faster. Dynamics 365 unifies ERP and CRM into one cloud service with purpose-built apps to manage all your core business functions. Designed for larger companies or those with complex business processes or large transaction volumes. Accelerate business growth by making data-driven decisions in real time and at global scale with cloud business solutions. Designed for companies with up to 250 employees. Increase visibility and control by…
Overview
• Enable rapid business transformation
• Cost-effectively support your IT needs
• Easily connect the right person
• Real-time and predictive insights
6
Innovia Consulting
Innovia Consulting is an award-winning Microsoft Dynamics NAV consulting and IT services firm with a reputation for delivering innovative solutions and providing exceptional client service. Over the last 30 years Innovia has become a multiple-award winning, Microsoft Dynamics NAV consulting firm known for delivering innovative technology systems while providing exceptional client-focused service. By adopting a collaborative, pragmatic approach focused on getting the job done, Innovia has received five Microsoft Dynamics Customer Excellence Awards in the last eight years and membership into Microsoft Dynamics President's Club. These honors rank Innovia in the top echelon of Microsoft's global network of value-added reselling…
Overview
• Enhanced inventory management
• manufacturing cost calculation capabilities
• Improved sales and marketing capabilities
• Integrated and modifiable solution
7
PowerObjects
PowerObjects, an HCL Technologies Company, is a leader in delivering Microsoft Dynamics 365 solutions through unparalleled offerings of service, support, education and add-ons. Winner of the 2017 Microsoft Worldwide Partner of the Year Award for Dynamics 365 Consulting and Systems Integration, PowerObjects has built an unmatched team of Dynamics 365 experts that help organizations increase productivity, streamline business processes, and build better relationships. Microsoft Dynamics 365 is an end-to-end business application that breaks down the silos between CRM and ERP. Powered by data and intelligence, Dynamics 365 will help you empower your employees, engage customers, and optimize operations. As their…
Overview
• Start with what You Need
• Infuse Intelligence
• Optimize Productivity
• Adapt to Change
8
Calsoft Systems
Calsoft Systems has been a leading provider of business technology solutions, specializing in ERP systems implementation for Microsoft Dynamics GP, Microsoft Dynamics NAV and Microsoft Dynamics AX. As a Microsoft Gold Certified partner, Calsoft excels in multi-site ERP implementations, tailored customizations, comprehensive IT support services and a boutique customer experience. Our expertise in the distribution, logistics, manufacturing and travel industries enable our clients to leverage an enterprise system to its fullest potential. Not all partners are alike. At Calsoft, they know that choosing a partner is more than just the technology. It is about a long-term commitment. They know that…
Overview
• Provides powerful ERP capabilities
• Optimized retail operations
• Enhance insights on leads
• Provide better service
9
Nexus Technologies
NexusTek, an award-winning Microsoft Gold Partner, empowers organizations to lead their market space by taking the burden of optimizing and managing their IT environments, ensuring business continuity and employee productivity. NexusTek delivers Cloud solutions, Managed IT Services, and Application Consulting to more than 1200 small and midsize businesses based in Denver, Arizona and across the Front Range. As one of the largest Denver-based IT services firms, they take a customer-centric approach by consulting with the client to understand their business. They then evaluate and recommend the best technology to meet their current and future needs. Microsoft describes the newly branded…
Overview
• World-class customer service
• Leverage digital intelligence
• Produce efficiency in operations
• Powerful customer experiences
10
Qixas Group
Qixas Group has worked with hundreds of businesses across North America. Qixas has learned about their challenges and has developed solutions that enhance the functionality and performance of Microsoft Dynamics NAV and CRM. Their team of consultants, developers, analysts and Microsoft Certified Trainers deliver deep knowledge in their specific areas of expertise. With expert consultancy and the latest technology capabilities, they share subject matter and provide practical solutions that align with their clients' growth strategies. Today, their team ranks among the most experienced staff of any organization in the Dynamics channel. With over 2 decades of experience with Dynamics NAV,…
Overview
• Improve your cash flow
• Increase efficiency
• Impact your bottom line
• Manage production, inventory, orders, and vendors
11
OmniVue
OmniVue creates business agility by tailoring implementation of Microsoft Dynamics solutions and delivering them through on-premise or cloud platforms. As a Microsoft Gold Certified Partner, OmniVue helps distribution, healthcare or light manufacturing companies "see their world" with enhanced business intelligence, process consulting, financial software implementation, disaster recovery and support. The consultative approach combines process and technology that provides executives, managers and end-users the ability to make accurate and informed decisions during rapidly changing market conditions. OmniVue is a Gold Certified Microsoft Dynamics Partner helping clients in the Southeastern US transform their businesses with powerful hosted, on-premise or cloud-based ERP and…
Overview
• Mobile Capabilities
• Visual Process Designer
• Relationship Insights
• Relevance Search
12
Dynamics Resources
Dynamics Resources provide an array of Dynamics ERP related services, from new implementations, upgrades, ERP assessments, customizations, training, & support. Dynamics Resources is a Microsoft Gold Partner and a Value-Added Re-seller specializing exclusively in Microsoft Dynamics 365, AX and CRM. ' They have been proudly serving Microsoft Dynamics community for over a decade. Their strength is a tightly woven team of top-notch experienced solid Dynamics 365/AX and CRM professionals. Their services range from new Dynamics Implementations to Upgrades, Solution Assessments, Training and Support. Dynamics 365 is the next generation of intelligent business applications that enable your organization to grow, evolve,…
Overview
• Streamline dispatching process
• Minimize response times
• Maximize profit for company growth
13
ProServeIT
ProServeIT Corporation (ProServeIT) is a multi-award-winning Microsoft Gold Partner and Citrix Partner, specialized in a comprehensive focus on cloud transformation, managed services, software development, IT service desk and technology consulting services. They have worked with companies of all sizes in all industries to provide them with the customized IT solutions that can give them a competitive advantage. Established in 2002, ProServeIT was one of the first Canadian Microsoft Partners to spearhead the adoption of Cloud computing. Since then, they have migrated over 200,000 users to the Cloud. Are you looking for an easy-to-use CRM that can help optimize your organization's…
Overview
• Decrease the high cost
• limited scalability
• adapt to new streamlined solutions
• Meet the changing market & customer needs
14
Acumor
Acumor is a Microsoft reseller, gold certified and has migrated over 500 organizations to the cloud. Acumor provides expertise on Office 365 and Dynamics 365 in order to digitally transform and empower your organization to achieve more. Dynamics365 is the future of smart business. An all-in-one resource that combines CRM and ERP with cloud computing business intelligence that is fully-integrated with productivity tools. With Dynamics you can take full control of every branch of your business with apps designed to manage. Dynamics 365 for Sales is an integrated, cloud computing business intelligence solution that connects the members your sales team…
Overview
• Employ seamless communication
• Reduce paperwork and red tape
• Make better-targeted efforts in marketing campaigns
• Make smarter decisions about business' funds
15
Beck Consulting
Beck Consulting has continued to build long-standing and outstanding client relationships through both specialization and personalization of services. Beck Consulting software solutions are based on the most modern ERP (Enterprise Resource Planning) system available today, Microsoft Dynamics NAV. This offering is feature-rich and highly configurable, providing the flexibility to grow and change with your organization. Their goal is to ensure that the software reflects the way you do business. Microsoft Dynamics NAV is not just Microsoft's most popular enterprise resource planning (ERP) solution; it is the best-selling mid-market solution in the world! The backbone of all their software, NAV (formerly…
Overview
• Access to data
• Global functionality
• Long life cycle
• Quickly incorporate key business processes
16
AKA Enterprise Solutions
Finding it difficult to capitalize on new opportunities and deliver an unforgettable customer experience? Are your efforts to grow or expand being held back by old technology or outdated processes? Regardless of how you define transformation for your organization, you'll get there faster with a partner that understands your business, your industry, and your unique challenges. Imagine what you could achieve with a partner that leverages technology and deep industry know-how to help you reach your goals faster, breaking down barriers and making it easier to do business along the way. To have the freedom to innovate, you need more…
Overview
• "App-centric" model
• Focused on specific needs
• Manage finances and operations
• Support for customer relationships
17
Sunrise Technologies
Sunrise is an award-winning Microsoft Dynamics 365 partner for global consumer brands, manufacturers, and retailers. The goal is to help you implement your great ideas — and the last ERP and CRM solutions you'll ever need.Most people don't start researching new business applications like ERP or CRM on a whim (but if that's you...more power to ya!), so that must mean you're here for a reason. And that reason could be any number of things. Maybe it's because you're tired of closing the month two weeks into the next month, you've had one late order too many, you're legacy system…
Overview
• Modernize your business systems
• Unify operations
• Improving customer (and employee) experiences
• Boosting revenue and cutting costs.
18
mbsPartners
mbsPartners, LLC recommends, implements and supports customer focused software and business solutions that drive competitive advantage. mbsPartners offers business software solutions that simplify complex business processes, improve workflow, and employee productivity while providing excellent customer experiences. Their in-depth knowledge of the industries they serve save you money and time by doing things right. Microsoft Dynamics GP gives small and midsize businesses complete control over their finances, inventory, and business intelligence (BI) information within an easy-to-use and easy-to-deploy enterprise resource planning (ERP) software solution. Start with what you need now, and easily adapt as your business needs change. In the Microsoft…
Overview
• Simplify complex business processes
• Improve workflow
• Employee productivity
• Excellent customer experiences
19
Summit Group Software
Summit Group Software, founded in 2005, is a Microsoft Dynamics Gold Certified Partner with offices in West Fargo, ND and Lincoln. NE.Their tenured team of Microsoft Certified Professionals, industry experts and CPAs have years of hands-on experience across multiple industries and sectors. Their services consistently rank highest for customer satisfaction, as measured by Microsoft. They have achieved Microsoft's prestigious Inner Circle or President's Club a total of seven times. Bring your people, data, and processes together with Microsoft Dynamics 365 – Intelligent cloud solutions that can unify CRM and ERP capabilities to optimize your business end to end. Their customers…
Overview
• Engage customers
• Empower employees
• Optimize operations
• Transform products
20
Eide Bailly
At Eide Bailly Technology Consulting, they trust there is a better way; a better way to do business and to realize the extraordinary potential in the marketplace today. They bring their knowledge, passion, and experience to transform the way organizations are doing business, through collaboration with their clients and the leveraging of technology to drive business forward. Their strategic technology services and solutions, from relationship management and enterprise resource planning (ERP) to infrastructure support and application development, turn business challenges into opportunities for growth. With nearly 100 years in business and 35 years in the technology industry, they deliver a…
Overview
• Visual process designer
• Introduction of editable grids
• Business process flow enhancements
• Power bi integration
21
Intelice Solutions
Intelice Solutions is a leading provider of Microsoft Solutions to Small and Medium business in the DC Metro area. Since 1996, they have been implementing innovative solutions across a variety of industries, empowering aspiring and growing businesses to succeed by improving the efficiency of their operations. Dynamics NAV is a complete business management solution that helps businesses work faster and smarter, and gives your staff the flexibility to adapt to new opportunities and growth. Ideal for small and midsized organizations, it offers a breakthrough user experience and technology innovation that can simplify access to information, improve organizational agility, streamline integration…
Overview
• Businesses work faster
• Simplify access to information
• Improve organizational agility
• Enhance reporting capabilities
22
Accountnet
Accountnet, Inc. is an authorized Microsoft Gold Partner for Microsoft Dynamics. Since 1996 they have offered centralized solutions to customers in the New York and Washington, D.C. metro areas, Stamford, Philadelphia, and Toronto. The depth and scope of Accountnet's corporate practice stem from the diverse experience of their consulting team; among them, team members have more than 50 years in technical consulting, CFO-level expertise, accounting experience, and technical service. Microsoft Dynamics GP is a comprehensive business-management solution built on the highly scalable and affordable platform of Microsoft technologies. It offers a cost-effective solution for managing and integrating finances, consolidations, financial…
Overview
• Highly scalable and affordable platform
• Cost-effective solution
• Managing and integrating finances
• Access and communicate information
23
Amaxra
Amaxra is a Microsoft Gold Partner that harnesses an extensive portfolio of market-leading solutions. In fact, Microsoft is one of our biggest clients. But unlike most IT consulting firms, we're not just technology focused. Data is transforming the customer and sales experience. Customers can, and now usually do, educate themselves on a product or service before engaging with a business. And customers expect those interactions to happen when and where they want. Microsoft provides intelligent cloud solutions through the Dynamics 365 suite that help you turn your data into personalized customer experiences and connected sales processes – increasing sales productivity,…
Overview
• Support end-to-end customer service
• Get the full customer picture
• Meet compliance standards
• Rely on built-in security
24
Arctic Information Technology
Arctic IT is a world-class, experienced Enterprise IT solutions company specializing in managed services, application services, and tribal enterprise services. With over 15 years of sustained growth and success, Arctic IT is a highly regarded and veteran-led business owned by an Alaska Native Corporation (Doyon). They serve customers in the government, tribal, and commercial sectors and provide them with unique, scalable solutions to meet their technology needs. In today's fast-paced world, settling for a mediocre IT system is a high-risk play. You're behind before you start, and you will never catch up. They make your IT system work for you…
Overview
• Network management solutions
• On-site and online training
• Comprehensive security
• Private cloud, public cloud, on-premise, and hybrid options
25
Armanino
As a Gold Certified Microsoft Dynamics ERP and CRM Partner, Armanino specializes in the implementation and support of Microsoft Dynamics 365 for Finance and Operations (formerly Dynamics AX) and Dynamics 365 CRM to support your specific industry needs. In addition to our implementation expertise, Armanino's Microsoft Certified experts have developed solutions that are built within the Microsoft platform and extend Dynamics 365 to simplify revenue recognition, inventory and warranty management, and more. Microsoft Dynamics is a robust business management solution built on the highly scalable and affordable platform of Microsoft technologies. As a Gold Certified Microsoft Dynamics ERP and CRM…
Overview
• International operations expertise
• Decreased project delivery risk
• Greater user adoption
• Quicker time to ROI