Review
SAS Master Data Management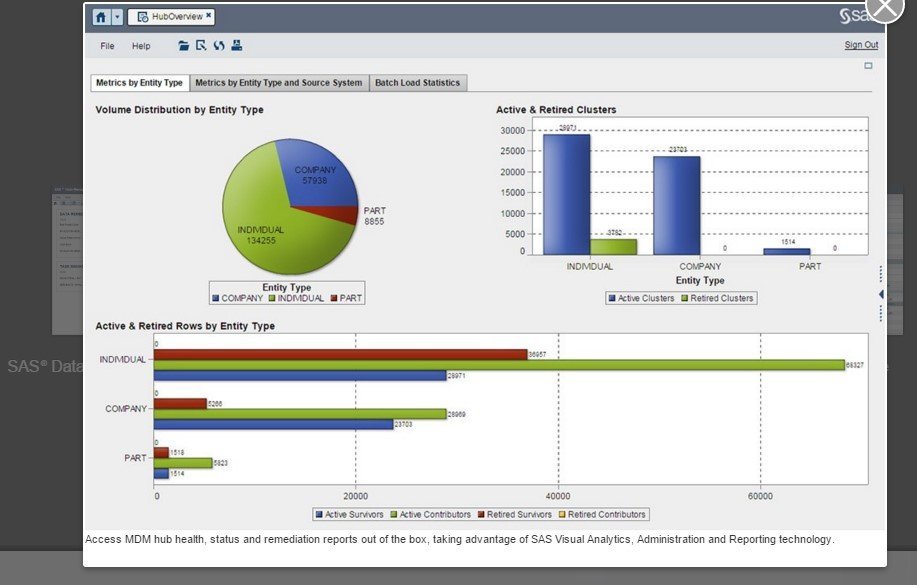 Overview
SAP Master Data Governance consolidate master data from any SAP and non-SAP system and create a single best record, centrally create and maintain master data across heterogeneous systems in your enterprise and leverage a verifiable audit trail of when, why, and by whom master data is changed.
Master Data Management Software
•Fraud & Security Intelligence
•In-Memory Analytics
•Performance Management
•Risk Management
•Solutions for Hadoop
•Supply Chain Intelligence
Small (<50 employees), Medium (50 to 1000 Enterprise (>1000 employees)
SAS Master Data Management
What is best?
•Advanced Analytics
•Business Intelligence & Analytics
•Cloud Analytics
•Customer Intelligence
•Data Management
•Decision Management
SAS Master Data Management helps you get up and running in a matter of months while working with your existing technology. It's efficiency at its best.Access big data and traditional sources. Gain access to, integrate and publish data to sources that are more like Hadoop (via Apache Hive) and Impala, in addition to many traditional relational database engines.
Data quality over the complete data life cycle - Use integrated features for data gain access to, profiling, address verification, data enrichment, transformation, cross-field enterprise matching and business secret monitoring. Create more important relationships - Create and visualize relationships with custom attributes and multi-domain hierarchies.Easily monitor your data – and view, edit and share information about the status and health of your MDM hub. Source system harmonization.
Gain more control over how data is prepared, managed, loaded and synchronized with the source system dashboard and tools. Access role-based MDM interfaces from a common location. Data stewards can track critical data quality issues. Administrators can create new entities or monitor MDM source load processes. Business users can search entities or view and resolve pending remediation issues and reports.Improved governance and lineage. Explore metadata relationships with the lineage visualization tool, and maintain business term consistency with the business glossary.
You may like to read: Top Master Data Management Software and How to Select the Best Master Data Management Software for Your Business