Oracle CX Cloud Extend Industry's Proven CX Suite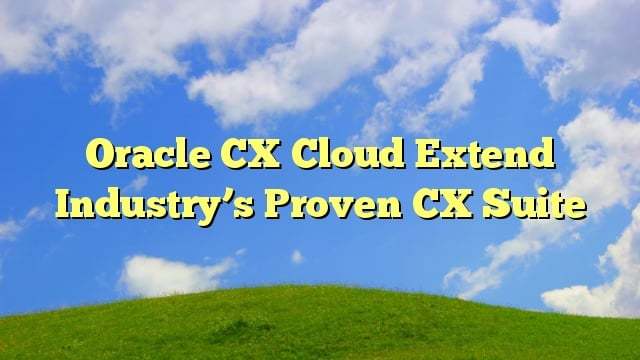 The introduction of new industry-specific solutions and a range of enhancements reinforce Oracle's commitment and continued innovation in the Oracle Customer Experience Cloud (Oracle CX Cloud), which is built on the industry's most proven, complete and innovative CX applications suite. Organizations can move seamlessly across the full spectrum of marketing, sales, service, commerce, and social tools in order to deliver exceptional experiences and create brand advocates.
"With the increase in sources and volume of client data across delivery channels and lines of business, Oracle has displayed impressive agility and precision in evolving to keep pace with the industry and line of business requirements," said Sam Stuckal, Senior Executive Advisor, CEB TowerGroup. "Not only is CX offered as a cloud application, but its integrated sales and service components provide a unified solution that can be easily augmented by third-parties and partners alike."
Part of Oracle Applications Cloud, Oracle CX Cloud empowers organizations to improve experiences, enhance loyalty, differentiate their brands, and drive measurable results across all channels, touchpoints and interactions. The end-to-end solution includes Oracle Commerce, Oracle Configure, Price, and Quote Cloud (Oracle CPQ Cloud), Oracle Marketing Cloud, Oracle Sales Cloud, Oracle Service Cloud, and Oracle Social Cloud.
New industry-specific solutions for financial services, communications, consumer goods, high tech, industrial manufacturing and automotive help Oracle customers and partners accelerate deployment, increase user adoption, reduce cost and accelerate time to value.
Oracle CX Cloud for Financial Services: Provides a single 360-degree view of customer and financial information, enabling financial institutions to enhance the client experience, increase client retention and drive up-sell/cross-sell revenue opportunities.
Oracle CX Cloud for Communications: Guided and assisted selling processes with billing and usage analytics and a seamless transition to configure, price, and quote activities enables client service providers to personalize customer interactions and transform the digital experiences across channels.
Oracle CX Cloud for High Tech, Industrial Manufacturing and Automotive: Pre-architected solutions help manufacturing organizations accelerate innovation, improve customer acquisition and retention, and reduce operational costs.
Oracle CX Cloud for Consumer Goods: Promotes collaborative customer and category planning, improves targeting and execution of retail initiatives, and enables organizations to understand and interact with today's digital consumer in new and unique ways.
Oracle Sales Cloud
The latest release of Oracle Sales Cloud helps sales teams increase revenue by delivering enhanced Partner Relationship Management (PRM) capabilities, new options for customer data management and extended industry solutions. The enhancements to Oracle Sales Cloud enable sales teams to benefit from:
Accelerated channel sales growth: Powerful user-friendly, configurable tools for critical channel management business processes—such as the new deal management and self-service registration—make using and administering a partner portal easier than ever and help brand owners achieve higher partner adoption.
Industry-specific functionality: The latest release extends the purpose-built capabilities for high tech and manufacturing, financial services, consumer goods and communications to enables sales teams to increase efficiencies, lower costs and reduce implementation times.
Enhanced customer data management: Integration with Blue Coat offers additional data protection for Personally Identifiable Information (PII) that enables sales team to satisfy corporate and legal data residency requirements while still being able to search, sort and run reports in Oracle Sales Cloud.
Oracle Service Cloud
The latest release includes Oracle Service Cloud Knowledge Advanced, an innovative new capability that enables organizations to streamline the administration of knowledge and provide a seamless cross-channel customer experience. With Oracle Service Cloud Knowledge Advanced, organizations can decrease customer service costs and improve customer satisfaction for both end customers and contact center agents.
Oracle Commerce Cloud and Oracle CPQ Cloud
The latest releases of Oracle Commerce Cloud and Oracle CPQ Cloud include a number of features that further help organizations move seamlessly across the full spectrum of digital touchpoints including web, mobile marketing, sales, service, and social.
Oracle Commerce Cloud: New assisted selling capabilities, A/B testing and a social wish list capability allow online businesses to quickly launch feature-rich, responsive storefronts across desktop and mobile devices without sacrificing features or brand control.
Oracle CPQ Cloud: New pricing modules, dynamic picklists and packaged integrations with the rest of the Oracle CX Cloud suite enable organizations to increase sales and improve margins, while enhanced configuration inside Oracle Commerce Cloud enables organizations to improve sales results and seize the right opportunities.
"To meet skyrocketing customer expectations, organizations across all industries need to be able to deliver a complete, innovative, and proven customer experience across traditional and digital channels," said Rondy Ng, Senior VP, Applications Development, Oracle. "Oracle has delivered a comprehensive suite of proven and innovative customer experience solutions to help companies meet these expectations and put the customer at the very center of their businesses. With the latest enhancements to the Oracle CX Cloud we are helping organizations gain a competitive advantage by building deeper relationships with their customers."
Oracle Cloud Solutions
Oracle provides the industry's broadest and most complete portfolio of public, private, and managed cloud offerings to offer customers the choice of deployment model. Oracle Cloud delivers a broad suite of public cloud services across DaaS, SaaS, PaaS, and IaaS. Oracle also provides a rich portfolio of products and managed cloud services to deliver enterprise private clouds.