Oracle Helps Retailers Turn Data into Insight with New Cloud Services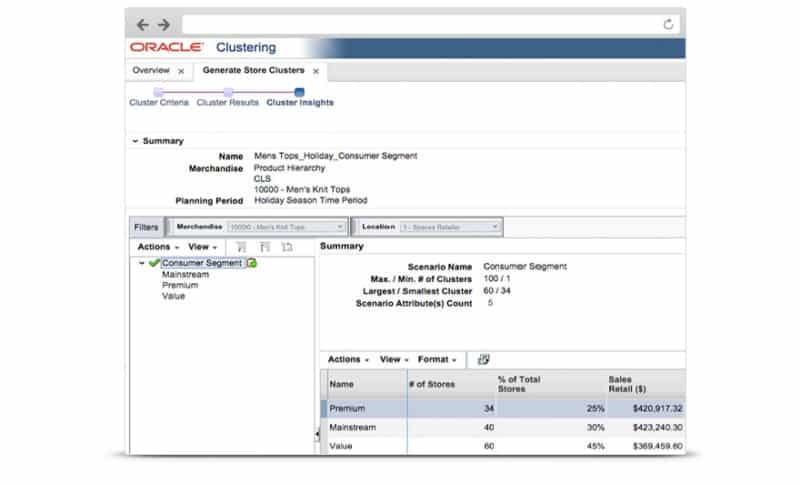 Oracle Helps Retailers Turn Data into Insight with New Cloud Services : Most retailers agree their customer and operational data contains unique and valuable insights, but they are often unable to extract those insights due to the capital investment, infrastructure and staff required to sustain "big data" analytics environments. Today Oracle Retail enables retailers to sidestep concerns about IT complexity and cost by delivering retail science and retail analytics solutions in the cloud.
"Retailers are awash in data but really need helping making that data actionable," said Leslie Hand, vice president, IDC Retail Insights. "Unfortunately, the cost is high, including acquiring the technology, talent and infrastructure to implement the kinds of retail science and analytics solutions that can provide return on investment for data, space, and inventory. It has been difficult to make the business case to invest limited resources in such efforts—despite potentially enormous returns on the investment. This is where cloud solutions can have tremendous impact."
With the launch of Oracle Retail Science Cloud Services and Oracle Retail Insights Cloud Services, Oracle strengthens its position as the only company to offer a comprehensive, integrated, standards-based suite of Cloud Services at all three layers – infrastructure (IaaS), platform (PaaS), and SaaS – of the cloud.
"Oracle Retail Science Cloud Services and Oracle Retail Insights Cloud Services create an opportunity for retailers to gain deeper insight to their customers' unique preferences and buying patterns," said Jill Puleri, senior vice president and general manager, Oracle Retail. "By offering retail science as a cloud service, Oracle Retail is helping customers reduce time-to-value, simplify IT infrastructure and gain a lower, more predictable total cost of ownership."
Oracle Retail Science Cloud Services enables retailers to dramatically improve operational decisions that have the greatest impact on their business performance, such as allocating what is sold in various store locations and how it should be merchandised, displayed, priced and promoted.
With Oracle Retail Science Cloud Services, Oracle enables retailers to achieve the benefits of Oracle's best-in-class "big science" while helping to reduce the time to value and lower the total cost of ownership. Oracle Retail Science Cloud Services include:
Oracle Retail Advanced Clustering Cloud Service identifies unique patterns within data to create customer centric and targeted clusters for use in the enterprise planning process. Oracle Retail Customer Decision Trees and Demand Transference Cloud Service creates customer segment specific decision trees using available transaction level data and understand incremental value of all items. Oracle Retail Assortment and Space Optimization Cloud Service helps align a retailer's assortment to meet demand, maximizing opportunities therefore improving margins and increasing customer satisfaction.
Oracle Retail Insights Cloud Services provide retailers' merchandising, customer marketing and business intelligence teams with role-based dashboards that deliver insights for their most critical operational decisions. Built on the popular Oracle Business Intelligence platform, Oracle Retail Insights Cloud Services provide users with the flexibility to design their own reports and offer mobile extensions, as well. Services in now availbe include:
Oracle Retail Merchandising Insights Cloud Service provides insight into sales, returns, pricing effectiveness, product performance, and seasonal impacts to dramatically improve merchandising decisions. Oracle Retail Customer Insights Cloud Service helps improve customer experience efforts by combining customer data with core retail performance data (e.g. product, pricing, promotion, and placement) to provide deep insights based on thousands of metrics. Oracle Retail Advanced Science Insights Cloud Service provides market basket analysis that helps identify product affinities, halo and cannibalization effects, and how store clusters perform relative to each other.