How to Select the Best Software for Electronics Industry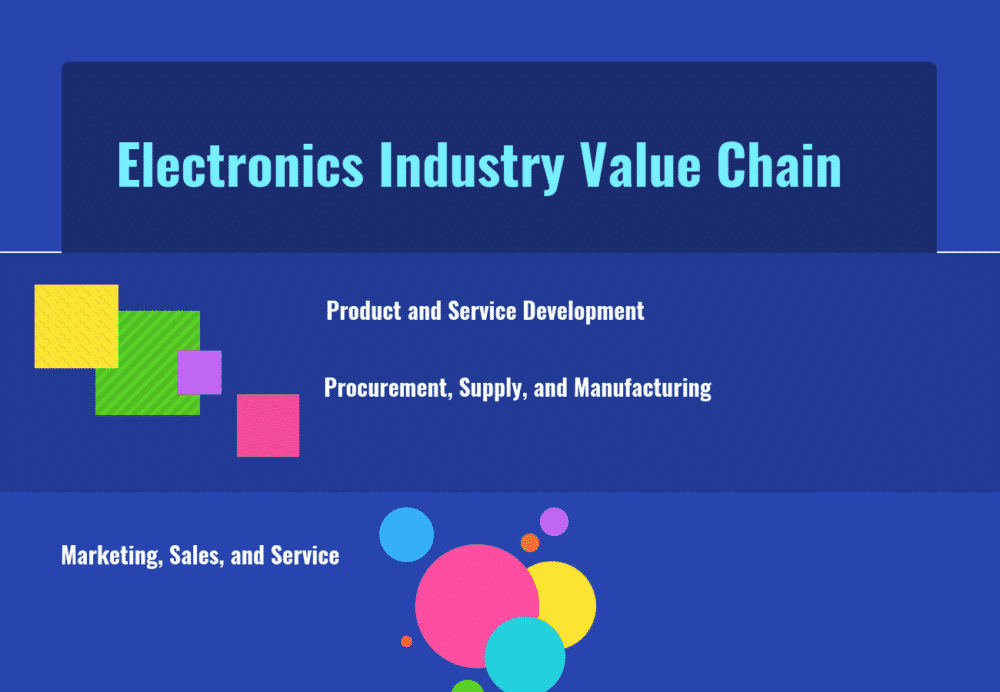 The Electronics Industry is made up of companies that manufacture, design, manufacture, assemble, and service electronic products. These products consist of materials, parts, components, subassemblies, and equipment that use the principles of electronics to perform their major functions. Products can range from discrete components like integrated circuits; consumer electronics like TVs, smartphones, and personal computers; medical equipment like heart-rate monitors and dialysis machines; industrial equipment like robots; to communication and networking equipment like routers and switchboards. Industries that are supported by the electronics industry include automotive, aviation, defense, telecommunications, entertainment, and healthcare.
The Electronics Industry is driven by innovation and a lot of money and effort goes into research and development to design and make improved parts and products, as well as improve manufacturing processes. Companies in the electronics industry are always in tough competition to implement innovative ideas and introduce the newest technology in the market first. This puts a lot of pressure on design and engineering teams to develop and create innovative products and services faster and cheaper. Sales and marketing teams are also under pressure to drive sales and ensure that profit margins remain way above production and operational costs. Many electronic companies are also experimenting with and utilizing advanced analytics to provide insights that can help improve processes and bring in more profits.
Companies are also specializing in specific niches to guarantee sustainability and maintain profitability. Many electronics manufacturing companies are outsourcing manufacturing and production of parts or products. The rise of Electronics Manufacturing Services (EMS) and Contract Electronics Manufacturing (CEM) companies is a testament to that. These are companies that are contracted to manufacture parts or products for other companies, and also provide a variety of value-added services. This allows the contracting companies to concentrate their efforts on other strategies that will help drive sales and help them remain competitive on the global market.
What are the Key Segments of Electronics Industry?
Semiconductor supply and manufacturing services: This segment does design and manufacture work, and supplies everything related to semiconductors including electrical components and integrated circuits that are common in many electrical and electronic devices. It supports almost every industry you can think of including medical, aviation, automotive, telecoms, etc.
Industrial Equipment: This segment manufactures equipment that assists in industrial processes. Equipment can range from industrial robots, automation and control systems, wafer-processing equipment, semiconductor assembly and packaging equipment, electronic testing and measurement equipment, etc.
Networking and Communication Equipment: This segment comprises manufacturers of consumer and industrial networking hardware and other communication equipment. This could be routers, LANs, WANs, switchboards, bridges, hubs, and gateways. Examples of companies specializing in this segment include Cisco Systems, Extreme Networks, Telco Systems, etc.
Computer and Office Products: These are producers of a wide range of business-related electronic equipment like copiers and fax machines, and computing equipment including personal computers, servers, mainframes, and workstations.
Medical Devices: This segment deals with the manufacture of electro-medical equipment used in diagnosis, surgical procedures, medical imaging, forensics, and medical research and training. Such machines include ultrasound devices, X-ray machines, dialysis machines, heart-rate monitors, and so on.
Consumer electronics and home appliances: This is a major segment in the electronic industry and produces consumer products such as Televisions, radios, DVD players, video gaming systems, mobile phones, cameras, electronic ovens, etc. They also produce home intercommunication and alarm systems.
What are the Electronics Industry Value Chain?
Product and Service Development: This stage encompasses all the steps involved in transforming an idea into a final product or service. Normally, a product is taken through design, analysis, testing, and modification before it can go into production. The product will also have to meet specific consumer requirements and demonstrate that it has a worthy ROI.
Procurement, Supply, and Manufacturing: Sourcing and supply of necessary raw materials and components needed for manufacturing a product or for delivering a service.  This stage makes use of inventory management, quality analysis and control, and production line optimization to ensure there is both efficiency and a smooth flow of production operations.
Marketing, Sales, and Service: Marketing is all about helping the business to drive sales for its products and services through such means as advertisements, promotions, etc. Marketing teams also provide feedback to product development and manufacturing teams, which can be used to make improvements based on consumer preferences and market needs. At this stage, businesses receive and process orders, and then deliver products and services to customers.  This may be followed by after-sales services like commissioning, maintenance, repair or any other support services.
What are the Key Terms in the Electronics Industry?

Basic financial and quality measurements include:
Cost of Goods Sold (COGS):The sum cost of materials, manufacturing, labor, and profit for the product you're selling. This also includes costs incurred when transporting and delivering the product to consumers.
Days Sales Outstanding (DSO): The average number of days that it takes a company to collect revenue from its credit sales or when a company's account receivables can be collected.
First Pass Yield: The percentage of the total number of goods produced successfully in comparison to the number of units going into the process over a specified period of time.
Key terms within the semiconductor segment include:
Book-to-bill ratio: The ratio of orders received over a specific period to the number of orders billed during the same period.
Fabless: Refers to a semiconductor company that outsources its wafer manufacturing operations to a chip foundry.
Foundry: A semiconductor fabrication plant/company that is usually contracted by other companies to makes chips or silicon wafers for them.
What are the Key Competitive Advantages in Electronics Industry?
Electronics is one of the rapidly evolving and highly innovative industries, where competition is tough and rigorous. Here are a few competitive advantages that can determine whether a company will remain competitive in the electronics industry.
Advancements in Technology: Technology has been and will continue to be a determining factor on how sustainable and profitable a company in the electronics industry will be. Companies will have to invest more in R&D, restructure, and become more service-oriented by leveraging such technological advancements as the Internet of Things (IoT). Electronic equipment manufacturers will have to make use of robotics and automation to improve both efficiency and productivity. Some companies have already integrated different sensor technologies in their manufacturing processes to gather substantial data that can provide timely insights to drive growth and profits.
Globalization: The internet is giving companies in the electronics industry a low-cost channel for retail distribution. Products can now be shipped to customers in any place in the world and reach them within a day or two. This has empowered companies would otherwise have been considered minnows to stamp their presence on global markets. Companies are now competing on matters price and efficiency on a global level. They are also penetrating larger and larger geographical markets riding on internet capabilities. When this is coupled with low production costs, the result is the emergence of such countries as China and India as influential forces in software design and development.
Information: Information is proving to be a competitive advantage in the fast-paced electronics industry. Obtaining, processing, and transmitting information is becoming less costly. By leveraging acquired knowledge, companies can rethink and perform comprehensive analysis of their product development, design and sales strategies. For instance, companies can follow trends in the industry and use consumer feedback to design innovative products or deliver services that satisfy consumer needs. On the other hand, consumers have become more aware of products and their prices, and so have an apparent bargaining position on electronic vendors. Companies will, therefore, need to introduce such strategies as product differentiation to counter and cash in on this consumer empowerment.
What are the Key Functions in the Electronics Industry?
Product Development and Engineering: This involves conceptualizing an idea to design a product. Product development and engineering teams are expected to design, make prototypes, perform quality and performance tests, and finally roll out the product or service. They make improvements on products using feedback from marketing teams and working closely with R&D. They also design innovative tools and techniques to make products in a fast, less-costly process.
Manufacturing: The manufacturing department is expected to transform a product design into a real workable product. This department works in collaboration with design teams to explore how best they can improve production lines to make products faster and with reduced operational costs.  They also work together with the supply chain team to improve efficiency in the manufacturing process.
Supply Chain and Operations: This department is tasked with the procurement and storage raw materials, and distribution of final products to consumers. The supply chain needs to be efficient in order improve productivity and ensure that goods reach customers on time. To do this they work in partnership with manufacturing teams to process orders, with sales channels to manage inventory, and with transportation providers to plan on the delivery of products.
Sales: The sales department is tasked with generating revenue for the business through the sale of products. They are supposed to work with marketing teams to create plans and strategies that can help in penetrating new markets, maintaining existing markets, and boosting sales performance. Since they are in direct contact with existing customers, they are expected to provide feedback to the management and design and manufacturing teams on ways they can add value to the existing products.
Marketing: Marketing involves promoting and creating a good image for the company's products so as to grow the company's market share and profit. This is done through various channels including TV, billboards, social media platforms, customer loyalty programs, and promotional campaigns directed at target markets.  The department also performs market research and partners with sales to develop market plans and improve sales performance.
Customer Service: Their main job is to communicate directly with customers, answer their questions, process their requests and resolve their complaints. This can be done one-on-one, over the phone or through online chats. They should then provide feedback and insights to relevant departments.
Finance and Accounting: This department is tasked with all financial operations of the company. This includes financing projects and operations, maintaining accounting records, creating financial and budget controls, preparing financial statements, and Managing credit and cash.
Human Resources: Human resources team deals with matters related to employees including recruitment, compensation, and benefits. They also help the company to sort out its legal obligations like licenses, permits, tax compliance, etc.
Information Technology: The IT department is responsible for planning, establishing, and maintaining networking, communication, and office-related infrastructure and equipment. They are also expected to leverage new technologies to improve products and processes or help design new processes that can help expand markets and increase profits.