Oracle Cloud Applications Drive Business Transformation Around the World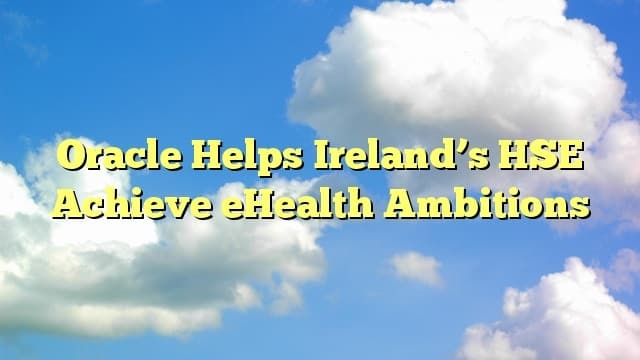 Organizations worldwide are increasingly adopting Oracle Cloud Applications to grow faster, differentiate from competitors and better serve their customers. A complete and fully integrated suite of cloud applications for every function in the enterprise, Oracle Cloud Applications enable organizations across all industries to quickly and easily adopt modern best practices, increase business agility, reduce complexity and costs, and succeed in a digital world.
To deliver the experiences customers expect, attract and retain the talent required to succeed, and achieve the performance that today's digital economy demands, organizations across all industries need to transform their critical business functions and embrace modern best practices. This transformation requires complete, integrated and modern business applications that provide business users with quick and easy access to social, mobile and analytic capabilities.
"In today's business environment, there is no room for mistakes and organizations that do not adopt modern best practices across all their critical business functions will struggle to survive," said Steve Miranda, Executive Vice President of Applications Development, Oracle. "With Oracle Cloud Applications, Oracle provides a comprehensive and integrated suite of modern business applications that increase business agility and reduce costs. As a result, organizations across every industry are increasingly selecting Oracle Cloud Applications to transform the way they do business."
Oracle CX Cloud empowers organizations to improve experiences, enhance loyalty, differentiate their brands, and drive measurable results across all channels, touchpoints and interactions. Organizations such as a major African airline company, a global car manufacturer and multinational manufacturer of consumer and professional products are using Oracle CX Cloud to deliver consistent and personalized customer experiences.
Oracle HCM Cloud provides organizations with modern HR technologies that enable collaboration, optimize talent management, provide complete workforce insights, increase operational efficiency, and make it easy for everyone to connect on any device. Organizations such as a major insurance provider, financial services business and home manufacturer are using Oracle HCM Cloud to find and retain the best talent and increase global agility.
Oracle ERP Cloud provides organizations with complete, robust and modern ERP capabilities across financials, procurement, and project portfolio management, as well as Enterprise Performance Management (EPM), Governance Risk and Compliance (GRC) and Supply Chain Management (SCM). Organizations such as a music streaming provider, global payments processer and food distributor are leveraging Oracle ERP Cloud to increase operational efficiency and reduce costs.
Oracle Cloud Solutions
Oracle provides one of the industry's broadest and most complete portfolio of public, private, and managed cloud offerings to offer customers the choice of deployment model. Oracle Cloud delivers a broad suite of public cloud services across DaaS, SaaS, PaaS, and IaaS. Oracle also provides a rich portfolio of products and managed cloud services to deliver enterprise private clouds.