Pittsburg State University Selects Oracle Applications Cloud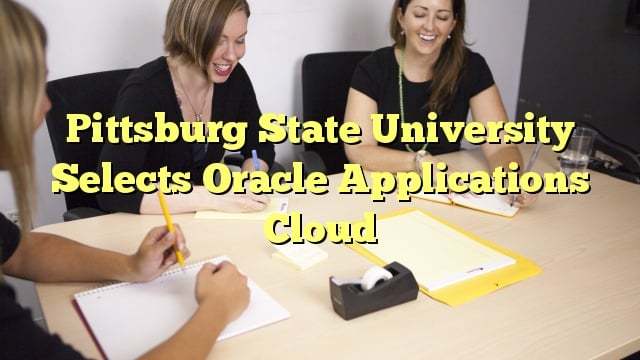 In recent years, the requirements of public higher education institutions have changed drastically, increasing the pressure to modernize their IT and human resources (HR) systems. To help meet these challenges with a modern and scalable platform, Pittsburg State University selected Oracle Higher Education Cloud, part of Oracle Applications Cloud, including Oracle Human Capital Management (HCM) Cloud, Oracle Financials Cloud, and Oracle Planning and Budgeting Cloud.
Pittsburg State University was faced with disparate, aging tools, requiring it to rely on manual processes that made it difficult to easily view data across all of its systems.
After evaluating several solutions, across all needed functions (HR, finance, and budgeting and planning), Pittsburg State University selected Oracle Higher Education Cloud, including Oracle HCM Cloud, over solutions from other competitors because it is the strongest combined solution, offering the university a reliable and flexible platform for the future.
Establishing a long-term favorable total cost of ownership (TCO) is crucial for public universities, and Pittsburg State University selected Oracle Higher Education Cloud in part because it offered lower TCO versus other solutions it reviewed.
"Public universities are faced with increased and far more diverse requirements than even just a few years ago," said Angela Neria, Chief Information Officer, Pittsburg State University. "It was crucial to Pittsburg State University to have a modern platform in place to help us address new challenges, keep costs low, and deliver flexibility as modern education continues to change. Oracle's commitment to both higher education and the cloud—coupled with strength across multiple functions—made it the right choice for us."
Pittsburg State University, located in the southeast corner of Kansas, is the home of more than 7,000 students and 850 benefit-eligible faculty and staff, including student employees, and has approximately 1,800 total employees, each of which will use the new cloud-based platform.
"Oracle Applications Cloud will enable Pittsburg State University to meet the needs of today's modern campus by delivering the scalability, functionality, and flexibility it needs to support operational excellence and student success now and into the future," said Cole Clark, global vice president, Education and Research, Oracle.
"Pittsburg State University realizes how important its employees are to its future and decided to modernize its digital workforce's time more efficiently and accurately while at the same time providing new ways to attract and retain its talent, improve workforce performance, increase employee engagement, and impact bottom-line results for the university," said Chris Leone, senior vice president, Applications Development, Oracle.
Oracle Cloud delivers the industry's broadest suite of enterprise-grade public cloud services, including data as a service (DaaS), software as a service (SaaS), platform as a service (PaaS), and infrastructure as a service (IaaS).