Review
MagicDraw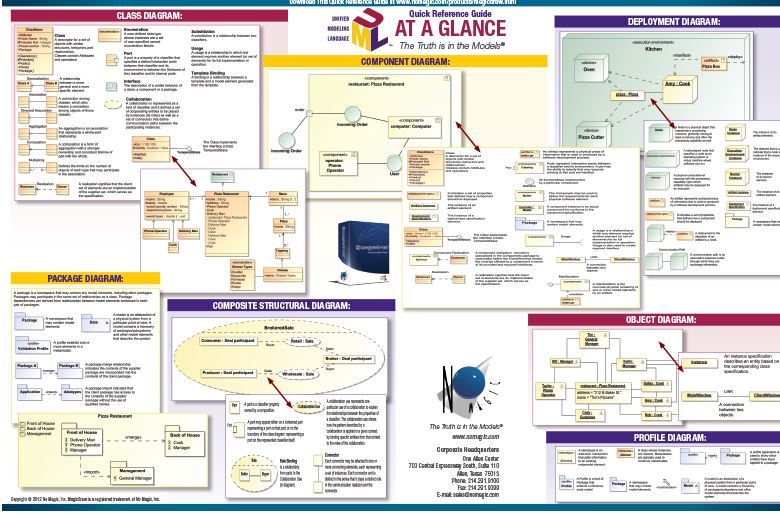 Overview
MagicDraw software, in combination with its add-ons, provides a highly cost-effective, proven, enterprise-wide solution for modeling your systems, processes and enterprise architecture.
Business Process Management Software
UML support
UML extensions (profiles and diagrams)
Editor operations
Colors and formating
Browser
Navigation
Modeling facilitations
Supported file formats
Model Decomposition
OCL support
Analysis
GUI
Image export
Layout
Reports
Collaboration and teamwork Server
IDE Integrations
Model and diagram search engine
Open API
Printing
Localizations
Other
Help system
Licensing
Code engineering
Java reverse engineering and code generation
C++ round-trip
.NET reverse engineering and code generation
CORBA IDL reverse engineering and code generation
WSDL reverse engineering and code generation
Model Driven Development (MDD) support
Allows to stay up to date and get newest MagicDraw versions, bug fixes and patches for as little as 23% of the server license price, and as little as 33% of the client license price for a calendar year. Two-year SA contracts also available, SA prices start at $69 (Personal edition).
Small (<50 employees), Medium (50 to 1000 Enterprise (>1001 employees)
MagicDraw is a Unified Modelling Language (UML) business process, architecture, software and system modelling tool by way of teamwork support. MagicDraw is 100% pure Java application. MagicDraw's support is unique as it makes easy to deploy a Software Development cycle (SDLC) environment, serving the best for its users. Technically, it provides interdependence from specific software development process, delivering well to business process that allows centralized work process modeling, requirements, capture and designs.
By utilizing MagicDraw's Teamwork Server, multiple developers work alongside on the same model. This makes it simple to exchange data within the context of work. In a nutshell, MagicDRaw has ten (10) reasons to easier, robust business enterprise solutions, as follows: Promotes quick learning, Creates diagram fast; Derives models from existing source code in just second; Visualizes models in quick steps; Works collaboratively on the same model; Delivers source code from UML model instantly; Provides automatic report generation; Extends UML capabilities; Work quickly between modelling domains; and Quickly customized model navigation.
MagicDraw is a tool of Model-Driven Development that strictly enforces UML well-rounded rules for syntax and semantics. It deals with basic support for Round-Trip Engineering of structural code, and presents plugins for integration with Requirements Management and Simulation tools.
You may like to read: Top Open Source and Free BPM Tools and How to Select the Best Business Process Management (BPM) Software for Your Business