LogFire Extends Support of Digital Fulfillment Network with Version 6.3 Release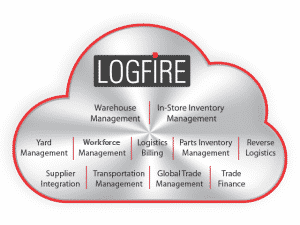 LogFire Extends Support of Digital Fulfillment Network with Version 6.3 Release : LogFire the leading cloud-based provider of supply chain fulfillment solutions, released Version 6.3. This latest release offers even more scalable architecture to power business growth, while addressing the most challenging inventory visibility and fulfillment issues with a comprehensive view of inventory from supplier to store shelf.To better support the rapidly changing market needs, and to continuously incorporate advanced technologies. LogFire's continuous and seamless free system updates are capturing the attention of leading retailers, eCommerce companies, consumer goods manufacturers and third party logistics providers seeking cloud-based Warehouse, Work Force and In-Store Inventory Management solutions that can effectively enhance B2B collaboration and optimize their enterprises while eliminating existing silos.
In sharp contrast to traditional enterprise software systems, LogFire modernizes application release cycles by leveraging its 100% cloud architecture to offer access to frequent solution improvements, similar to the painless updates consumers enjoy with leading mobile apps.
"At LogFire, our customers enjoy the shorter development cycles, rapid deployment and benefit of collective feedback associated with SaaS software. It's a great feeling to help companies avoid the agonizing root canal of major software upgrades required by traditional warehouse management systems. Our customers have said goodbye to painful upgrades, and have welcomed the new era of continuous free innovation," said Diego Pantoja-Navajas, CEO.
LogFire's digital fulfillment network minimizes stock-outs and consistently helps clients achieve inventory accuracy, store service level agreements and overall fulfillment rates close to one hundred percent.
LogFire delivers a digital fulfillment network that helps organizations of all sizes leverage the cloud to cost-effectively modernize their supply chain execution, boost fill rates and rise above competitors. LogFire's innovative Warehouse and In-Store Inventory Management solutions support rapid growth with a 100% cloud-based offering that is nimble, responsive, scalable and Day-One ready.