IBM and CSC partner on Digital Innovation Platform, Bluemix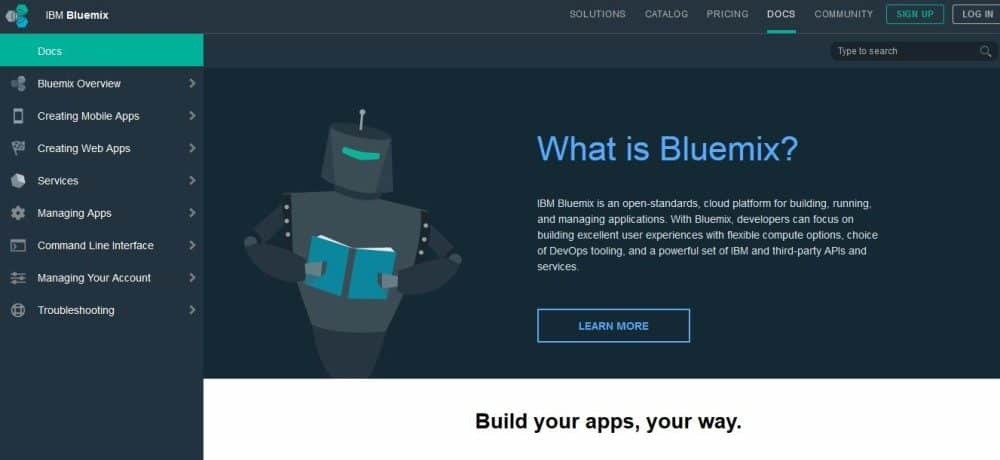 IBM and CSC partner on digital innovation platform, Bluemix : IBM and CSC are building on their long-standing strategic alliance by extending IBM's digital innovation platform, Bluemix, to CSC's strong developer ecosystem to help global customers accelerate their transition to the cloud and modernize their applications. CSC and IBM are partnering together through the CSC IBM Center of Excellence to bring global, end-to-end service capabilities that give clients greater choice, agility, flexibility and cost savings. Enterprise clients increasingly are adopting as-a-service-based platforms like Bluemix to speed development of cloud-based applications. Using an open environment based on cloud infrastructure from SoftLayer, Bluemix helps both born-on-the-web and enterprise developers build cloud applications with development tools from IBM and its partner ecosystem, cutting deployment time from months to minutes.
By some estimates, the community of developers will triple over the next four to five years, resulting in a 10-fold increase in the number of new cloud-based solutions. Partnering with IBM to offer Bluemix, CSC can help clients transition faster to their choice of public and private clouds while modernizing their applications to drive business innovation. CSC offers hybrid cloud solutions including IBM SoftLayer, which can be run in numerous configurations to meet customers' security, data, performance and compliance needs based on the application.
As part of the agreement announced today, IBM will team with CSC to provide joint clients with enablement sessions guiding developers on how to use Bluemix to build cloud-native and cloud-enabled applications. With flexible deployment models, CSC's clients will be able to automate many of the manual tasks associated with app development to build hybrid cloud solutions across public, private and on-premises infrastructure faster.
"By leveraging Bluemix, we're creating exciting new opportunities for our customers and developer ecosystem while satisfying the growing demand among clients who are accelerating their move to next-generation cloud solutions," said Jim Smith, executive vice president & general manager, CSC Global Business Services. "CSC's customers will be able to more easily and quickly deliver business value in building, deploying, and managing their mobile and cloud applications while reducing the total cost of application management."
In addition, CSC will elect for select joint clients shared with IBM to attend IBM's growing network of Bluemix Garages – physical locations where IBM teams with local accelerators to deliver cutting-edge tools, consulting resources and face-to-face connections with other entrepreneurs, developers and mentors.
Through the Bluemix Garage network – which was initially launched in San Francisco in 2014 before expanding to London in November 2014 – CSC's clients will have the opportunity to collaborate with IBM and developers from companies of all sizes using agile methods. As a result, joint clients will be exposed to a variety of events, technical talks and services from emerging startups that will help spur innovation and drive growth.
"It's been less than a year since Bluemix – a fundamental tenant of IBM's vision and transformation to a cloud-first innovator – became a reality. Yet the growth of the platform and its ecosystem, including client adoption around the world, the number of partners signing on, and the breadth of services we've been able to make available has been phenomenal," said Steve Robinson, general manager of IBM Cloud Platform Services. "The expansion of our partnership with CSC will not only accelerate the adoption of Bluemix across new global regions but also spur amazing growth and movement to cloud across the entire tech industry."