Review
Holistics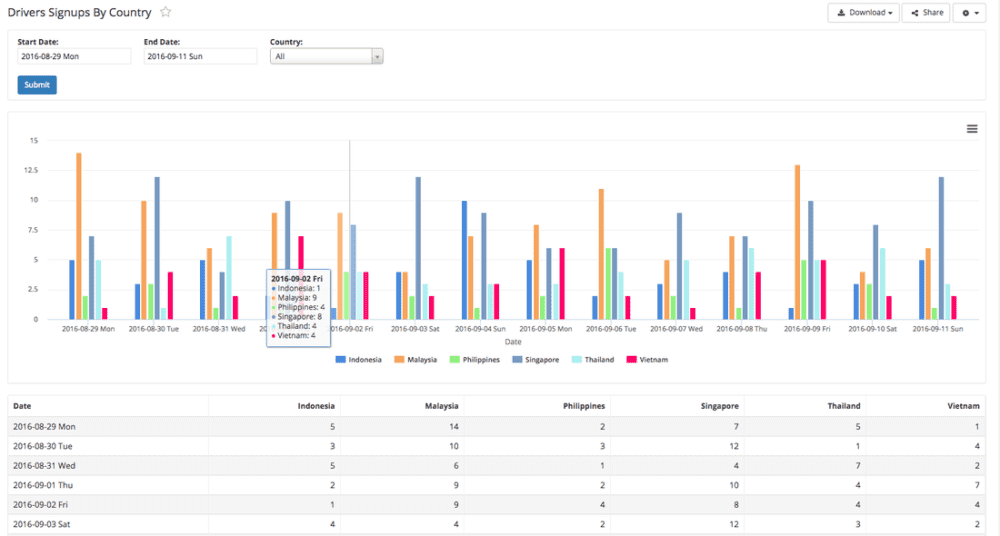 Overview
Holistics works like your SQL editor on the cloud and connect to your database securely through a variety of methods
Business Intelligence Software
•Super-fast, Parallel, In-memory, Calculation Engine ("SPICE")
•Sharing and Collaboration
•Native Access on Major Mobile Platforms
•Smart Visualizations
•Share Insights and Collaborate with Others
Small (<50 employees), Medium (50 to 1000 Enterprise (>1001 employees)
https://www.holistics.io/
What is best?
•Super-fast, Parallel, In-memory, Calculation Engine ("SPICE")
•Sharing and Collaboration
•Native Access on Major Mobile Platforms
•Smart Visualizations
What are the benefits?
• Access real-time data from your database online and filter the data you need to get insights and make decisions
• Connect 2 related reports through drill-down links to explore your data more easily
• Add a variety of charts, ranging from column, line, bar, scatter, funnel, retention reports, to visualize data from your reports
• Access real-time data from your database online and filter the data you need to get insights and make decisions
• Schedule your reports and dashboards to be emailed to you regularly so you won't lose sight of your business
Holistics is the most flexible data reporting and preparation software that works with the company's data infrastructure with no training required. Data reporting has never been easier for users as Holistics provide automated importing of database records into Excel and pivoting data for the organization's reporting needs.
Holistics wanted to make sure that users get to manage the system without having any special skills in order to access information. Business teams can easily filter live data in their reports while data teams can create reports with the familiar data language such as SQL to create any business reports that is needed.
Its Natural Business SQL feature specializes in helping users speed up and simplify report queries. Analyst can focus on extracting the data and reports that are needed based on the business requirements and Holistics will help with the heavy lifting of the system administration tasks.
Take full control and ownership of the company's data with Holistics since it works directly off the database, which means that users can retain full control over the report query performance and how they are stored.
Combine records from business users easily with existing data from the company's database to create any reports that the business may require. Holistics dashboards provide access to fresh data directly from its database. Its automated reports feature allows scheduling of reports to be emailed to the team which can be done any time on a daily, weekly or monthly schedule. While getting alerts and notifications through emails can also be set to track any changes on the data.
You may like to read: Free and Top Self Service Analytics Software and How to Select the Best Self Service Analytics Software for Your Business