Review
EasyFit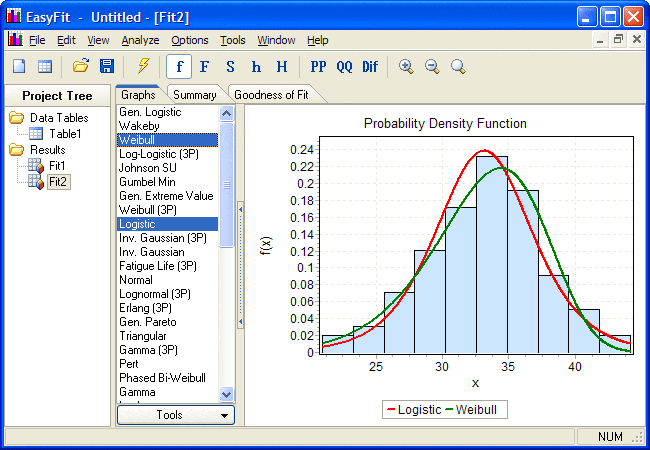 Overview
EasyFit allows to easily and quickly select the probability distribution which best fits to data, and perform specific calculations using the best fitting model.
•Support for over 55 continuous & discrete distributions
•Automated & manual distribution fitting
•Advanced Excel integration new!
•Interactive graphs
•Goodness of fit tests
•Distribution viewer & probability calculator
•Academic Perpetual License (Single User) $99
• Perpetual License (Single User) $499
•Subscription Licens $ 1 per day Site License $4,999
Small (<50 employees), Medium (50 to 1000 Enterprise (>1001 employees)
What is best?
•Descriptive statistics calculation
•Random number generation
•Excel-like spreadsheet
•Data import (Excel, ASCII)
•Easy to use interface
•Built-in and online help
What are the benefits?
• Save time by reducing time of analysis
• Save money by preventing analysis errors
• Ensure the high quality of your products
• Get started fast
• Support for over 55 probability distributions
Easy Fit is successfully used by business analysts, engineers, researchers and scientists across a wide range of industries: risk analysis, actuarial science, economics, market research, reliability engineering, hydrology, forestry, mining, medicine, image processing, and many other fields dealing with random data.
Easy Fit allows to automatically or manually fit a large number of distributions to users' data and select the best model in seconds. It can be used as a stand-alone application or with Microsoft Excel, enabling analysts to solve a wide range of business problems with only a basic knowledge of statistics.
Easy Fit reduce analysis time by 70-95% over manual methods .Easy Fit saves money by preventing analysis errors and make better business decisions .Easy Fit ensures the high quality of your projects .Easy Fit is extremely easy to learn & use . Easy Fit allows to display several graphs of the same type on a single chart, making it easy to compare two or more distribution curves. All graphs support interactive zooming and panning.
Analysts can easily switch between the different graph types, export graphs to various formats, copy graphs to the Clipboard, or print them. Easy Fit works as a comprehensive Excel add-in, enabling users to perform data analysis and simulation right in Excel. EasyFitXL (Easy Fit for Excel) allows to fit probability distributions to worksheet data, generate random numbers, and view distribution graphs without entering the data.
EasyFitXL provides 650+ functions which can be used in Excel worksheets and VBA applications to create advanced probability models and make business decisions based on the analysis and simulation results. The sample workbook provided with EasyFitXL shows how Excel users can perform the Monte Carlo simulation of their models with basic VBA knowledge.