Aptean Respond complaints and feedback management solution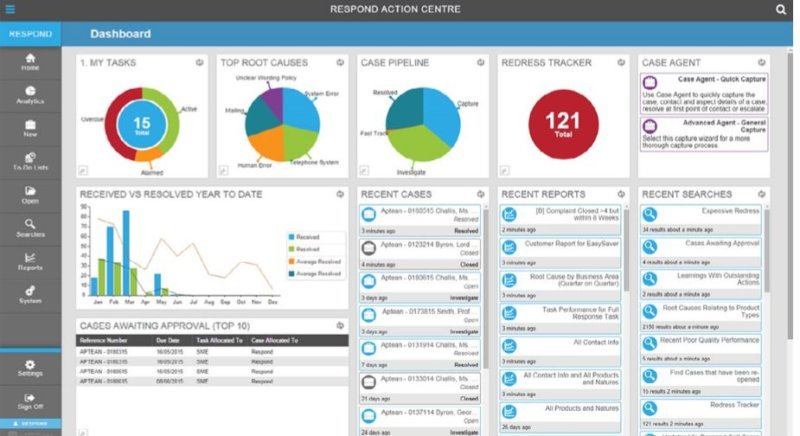 Aptean Respond complaints and feedback management solution : Aptean launched latest version of its Respond complaints and feedback management solution . Respond 6.0 introduces increased functionality to help companies further improve interaction with customers, deliver timely case resolutions and stay in compliance with constantly changing Financial Conduct Authority (FCA) and Consumer Financial Protection Bureau (CFPB) regulations, among others. In the 2014 report "Listen to Your Customers to Meet Financial Regulations," Forrester Research, Inc. senior analyst Renee Murphy outlined the importance of complaint management technology for financial services companies: "Customer complaint management does more than reduce an organization's regulatory exposure; it gives companies a powerful data source to improve their business. Use the information you glean from customers to reduce issues that hurt customer satisfaction, track reaction to new and existing products, and gauge marketing effectiveness.
"The [regulator] requires that covered firms manage customer complaints centrally across all lines of business to create a holistic view of common issues and metrics. This is nearly impossible without some kind of software to facilitate complaint management workflows, documentation, and reporting."
Now available on tablet devices, Respond 6 features a brand new streamlined User Interface, where all customer complaint data is captured in detail and viewed via drillable dashboards. The overhauled dashboard system includes time critical information such as incoming regulatory case work, outstanding approvals and additional critical information for seamless regulatory reporting. In addition, Respond now provides editable templates for frontline staff to send personalized Summary Resolution Communications (SRC) to customers, which is expected to be a new UK regulation for Financial Services firms under the FCA.
"Customer expectations are at an all-time high, with more questions, queries and complaints being logged than ever before, coupled with an expectation of extremely fast turnaround times and resolutions," said Aptean Group Vice President Matt Keenan. "Respond 6 offers more tools to look inside customer feedback as a whole to make meaningful company improvements and provide a timely, personalized response.
"The new version is a reflection of the Respond team constantly monitoring and adapting to regulatory changes and advances in technology—as well as the always-evolving ways in which complaints are made."
Aptean helps businesses profit, innovate and grow where the work gets done—in the call center, on the floor of the factory, at the end of the assembly line. That's where Aptean's CRM, Complaints Management, ERP and Supply Chain software applications enable nearly 5,000 customers to satisfy their customers, operate more efficiently and stay at the forefront of their industry.