Review
Zurmo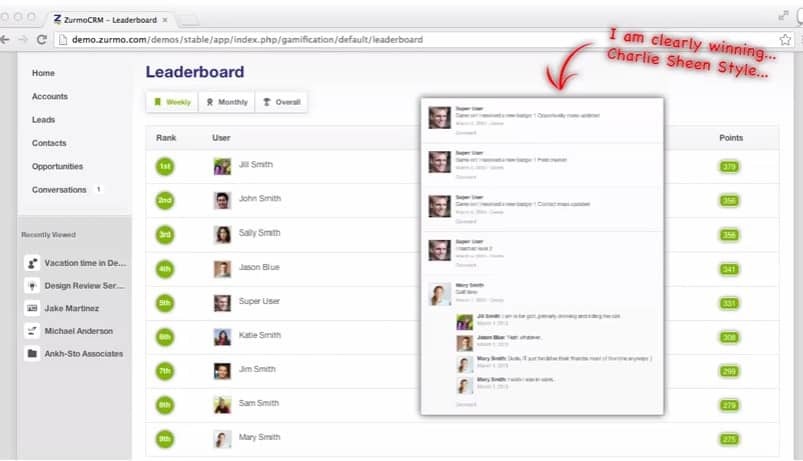 Overview
Zurmo is an Open Source Customer Relationship Management (CRM) application that is mobile, social, and gamified.
•CRM integration
•Rewards available
•Increased market reach
•Engagement
Small (<50 employees), Medium (50 to 1000 Enterprise (>1001 employees)
Zurmo provides specialized gamified Customer Relation Management (CRM) applications to businesses. Zurmo's CRM platform allows businesses to manage all aspects of customer relations.
This software is open source and highly customizable, allowing businesses to pick and choose which management features they want to use. Intuitive and adaptable, Zurmo simplifies the process of managing customer relations for a variety of businesses. Zurmo provides a number of CRM functions, including creation of marketing campaigns, activity and contact management, integration with other services, management of products, and even on-the-go tablet and mobile services.
On the customer end, Zurmo creates rewards, badges, and achievement for motivating user engagement. Customers can receive credit for using company services and brand promotion, which translates to increased marketing reach and user engagement for Zurmo's clients. In collaboration with its corporate customers, Zurmo works to promote advertising and repeat business through reinforcing specific customer behavior.
Zurmo enables companies to receive free word-of-mouth and social media advertising while simultaneously rewarding customers for their loyalty and business. Florida-based real estate company Ecksodus LLC used Zurmo's services to create a comprehensive CRM based platform for their business.
As a result of implementing Zurmo's CRM, Ecksodus LLC significantly improved their internal processes, which enabled the company to better manage its customer relations. By partnering with Zurmo, Ecksodus LLC has been able to simplify the process of managing customer relations and increase productivity. Zurmo is a 5 star product and will add benefit to anybody's life whether you work for a business or as an individual.
You may like to read: Free, Open Source and Top Customer Relationship Management (CRM) Software, How to Select the Best Customer Relationship Management Software for Your Business and Steps for a Successful Small Business CRM Implementation